Historically Black Colleges & Universities (HBCU)
ASCR HBCU Program
The goal of the HBCU program is to:
Develop and expand research and educational opportunities for historically black colleges and universities (HBCU) and other minority educational institutions
Aid in discovery, development, and deployment of the computational and networking tools that enable researchers in the scientific disciplines to analyze, model, simulate, and predict complex phenomena important to the Department of Energy
Present opportunities for research into areas of Applied Mathematics, Computer Science, and Integrated Network Environments
Expand Partnerships with DOE laboratories
Research Alliance in Math and Science (RAMS) at ORNL
About 75% of recent RAMS participants from Fisk University, an HBCU in Nashville, Tennessee, went on to graduate school in computational sciences and engineering related fields.
The future plans of the program are to expand the number of directly funded HBCU institutions through a competitive, merit reviewed process.
Elizabeth City State University (ECSU) Summer Institute in Computer Science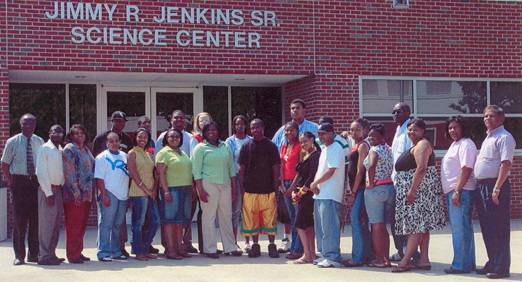 This Institute is an intense two-week program where participants from a variety of HBCU's/MI's can learn, by research experiences, that Computational Science is an approach to the study of scientific and real world phenomena by extensive use of mathematical modeling, numerical methods, and simulation coupled with computer programming and computer visualization techniques. The Institute exposes participants to Computational Science by a series of tutorials and presentations by the Institute Coordinators and visiting Faculty Mentors.
The Institute was sponsored by ECSU and the National Association of Mathematicians, Inc. (NAM) and with funding support from the Dept. of Energy (DOE). It was held on the campus of ECSU in Elizabeth City, NC.
Current Awards: