Phase II Awardee Events

Aimed at improving the commercialization outcome of DOE SBIR/STTR funded technologies, the DOE SBIR/STTR programs office is excited to announce the introduction of two types of Phase II Awardee events. All active* DOE SBIR/STTR Phase II, Phase IIA, Phase IIB and Phase IIC awardees are eligible to participate in these virtual events.
Phase II Commercialization Workshops
Introduced in late 2022, these virtual workshops are held quarterly and focus on topics related to commercialization that are typical areas of weakness for SBIR/STTR companies (manufacturing, licensing, financial modeling, preparing to pitch, intellectual property strategies, etc.).

The inaugural workshop, Commercialization and the Power of Partnering, held in December included presentations from industry stakeholders (Exelon, 3M, SK Ventures and Henkel) and a VC panel with representatives from Early Charm Ventures, E8 Ventures and Clean Energy Ventures.

The FY23 Q1 workshop, Preparing to Pitch, was held March 28th and included presentations from VentureWell and the U.S. Securities and Exchange Commission (SEC) Office of the Advocate for Small Business Capital Formation as well as panels that offered Lessons Learned from Phase II awardees that had successfully pitched their DOE funded technologies and Pitching Do's & Don'ts from industry stakeholders (Dow Ventures, TDK Ventures, Clean Energy Ventures and Eagle Point Funding). Interested in learning more - check out the workshop recording.

The FY23 Q3 workshop was held on May 25th and covered the topic of Financial Modeling. Speakers included Ron Schoff (Director of R&D - Renewable Energy and Fleet Enabling Technologies at EPRI), Max Green and Dan Kunitz (Phase Shift II coaches) and Emily Avagliano (Resollant Consulting). View the workshop recording for more information.

Register now for the FY23 Q3 DOE SBIR/STTR Phase II Commercialization Workshop – Navigating Phase III Contracting! The VIRTUAL workshop takes place on Thursday, September 28th from 1-4PM Eastern. We have a fantastic line of up speakers/panelists – check out the workshop agenda! The workshop is designed to allow for ample dialog between participants and speakers/panelists.

Check back for details on the FY23 Q4 workshop on the topic of Licensing to be held virtually on December 12th.
Strategic Partner Introductions
The virtual Partner Pitch Program (vP3) provides Phase II awardees with the opportunity to be promoted to potential strategic partners/investors and to potentially brief them in a non-threatening environment (virtually). The FY23 pitch sessions will take place on Tuesdays in April/May and in August/September.
While the DOE Office of SBIR/STTR programs will invite relevant stakeholders to attend the pitch sessions, there is no guarantee of attendance of and/or resultant partnership with stakeholders. It will be up to the individual participants to nurture and develop relationships between interested parties.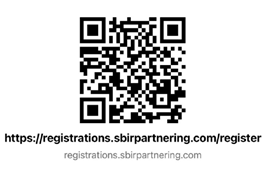 Since participating Phase II awardees will receive coaching and feedback prior to pitching, their participation provides them with a polished, non-proprietary presentation for future meetings with potential strategic partners regardless of stakeholder interest.
Organized into 14 pitch sessions by topic area, registrants can search via keyword to find technologies of interest. Help spread the news by sharing the registration link and/or QR code with your stakeholder networks.
Questions – Reach out to Carol Rabke, Tech to Market Advisor - Partnering.
Disclaimer: DOE is not endorsing, sponsoring, or otherwise evaluating the qualifications of the individuals and organizations that attend as potential partners.