Tennessee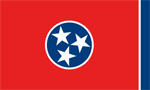 Company:
Analysis and Measurement Services Co AMS Technology Center
9119 Cross Park Drive
Knoxville, TN 37923-4510
Topic:
Advanced Technologies for Nuclear Energy
Title:
Advanced Techniques for On-Line Condition Monitoring and Diagnostics of Digital Rod Position Indication Systems for Existing and Next Generation Nuclear Power Plants
Summary:
This project will enhance the digital rod position indication systems of existing and new nuclear reactors with diagnostic capabilities to provide better rod position information, component health, and automated rod drop time measurements. This can help reduce unplanned reactor trips and shorten refueling outage times.
---
Company:
PHDs Co.
777 Emory Valley Road, Suite B
Oak Ridge, TN 37830-7048
Topic:
Nuclear Physics Instrumentation, Detection Systems and Techniques
Title:
Segmented Rectifying and Blocking Contacts on Germanium Planar Detectors
Summary:
This project will develop detector fabrication techniques that will provide the basis for more sensitive, reliable, and cost effective instruments for the detection of gamma rays in Nuclear Physics experiments.
Back to Top
Back to Map