Ohio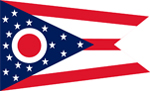 Company:
Faraday Technology, Inc.
315 Huls Drive
Clayton, OH 45315-8983
Title:
Faradayic ElectroEtching of Stainless Steel Bipolar Plates
Summary:
This project will enable a high volume, low-cost, environmentally benign manufacturing process for bipolar plates for polymer electrolyte membrane fuel cells. This will facilitate the viability of fuel cells with an environmental and societal benefit in terms of reducing pollution and increasing manufacturing job opportunities in the United States.
---
Company:
Euclid Techlabs, LLC
5900 Harper Rd. #102
Solon, OH 44139-1866
Title:
Development of a Diamond-Based Cylindrical Dielectric Loaded Accelerating Structure
Summary:
This project will develop a manufacturing technology for artificial diamond tubes to be used in dielectric loaded accelerating structures. These diamond structures are expected to attain record high accelerating gradients. The results will be also applied to next-generation research accelerators and high power microwave systems as well as to medical equipment development.
---
Company:
Sci Engineered Materials, Inc.
2839 Charter Street
Columbus, OH 43228
Title:
Homogenous BSCCO-2212 Round Wires for Very High Field Magnet
Summary:
The Department of Energy's National Laboratories require higher field magnets than currently available for high energy physics experimentation. This project addresses this need by improving the properties of ceramic high temperature superconductors by defining powder processing conditions for BSCCO-2212 powder that improves the superconducting properties of wires made with these materials.
---
STTR Project
Company:
RNET Technologies, Inc.
240 West Elmwood Drive
Suite 2010
Dayton, OH 45459-4248
Title:
Creating Scalable Petascale File Systems using Application-Aware Network Offloading
Summary:
Parallel file systems are required to access data on current and emerging supercomputers. Currently, these file systems have bottlenecks, which can severely affect many of the applications running on the expensive supercomputers. Hence, key components of a parallel file system must be optimized using advanced hardware and software solutions. This project will accomplish these using a 10 Gigabit Ethernet "SmartNIC" that was developed on a prior DOE Phase II SBIR contract.
Back to Top
Back to Map