New York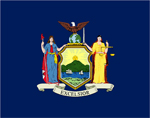 Company:
Advanced Energy Systems, Inc.
27 Industrial Blvd, Unit E
Medford, NY 11763-2286
Title:
High Power Fundamental Power Coupler for Next Generation Light Sources
Summary:
This project will develop a High Power Fundamental Coupler for third generation light sources such as the BNL NSLS-II. Technology developed from this effort will have application to fourth and higher generation light sources as well as high current/high power accelerators of the future.
---
Company:
Advanced Energy Systems, Inc.
27 Industrial Blvd, Unit E
Medford, NY 11763-2286
Title:
Improved Superconducting Accelerator System for Next Generation Light Sources
Summary:
Modern synchrotron light sources place ever higher demands on SRF acceleration to achieve peak performance. This project will develop an advanced SRF system to meet these demanding specifications. This advanced design will put a U.S. industrial firm in the global marketplace currently dominated by foreign suppliers.
---
Company:
Enogetek Inc.
2055 Albany Post Road
Suite AT-6
Croton-on-Hudson, NY 10520-1156
Title:
High Performance Hydroxyl Conductive Membrane For Advanced Rechargeable Alcaline Batteries
Summary:
Successful completion of the current program will make significant a contribution toward development of the key energy storage system that can make the utilization of alternative energy more practical and stable. The technology could also be used in HEV and PHEV to improve the energy efficiency of the vehicles.
---
Company:
United Environment & Energy LLC
111 Ridge Road
Horseheads, NY 14845-1507
Title:
Structured Catalyst for Biodiesel Production
Summary:
Although interest in biodiesel is rapidly increasing, the process by which biodiesel is synthesized has not changed much in the last two decades and is far from being efficient. This project aims to develop a high efficiency, high productivity, and low cost biodiesel production technology.
---
Company:
Tetragenetics, Inc.
95 Brown Road
Ithaca, NY 14850
Title:
Overexpression and Rapid Purification of Membrane and Secretory Proteins in Tetrahymena
Summary:
Genetically engineered proteins have become increasingly important in a wide range of applications that extend from alternative fuel production to the treatment of human and animal disease. This project is aimed at the development of new technologies for rapid production of these proteins at the lowest possible cost.
---
Company:
Acent Laboratories LLC
3 Scott Lane
Manorville, NY 11949-2623
Title:
A Novel Low Cost, High Efficiency, Algal Biomass Harvest and Dewatering Technology for Biodiesel Production
Summary:
Biodiesel produced from microalgae has been identified as an attractive renewable fuel though the cost to produce it is not yet economically attractive. This project will develop a low cost, high efficiency algae harvesting and dewatering system to address one of the key process steps and hence facilitate the widespread utilization of this feedstock.
---
Company:
Kitware, Inc.
28 Corporate Drive
Clifton Park, NY 12065-8688
Title:
Collaborative Visualization for Large-Scale Accelerator Electromagnetic Modeling
Summary:
The proposed work will create software tools that enable collaboration for viewing, interacting, and analyzing large data sets across geographically separated work-sites.
---
Company:
Reservoir Labs, Inc.
632 Broadway
Suite 803
New York, NY 10012-2614
Title:
High Performance Networks - Compilation and Optimization of Protocol Analyzers
Summary:
The volume and sophistication of cyber attacks on nationally critical infrastructure and defense systems is growing, and beginning to overwhelm our existing, reactive, low-coverage, cyber defenses. This project will develop a new pro-active, high-coverage, defense technology based on new state-of-the-art compiler technologies.
---
Company:
Reservoir Labs, Inc.
632 Broadway
Suite 803
New York, NY 10012-2614
Title:
Advanced Static and Dynamic Scheduling of HPC Applications on Petascale Computer Systems with GPU Accelerators
Summary:
Inexpensive Graphics Processing chips are a potentially very cost- and power-efficient engine for supercomputing that can accelerate advances for important problems that such as climate modeling, medical imaging, and energy exploration. What has been holding back GPGPUs until now has been programmability. This project will build programming tools to make GPGPU based supercomputing feasible.
---
Company:
Your File System Inc.
255 W 94TH Street PHB
New York, NY 10025
Title:
YFS, a High Performance Global File System That is Backward Compatible with AFS
Summary:
AFS is a distributed file system which is widely deployed throughout the High Energy Physics research community, however, it can no longer satisfy the demands placed upon it by growth. Unfortunately, migrating to alternate solutions has proven difficult or impossible. The goal of this project is to develop a new commercially available global file service. This will allow AFS users to achieve productivity improvements without costly and painful transitions between incompatible systems.
---
Company:
Advanced Energy Systems, Inc.
27 Industrial Blvd, Unit E
Medford, NY 11763-2286
Title:
Development of Reduced-Cost Helium Vessels for ILC Cavities
Summary:
The International Linear Collider (ILC) promises to open new frontiers in high energy physics. This can only happen if the machine is affordable to the worldwide community. This project will address one of the cost drivers for the 16,000 superconducting cavities and has the potential to save $130M for the project.
---
Company:
Applied Pulsed Power, Inc.
2025 Dryden Road
P.O. Box 348
Freeville, NY 13068
Title:
Optically Pumped High Power Solid State Switch
Summary:
New switching components are needed to improve electrical efficiency and reduce costs for electric power generation, transmission, and for applications such as radar. This project will develop a faster and lower cost switch than what is currently available.
---
STTR Project
Company:
Energy Research Company
2571-A Arthur Kill Road
Staten Island, NY 10309-1232
Title:
On-Line, Real Time Coal Measurement and Data Processing to Optimize Boiler Operations
Summary:
Coal-fired electric power plants suffer from outages and reduced efficiency due to the coal byproducts sticking to and clogging the equipment. This project will develop an instrument that measures coal properties and avoids this problem. This will increase a power plant's electric output which will lower consumer's costs and reduce greenhouse gases.
Back to Top
Back to Map