Germantown Natural History
Germantown's
Natural History:
The Glenn Seaborg Trail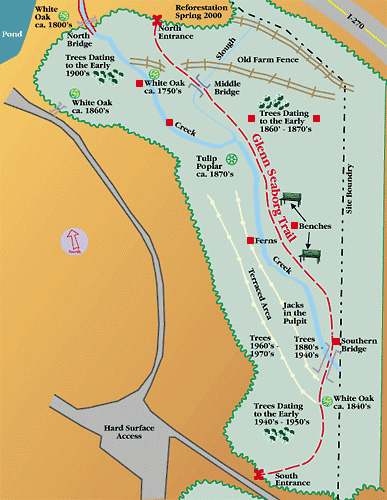 The map shows the Glenn Seaborg Trail and forest in relation to the site boundary to the east, the pond to the north, and Interstate 270 to the northeast. For a virtual walk on the Trail, mouse-over the red squares

on the map to view a picture; click for a larger picture and description. You may also view the pictures in a slideshow.
Glenn T. Seaborg, Nobel Laureate and AEC Chairman from 1961 to 1971, blazed the Trail that bears his name today. An avid hiker, he often walked on the Trail with friends and associates. The Trail is about one quarter mile long from its northern entrance near the newly reforested area to its southern entrance near the Child Development Center.
From the northern edge of the forest, the Trail winds past a number of large, ancient trees: a white oak from the 1750s, a tulip poplar from the 1870s and a particularly large white oak from the 1840s. The Trail continues beneath a mix of hickories, oaks, and tulip poplar, ending in an area of Virginia pines from the mid-1950s.
Conditions around the AEC site enabled these old trees to survive. Construction of the AEC building in 1956-1957 had minimal impact on the forest. (See construction photos.) Restricted access to the site and installation of security fences had the effect of protecting it.
The forest hosts a diverse array of wildlife. DOE employees have tallied at least 36 species of birds, including pileated and downy woodpeckers, orioles, warblers, and owls. Ponds and streams provide a habitat for small fishes, snakes, and amphibians, in turn attracting Canada geese, herons, and kingfishers. Whitetail deer, red and gray foxes, eastern cottontail rabbits, groundhogs and chipmunks may be seen from the Trail.
View:
For further information on the history of DOE and the Germantown Site, contact the History Division at 301-903-4135. For further information about the natural history of Glenn Seaborg Trail, contact the Office of Science at 301-903-2314.