Champions in Science: Profile of Ilkay Can, National Science Bowl® Champion (1993) - April 19, 2019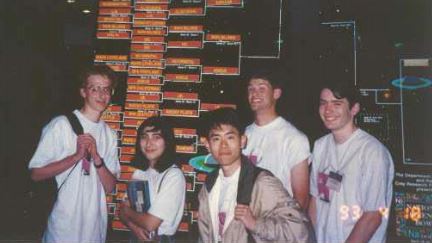 The Albany High School team as they arrive at the 1993 national competition: (L-R) Zach Teitler, Ilkay Can, Michael Wang, Ben Rudiak-Gould, and Matthew Siebert.

Photo courtesy of Ilkay Can
Ilkay Can remembers the fun, the friends, and the last question in the regionals that sent her Albany High School team from California to Washington, D.C. to compete in the 1993 National Science Bowl: "What do cycads, conifers, and gingkoes have in common?".
Albany was facing a familiar nemesis at the Lawrence Berkeley National Laboratory regionals — a rival high school that had beaten them in previous matches. "I don't know if I even waited for the moderator to say all the multiple choice answers because I was like, 'Yes, I know this one', recalls Can. "So I buzzed in. That won the whole thing." Her answer** gave Albany High the regional win and their ticket to the national competition.
The team consisted of: Can, Mike Wang, Ben Rudiak-Gould, Matt Siebert, and Zach Teitler. They had practiced a lot, getting together at least once week to quiz each other, and after the regional win, there were more practices. Along with the studying and fact absorption, the team also worked on techniques and strategy. "It was drilled into us: 'make sure you listen to the question'; 'never buzz early'; 'never assume'; 'don't rush'.
"We definitely had to practice because you want to say the answer so bad and you had to wait for the moderator to recognize you.
"We were serious when it came to studying. We were not 'la-di-dah'. We felt like it was a big opportunity," says Can. "I'm competitive, the guys were competitive, and we wanted to win."
It was her first time to visit the nation's capital and she loved walking through the city, touring the monuments, the White House, and connecting history to what she was seeing.
"We (Albany High School) were new to the national competition and were just happy to be there. I had zero expectations; I remember walking into the hall and seeing the big bracket chart that shows your school's path to the finals," says Can. "That is when it hit me! Holy smokes! It's going to be a long day!"
Three-quarters of the way through, Can went to a pay phone and called her parents.
Her parents had been supportive of her school activities. But when she won the regionals and shared the news of the upcoming trip to the national competition, the school chaperone — Bruce Downing — had to come to their home to reassure and convince her parents that Can would be supervised and safe on the trip to the East Coast.
Now she was calling them with the unexpected news that Albany was winning their matches and advancing in the bracket.
And later, "I called back and said, 'We won!' and my parents were, 'WHAT?' I remember feeling pretty proud of our team and thinking, 'Oh my God, we're going to Australia!' It was so overwhelming. This huge competition! It was just crazy."
This time Can's parents had to approve a trip that would take her farther than across the continent; the championship prize in 1993 was a trip to the International Science School in Australia. It was an opportunity to study science in a university setting along with other international students. "It was formative for me in the sense that it made learning fun. I wouldn't give back that experience for the world. I'm still friends with people I met there – Tom in England and Richard in New Zealand."
Can decided not to compete the following year, her senior year. But NSB continued to be important to her.
"The Science Bowl was the gift that kept on giving. I wrote about the Science Bowl — how great it was! — in some of my college essays."
Can selected the University of California, Berkeley, entered as a political science major, but quickly found it wasn't for her. She then found her niche in the Haas School of Business(link is external). "I liked how marketing combined aspects of psychology into a business-oriented science," she says. After graduation and internships, she began an entry-level job that set her on the career trajectory she is on today. "I started at the Clorox Company in brand management and I loved it, loved it, loved it," says Can. This inspired her in 2001 to enroll in Harvard Business School(link is external) and earn her MBA, then return to the West Coast and dive back into brand and product management.
"It is a very analytical, numbers-oriented, and psychology-oriented way of looking at your business. Consumers matter at all costs. You are looking at their behaviors with market research and metrics to understand how to run your business. It is a little bit science and psychology applied to business."
Today Can is Vice President for the Visa Developer Platform at Visa, Inc. client engagement team. She is responsible for helping developers and providers of payment experiences innovate across channels using VISA APIs (application programming interfaces). The team's work with VISA technology makes payment experiences easier for consumers around the world.
"This (NSB) competition was formative in that it exposed me to what I could do, how I could win. It helped me understand my strengths," says Can. "The Science Bowl really reinforced for me the fact that new things in your life can help open doors; embrace it. And I've carried that through to everything I work on today.
"I'm so proud that Albany High has this tradition associated with the Science Bowl. It makes me feel great — for how important this is and how it is supported by the community and the school.
"These opportunities for students are so great. I encourage students to maximize them.
"Go forth and conquer, Albany High. I hope we keep on winning."
**The winning answer to the regional question: They are all gymnosperms.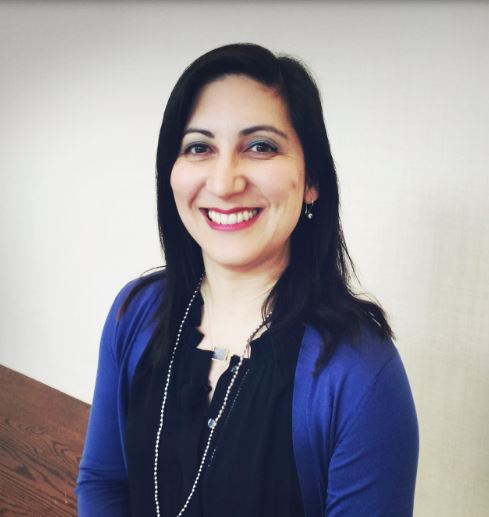 Ilkay Can is Vice President for the Visa Developer team at Visa, Inc.

Photo courtesy of Ilkay Can
---
Profiles of Past Competitors: please go to Historical Information - National Finals - Profiles of Past Competitors to read more student stories about their NSB experiences.
The U.S. Department of Energy Office of Science manages the National Science Bowl® and sponsors the NSB finals competition. The Office of Science is the single largest supporter of basic research in the physical sciences in the United States and is working to address some of the most pressing challenges of our time. For more information please visit https://www.energy.gov/science.
Sandra Allen McLean is a Communications Specialist in the Office of Science, sandra.mclean@science.doe.gov.