Champions in Science: Profile of Emily Martinez, National Science Bowl® Competitor (2004) - April 8, 2019
Seated from left, the Santa Monica High School 2004 National Science Bowl team: Rem Koning, Matthew Gilbert-Hamerling, Donna Ivry, and Emily Martinez.

Photo courtesy of DOE NSB
Emily Martinez's prize from the National Science Bowl® competition is not a 5-foot-tall trophy, an all-expenses paid science trip to Alaska, or bragging rights.
Because she actually didn't win the championship when her team from Santa Monica High School came to Washington, D.C. in 2004 for the national competition.
And she's fine with that.
What she did win is a friend for life, a love of science, and a passion for doing work that matters, supported along the way by generous mentors.
Martinez began competing in bowl contests through Santa Monica High School's preparation class. Students would practice for academic competitions like the National Science Bowl® (NSB), the National Ocean Sciences Bowl, the Quiz Bowl, and the United States Academic Decathlon®.
"My recollection of that class was mostly hanging out with people. In terms of high school life — I really did have a solid group of friends. I think that was valuable," Martinez says. "Donna [teammate Donna Ivry Doktorcik] and I are still very close."
Martinez joined the NSB team in 2003 as an alternate. The next year, she made the A team as their biology specialist; her team won the regional competition and would compete in D.C. It was her senior year and pressures were building. She had to juggle the time commitments for competition practice and travel, schoolwork, make-up tests, and Advanced Placement exams, along with assessing and making college decisions. For example, it meant Martinez had to prepare for and make a cross-country trip to compete in the Ocean Sciences Bowl, then return home and 72 hours later, board another flight from California for the NSB.
"It was fantastic to travel to D.C.; I was excited to be there," recalls Martinez, but it was sort of a relief when her team got knocked out of the NSB competition in the Round Robin. "I remember seeing other teams going crazy studying, it was like, 'Oh, I don't have to do that now.'"
After graduation, Martinez attended the University of California, Berkeley and majored in molecular and cell biology. From a family friend's suggestion, she applied for and was accepted into the National Institutes of Health (NIH) Post Baccalaureate Intramural Research Training Award program. "I lived in D.C. for two years, working at the National Institute of Allergy and Infectious Diseases in the NIH. I worked in the Eric Long lab and had a fantastic post-doc who mentored me and was generous with her time and her support."
She returned to California, completed her master's degree at the University of California, Davis ecology program and found a dream job at NCIRE, a nonprofit lab focused on veterans' health issues.
Martinez found her next mentor in Millie Hughes-Fulford, a former astronaut on the STS-40 Spacelab Life Sciences, who was researching gene activity in human T cells in space. Using blood from blood banks, the experiment isolated and stored the cells in special cartridges. Once the cartridges arrived at the International Space Station, the T cells were stimulated so that researchers could look at the different genes that were turning on and off.
The process of setting up the experiment took between 10 and 14 hours. If a rocket launch was scrubbed, the experiment had to be re-set. "It was an awesome job," recalls Martinez. "We had to work with NASA and Space X to coordinate all the logistics. And going back to the Apollo 13 'failure is not an option' thinking, you come in with a Plan A, a Plan B, a Plan C, a Plan D. It was chaos; but at the same time, it was like — you had this confidence; we are going to get this done.
"We spent a lot of time going down to Cape Canaveral in Florida, doing a lot of prep work. You really have only one shot at the experiment."
At the first launch, Martinez had her phone out, ready to film. An experienced NASA employee told her to put it away, saying 'there will be video. But stand here and watch it now. Know that you've worked for months to get something on the launch and it's going to go.'
"I would not trade that experience for anything," says Martinez. "One of the most exciting things is watching a rocket launch with your experiment on it."
Today, Martinez is an associate scientist at Kite Pharma, a subsidiary of Gilead Sciences.
"We work on CAR T cells which are modified T cells which are targeted towards different types of cancer. A lot of what we do is looking to improve therapies to target solid tumors, which are harder to cure. There are a lot of unanswered questions, which I find really exciting.
"I love biology and I love what I do. The NSB was important; the class was foundational in setting me on this path. I don't know if I would have gravitated towards biology if I hadn't been the NSB biology person."
Martinez appreciates the help she has had from mentors and bosses. "To have mentors who were so encouraging and who were able to help me develop skills I needed, help me figure out what I needed, and where I wanted to go — I am very lucky in always having mentors who were generous with credit.
"I've had a really cool set of experiences," says Martinez. "The Science Bowl was certainly an influence on me."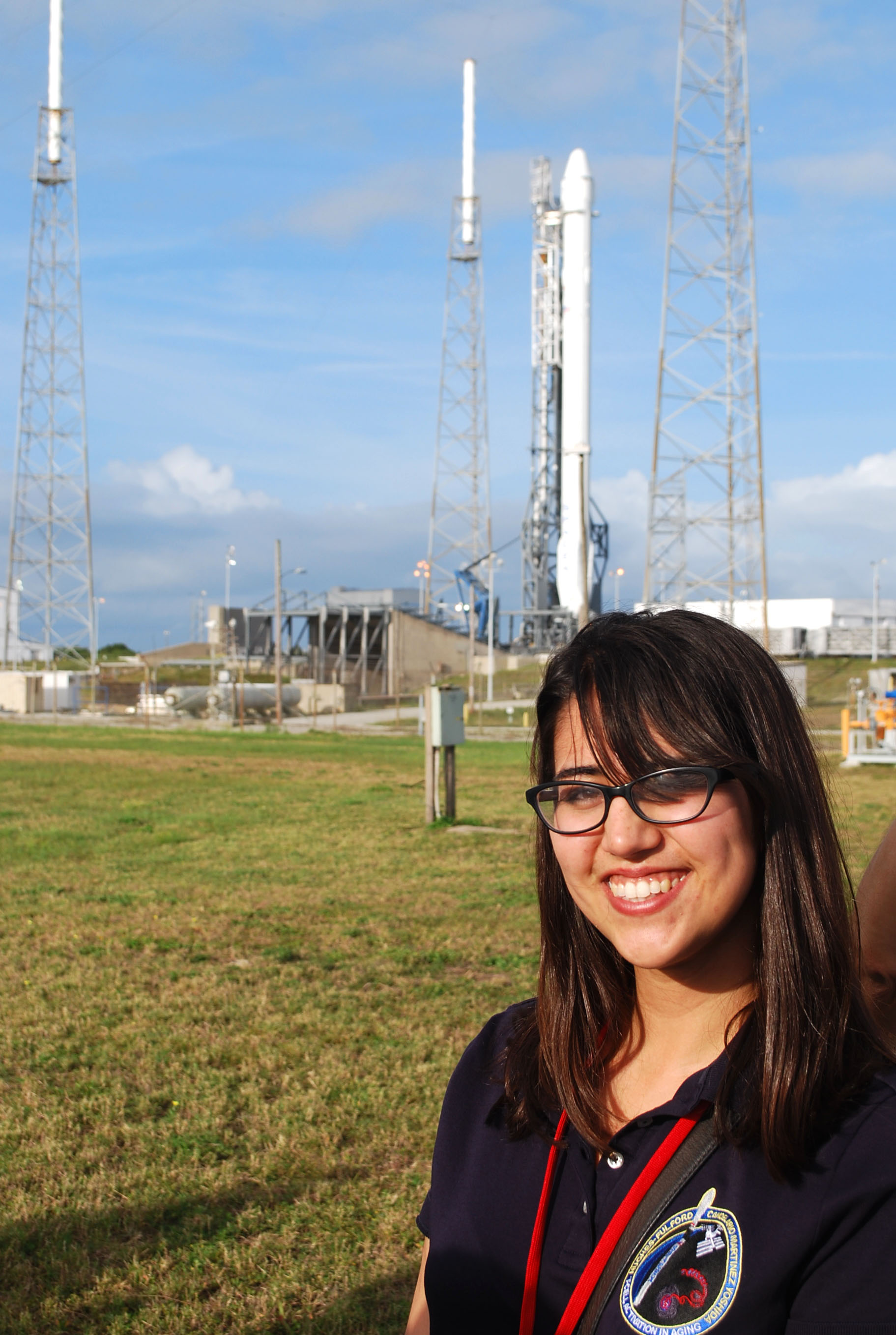 Emily Martinez stands in front of the Falcon 9 rocket before her experiment launches to the International Space Station.

Photo courtesy of Emily Martinez
---
Profiles of Past Competitors: please go to Historical Information - National Finals - Profiles of Past Competitors to read more student stories about their NSB experiences.
The U.S. Department of Energy Office of Science manages the National Science Bowl® and sponsors the NSB finals competition. The Office of Science is the single largest supporter of basic research in the physical sciences in the United States and is working to address some of the most pressing challenges of our time. For more information please visit https://www.energy.gov/science.
Sandra Allen McLean is a Communications Specialist in the Office of Science, sandra.mclean@science.doe.gov.