2010 DOE National Science Bowl® Photos – First Place Winners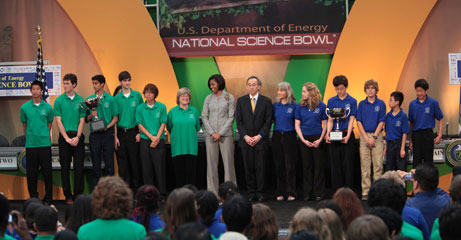 First Lady Michelle Obama and Department of Energy Secretary Steven Chu congratulate the 1st Place winners in the 2010 National Science Bowl in Washington, DC on May 3, 2010. North Carolina School of Science and Mathematics from Durham, NC won 1st Place among the 68 high school teams and Albuquerque Academy, Albuquerque, NM, won 1st Place among the 37 middle school teams.
Left to right: Chistian Johnson, Akhil Jariwala, Bryce Taylor, Alexander Yoo, Coach Leslie Brinson, Michelle Obama, Secretary Steven Chu, Coach Barbara Gilbert, Ray Kurch, Ben Zalyomi, Andy Chen, Jason Frank Hou, Eric Li

Photograph by Dennis Brack, National Science Bowl

For more information: DOE Press Office (202) 586-4940.