Winston Churchill Middle School - Sandia National Laboratories California Regional Middle School Science Bowl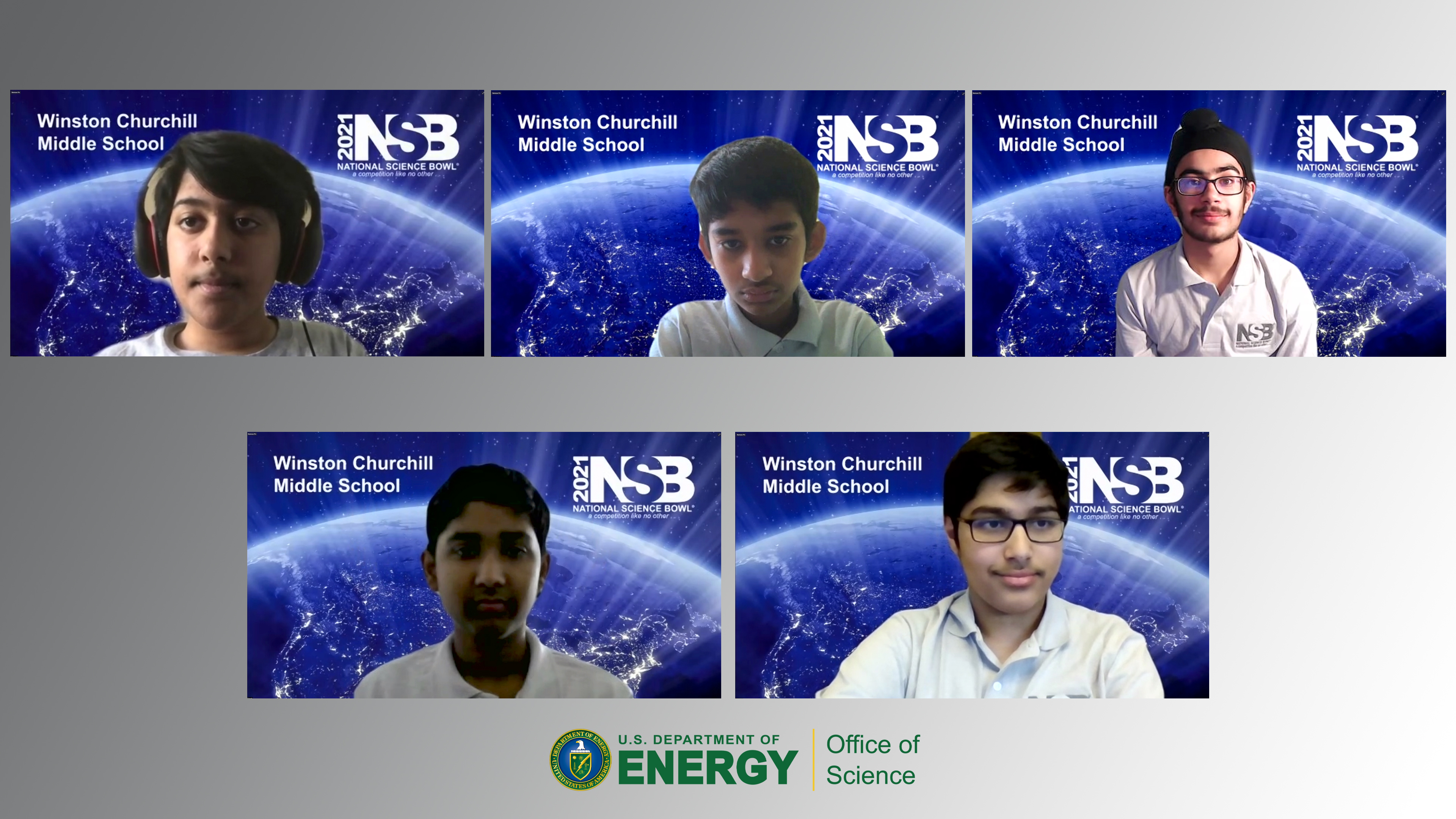 Click To View Flickr Album
Aatreyo Bhattacharyya is an eighth-grade student at Churchill Middle School in Carmichael, California. He is the captain of his Science Bowl team and this is his second year competing. Aatreyo does math and biology and has competed in many competitions related to those subjects. He loves playing Quiz Bowl, once playing in four tournaments in a row, setting a record. In his free time, he likes to talk to people on Discord or watch movies especially ones related to World War II because he finds learning history as a very important skill which helps further his understanding of the world. Aatreyo loves music and will generally listen to almost any genre. He loves looking at paintings and finding small details in them which can help him in his future Quiz Bowl endeavors. The motivation to learn science is Aatreyo's biggest draw to Science Bowl. He is super excited to continue learning and represent his school at this year's vNSB.
Saheb Gulati is an eighth-grade student and it is his first year competing in NSB. Saheb studies earth and space for his team, and he thinks astronomy and astrophysics are out of this world. Some of Saheb's interests include Science Bowl, Quiz Bowl, reading, basketball, video games, watching movies, chess, and more. Saheb likes to root for his favorite basketball team the Golden State Warriors, and follows them avidly. In his free time, he likes to watch movies such as Star Wars or Marvel and play video games such as Valorant with his friends, who call him "the best role player in North America". Saheb is stoked to compete this year at nationals even though it's virtual :( and hopes to help his team do the best they can.
Rishabh Venkataramani is a seventh-grade student, whose favorite subjects are math and science. He has always found both of these subjects the most interesting. He loves to read any type of book and likes books in general. He really likes cars, and that is one reason that physics and chemistry are his favorite types of sciences. He appeared in math competitions since second grade and found a love for math since then. His favorite hobbies are chess, collecting various items, and programming. His favorite sport is soccer. In his free time, he likes to read books and play racing video games. This is the second time he has been competing is NSB, and the first time he is going to nationals. He is really excited for nationals and the journey that it provides.
Tanay Bodducherla is an eighth-grade student at Winston Churchill who studies Chemistry for his science bowl team. His favorite subjects in school include Science, History, and Math. In his free time, he enjoys reading books, watching Youtube, and playing basketball. He has also been playing the piano since he was in first grade. Tanay has done many Quiz Bowl and Science Bowl tournaments throughout middle school, and also has competed in math competitions since he was in elementary school. This is his first year competing in Science Bowl, and he is very excited to be representing his school at NSB Nationals!
Jacob Jeenaraj is an eighth-grade student at Winston Churchill whose favorite subjects are science and math. At a young age he found his passion for science. He started by reading various books about science and found that he enjoyed biology in particular. He also found his love for math soon after. During elementary school, he diligently competed in math contests and in fourth grade he won the school Math Bowl competition. His interest in both math and biology motivated him to join the Science Bowl Team in seventh grade. His hobbies include playing chess with his family, reading (mostly non-fiction) and playing basketball. Jacob's dream college is UCLA and he plans to be in an occupation that applies biology or engineering. This year, being Jacob's first year going to nationals, he is thrilled to have the opportunity to represent his school in the National Science Bowl competition.
Coach Bruce Hansen has coached science bowls for Churchill MS for the last eight years and has taught science for the same period. He initially was a high school math teacher and he still enjoys challenging the students with the occasional math problem. He loves teaching earth science (especially the field trips) and interacting with his students. He previously retired from the Air Force and was able to travel to many places. He is originally from Ohio and loves sports, Science Bowl and Quiz Bowl. He has also coached Churchill's Quiz Bowl teams to top 15 national finishes the last four years topped with a second place finish last year in Chicago. He coached Churchill to a top five finish at last year's NSB.