Van Antwerp Middle School - New York State Capital District Regional Middle School Science Bowl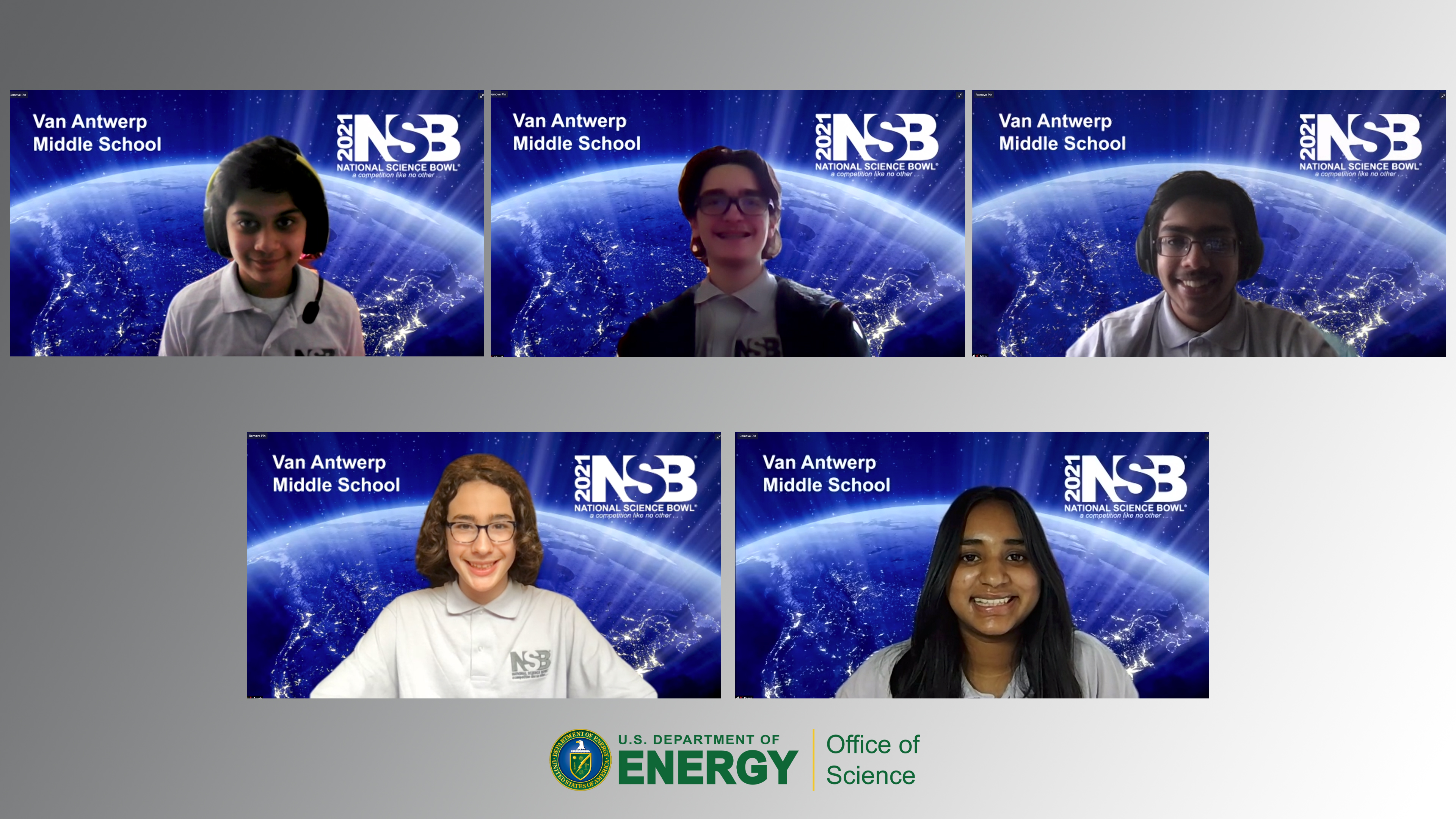 Coach Karen Postlethwait currently teaches sixth-grade earth science at Van Antwerp Middle School. In the past she has also taught high school biology and eighth-grade physical science. She has a B.S. in secondary biology education from Penn State University and an M.S. in curriculum and instruction from The University of Albany. Coach Postlethwait has coached the Science Bowl team for the last nine years, and this is the fourth year she has brought a team to nationals. In her free time, she enjoys hiking, kayaking, gardening, reading, and spending time with her husband and three kids.
Coach Christine Anani is a seventh and eighth-grade life and physical science teacher at Van Antwerp Middle School in Niskayuna, NY. She studied zoology at the University of Maine, biology at SUNY Albany, and completed her Master of Arts in teaching at Clarkson University. In her free time, she enjoys gardening, traveling, photography, cooking, painting, and has recently been learning textile arts. This is her third year co-coaching the Van Antwerp Science Bowl Team and is very excited to see how far our students have come!
Aryeh Korevaar is an eighth-grade student at Van Antwerp Middle School in Niskayuna, NY. Aryeh is highly interested in mathematics and science, and he hopes to pursue his career in these areas. Aryeh is actively involved in the MATHCOUNTS, AMC 8/10, and Science Bowl competitions and he loves to write math contests for others. Besides math and science, Aryeh grew up speaking and understanding different languages, like Dutch and French. In addition, he loves playing bassoon and piano. Hobbies of his include collecting coins, watercolor painting, reading, playing Magic The Gathering with his family, and Chess. Aryeh is also a highly active person, as he is a competitive swimmer and likes to play soccer, basketball, and go on bike rides.
Alex is an eighth-grade student at Van Antwerp Middle School in Niskayuna. His favorite science topic is astronomy, with earth science being a close second. Outside of school, he plays lacrosse and volleyball, and enjoys playing video games with his friends in his free time. Alex often travels around New York, but rarely goes out of the state, and has never been to another country. In fact, the farthest he has gone is Washington DC. Apart from science bowl, Alex has also participated in the Geography Bee.
Reeya Dhinesh is a fun-loving and bright student from Van Antwerp Middle School. She loves science and hopes to pursue a career in medicine. She loves to read, listen to music, play volleyball and play with her dog. She has been taking Indian classical dance, Bharatnatyam, for several years, as well as karate, and ice skating. She visits India yearly and knows how to speak Malayalam. Reeya has been in the school geography bee for two consecutive years and placed twice overall in the school. She codes in her free time and has learned JavaScript and Python. She hopes to go to a college with a great medical program in anesthesiology. Her dream schools are Johns Hopkins University and NYU. Her favorite tv show is "The Fresh Prince of Bel-Air" and her favorite book is "When Breath Becomes Air." She has been on TV for being part of Teens Helping Seniors, a service to assist at-risk seniors during the pandemic.
Mihir Kulkarni is an eighth-grade student at Van Antwerp Middle School in Niskayuna, New York. He enjoys studying STEM topics, especially Chemistry and Biology. He also was ranked fifth in the region in the MATHCOUNTS Chapter and Chapter Invitational contests, and advanced to the State competition. He also enjoys history and biology, and participated in the geography bee. Mihir also participates in tennis, swimming, and skiing. He sings in chorus, he was part of the regional Suburban Council choir, and sang for the elite district choir, Mezzo Vöce. He also plays the violin for the school orchestra and plays the piano. When he is not studying or playing sports or music, he likes to play chess, read books, and play Minecraft with friends. He also enjoys playing a friendly game of table tennis with friends or family. When he gets older, Mihir hopes to go to Columbia University for pre-med and NYU for med school, and become a neurosurgeon.
Arjun Rangarajan is a seventh-grade student attending Van Antwerp Middle School. Raised in a family of engineers, he has always favored Mathematics and Science. His extracurricular activities include piano, chess and computer programming. He loves playing computer games and enjoys reading books written by Rick Riordan, J.K. Rowling and Lincoln Pierce. Physics and nuclear energy are his favorite topics in science. His ambition is to pursue higher education with a focus on science and technology, particularly computer science.