Sycamore School - Indiana Regional Middle School Science Bowl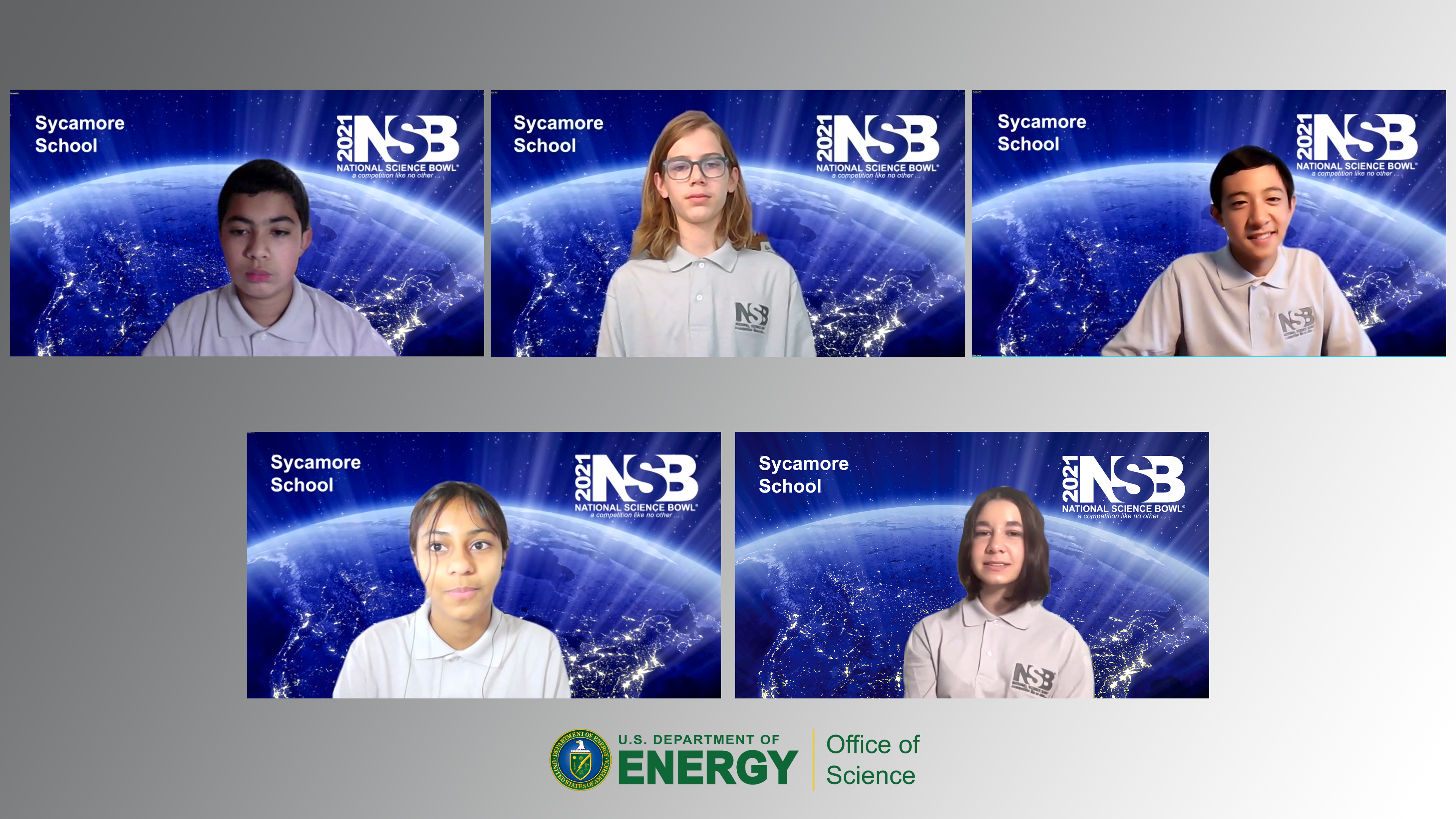 Coach David Schuth has taught science for 22 years since graduating from Butler University. Minor hobbies include professional fireworks, theatre technology & performance, acting, smoking-foods, singing, stringed instruments. Major hobbies include disc golf, grilling foods, tabletop games, reading, and graphic novels. David also dallies in homemade ice cream and peanut butter, cheese making, balloon animals, computer programming, cake decorating, and animation.
Nate Liang is fourteen and in the eighth grade. He enjoys all subjects, but his favorite subjects are biology, chemistry, algebra, and history. Nate aspires to attend Harvard University to become a neurosurgeon. He competes in the National History and Science Bees, MATHCOUNTS, National Academic Bowl, and, of course, Science Bowl. For fun, he enjoys reading, traveling around the world, going for a winter run, playing a round of golf, or hanging out with his friends.
Kavya Chheda is an eighth-grade student at Sycamore School. She enjoys sports such as running, volleyball, swimming, and Taekwondo, in which she is currently a third degree black belt. Other activities she likes include rock climbing, drawing, and writing. She also enjoys reading in many genres, whether it is fiction or news articles, particularly articles regarding new discoveries or the planet. She participates in debate and has for the past three years. She likes spending time and playing video games with her friends. Her favorite subjects in school are history, science, and art. In science, she enjoys earth science, biology, and chemistry. Her favorite animal is a manatee. She would like to pursue a career in the medical field.
Lukas Fiur is an eighth-grade student whose primary interests are robotics and science. He has competed in the VEX IQ robotics competition for four years, reaching the world's competition three times. He also enjoys reading and playing board and roleplaying games. Lukas has also participated in the Destination Imagination, a creative problem solving competition, for three years. One of his hobbies is collecting playing cards. His plan for the future is to study physics and robotics.
Insia Zaidi is an eighth-grade student at Sycamore School. She enjoys biology, physics, chemistry, history, art, poetry, and math. She does not really know what she would like to do when she grows up, but a career in the fashion or cryptocurrency industry would be nice. In her free time she likes to observe her cat, listen to music, and play video games.
Akhil Jois is a sixth-grade student whose interests include space science, nuclear energy, and math. He actively participates in math and science clubs. He hopes to power the world with new power sources that can be found outside of the earth, such as efficiently creating solar energy, or using gravity to power the world, all while developing a deep appreciation for space science.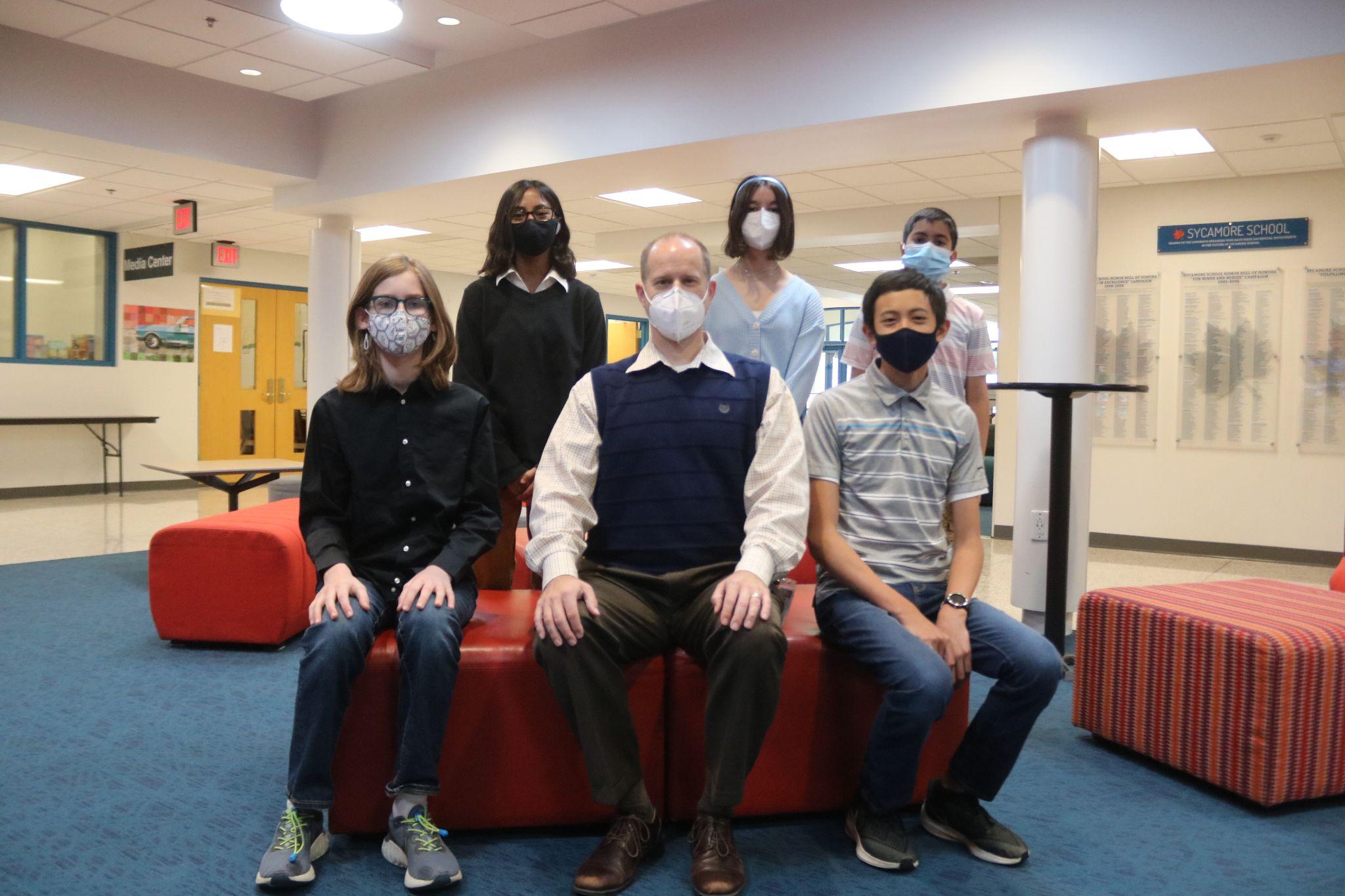 Front Row (L to R): Lukas Fiur, Coach David Schuth, Nate Liang
Back Row (L to R): Kavya Chheda, Insia Zaidi, Akhil Jois