Miller Middle School - South/West Bay Area Regional Middle School Science Bowl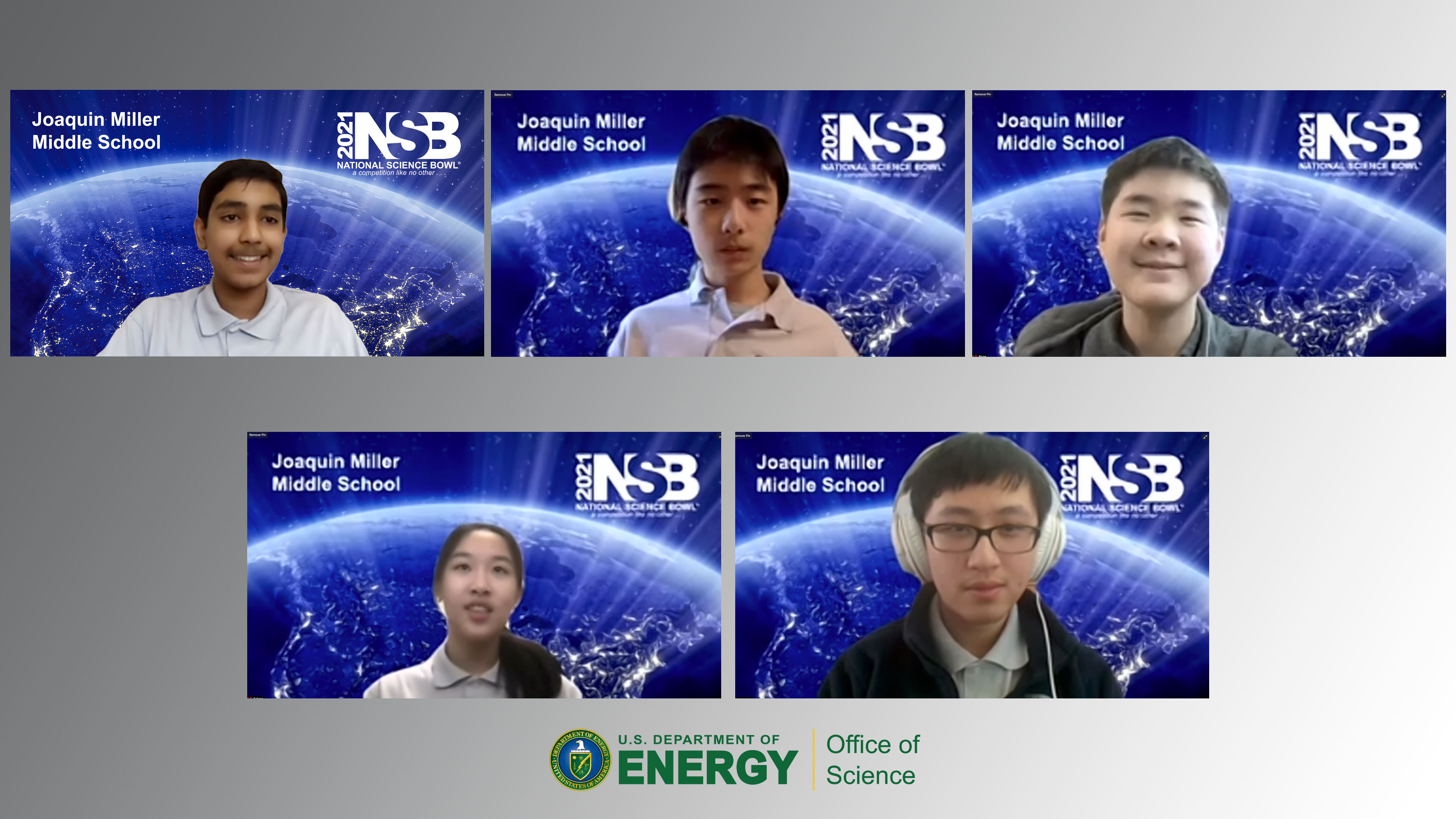 Coach Vibha Walia has been an eighth-grade science teacher for the past 17 years and whose passion is teaching technology and science. She has a Ph.D. degree in chemistry. Family and friends are very special to her. She enjoys hiking, shopping, watching TV and visiting new places. She loves to spend time with her husband and two sons.
Coach Cynthia (Ying) Feng is a software engineer in high-tech companies for 15 years. She holds a Ph.D. degree in computer science from University of California Santa Barbara. Her areas of interest include distributed systems, data analysis and database systems. She has been a volunteer in helping middle school students for Science Bowl and Science Olympiad in the past two years. She loves her two daughters and enjoys cooking and hiking with them during spare time.
Selena Yang is an eighth-grade student at Miller whose favorite subjects in school are science and math. She is also particularly interested in biology. In the future, she hopes to further develop her interest in genetics and disease. Selena has also participated in the Science Olympiad and FBLA for the past two years. In her free time, she plays piano and hikes with her family. Selena also enjoys drawing detailed biology diagrams and reading.
Sohil Rathi is a seventh-grade student at Miller Middle School. He has participated in Math competitions all over the US and won several national and regional competitions. He qualified for AIME in fifth, sixth, and seventh grades, and for MATHCOUNTS State in sixth and seventh grades. Sohil also enjoys science and was part of the school's Science Olympiad team and won prizes at many regional competitions. Sohil founded OmegaLearn.org to share his love for math and science, and is dedicated to providing free online classes to students all around the world. He has created and taught several math courses including AMC eight and AMC 10/12 to thousands of kids, and has a YouTube channel with 100+ math videos. Sohil also wrote "The Book of Mathematical Formulas and Strategies" which is available for free at http://www.omegalearn.org/thebookofformulas. Sohil wants to study math and science, and combine them with his entrepreneurial passions to find solutions to real world problems.
Brian Xue is an eighth-grade student at Joaquin Miller Middle School. He enjoys browsing the Internet, reading, writing, drawing, along with several video games such as Geometry Dash and Minecraft. He also enjoys doing math problems, computer science, and various science subjects and has participated in some competitions. His favorite scientist is Richard Feynman, due to his entertaining autobiography "Surely You're Joking, Mr. Feynman". His favorite science subject is physics, closely followed behind by biology, and his favorite scientific phenomenon is triboluminescence. His dream is to eventually work in developing a perfect virtual reality with all five senses along with AI built to emulate the human brain.
Jianyu Wang is currently in eighth grade. He enjoys learning about science and math, and he is in the Science Bowl and Science Olympiad. In his free time, he enjoys talking with his friends and making small coding programs.
Johnathan Kao is an eighth-grade student at Joaquin Miller Middle School in San Jose. He is interested in geography, astronomy and oceanography. He enjoys playing online games and reading in his free time. He has participated in multiple spelling bees and geography bees in the past. He has won the school spelling bee for three different years and has even gotten to the California state competition for Geography Bee. Unfortunately, both of these competitions were cancelled due to the pandemic. He has also played sports such as volleyball in the past. He plans on exploring more about life before choosing a future occupation.