Los Alamos Middle School - New Mexico Regional Middle School Science Bowl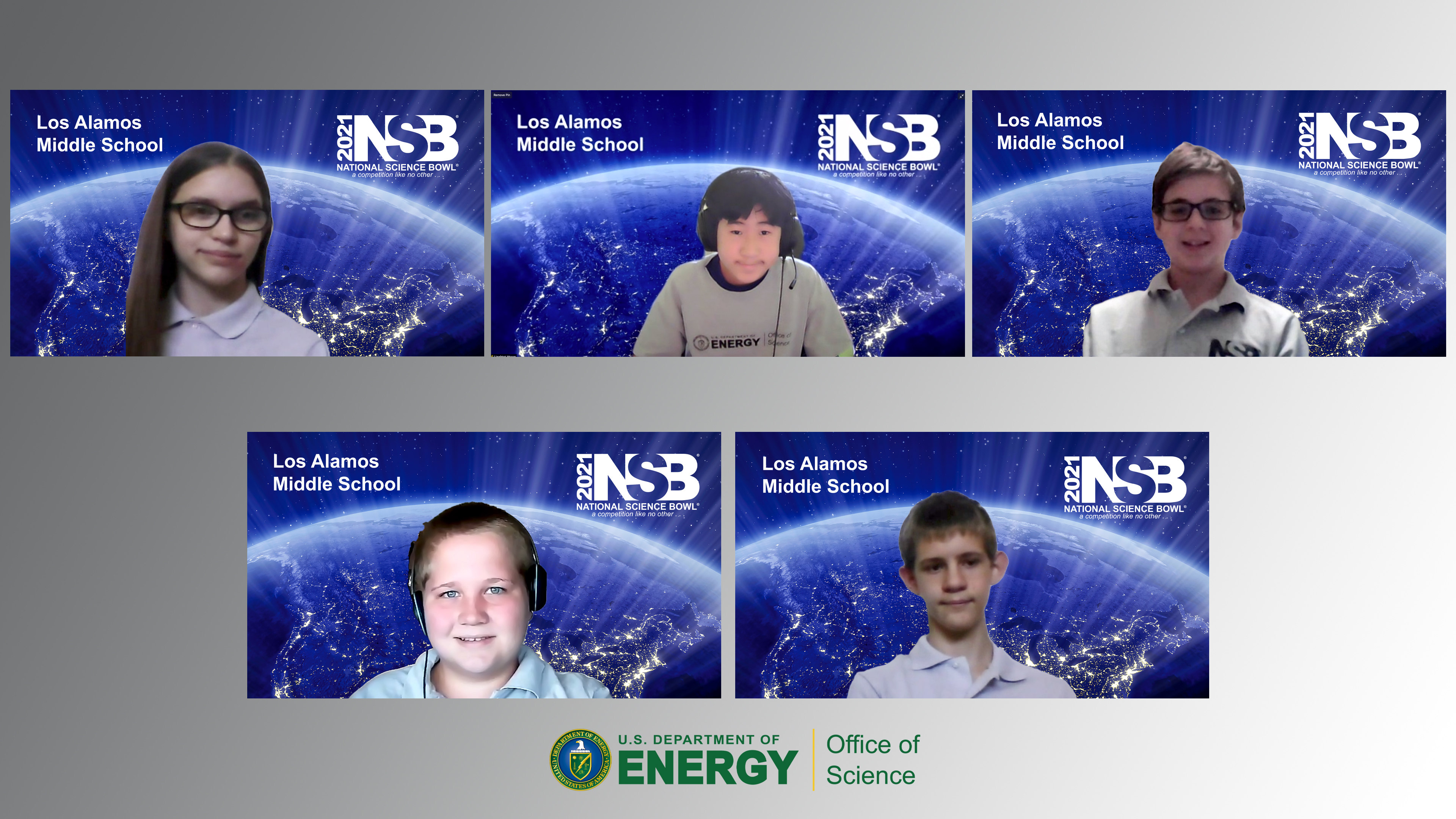 Coach Lindsey Fullop has been teaching middle school and high school science for 15 years. She recently moved from the midwest and currently teaches seventh-grade science in New Mexico. This is her fourth year coaching Science Bowl and third trip to nationals. In her free time, Coach Fullop enjoys running, cooking, and traveling to new and exciting places.
Coach Andy Ainsworth is currently an assistant principal and formerly taught history. This is his first year being involved with Science Bowl and is continually impressed with the level of talent of the students. In his free time he enjoys spending time with his family and golfing.
Jasper Carpenter is a seventh-grade student whose favorite subjects are science and math. In his free time he likes to read, play the piano, and the trumpet. He participated in FIRST Lego League for three years. His favorite foods are pork schnitzel and donuts.
Joseph Dale played football during the first semester. He played left guard. He is in a family of five, his two brothers and mom and dad. He loves music. He plays percussion in the Los Alamos Concert Band. He loves playing D&D with his brothers and friends. He plays track and field and he does shot put and discus. His favorite sport is soccer. Joseph specializes in life science. His team is strong in physics, life science, energy, math, and general science. He loves to read. His favorite book is every book he has read. Joseph loves talking in idioms and quotes. Joseph Dale can't wait for Science Bowl.
Linnhtet Htoon is thirteen years old. He skipped fifth Grade. He would like to be an entrepreneur and a businessman. Furthermore, this is the second time he is going to Science Bowl nationals. He also won the MATHCOUNTS chapter competition and participated in state this year. He also won a state-wide math competition called the UNM/PNM this year. He likes to play tennis as well as play video games in his free time. His favorite class is math class because it is very interesting and fun to learn.
Wilson White is an eighth-grade student who likes his science and math classes. During his free time he enjoys playing board games, chess, reading, and crochet. He also competes in chess tournaments with his twin sister.
Annie White is in eighth grade and likes her science and math classes. Her interests include drawing, painting, and reading. She likes to see how things fit together and is considering a future career in the field of engineering. Annie participates in many school activities and is hoping to join a sport in high school. Annie has a twin brother and is proud that she is older than he is.