Lorenzo de Zavala Middle School - Pantex Regional Middle School Science Bowl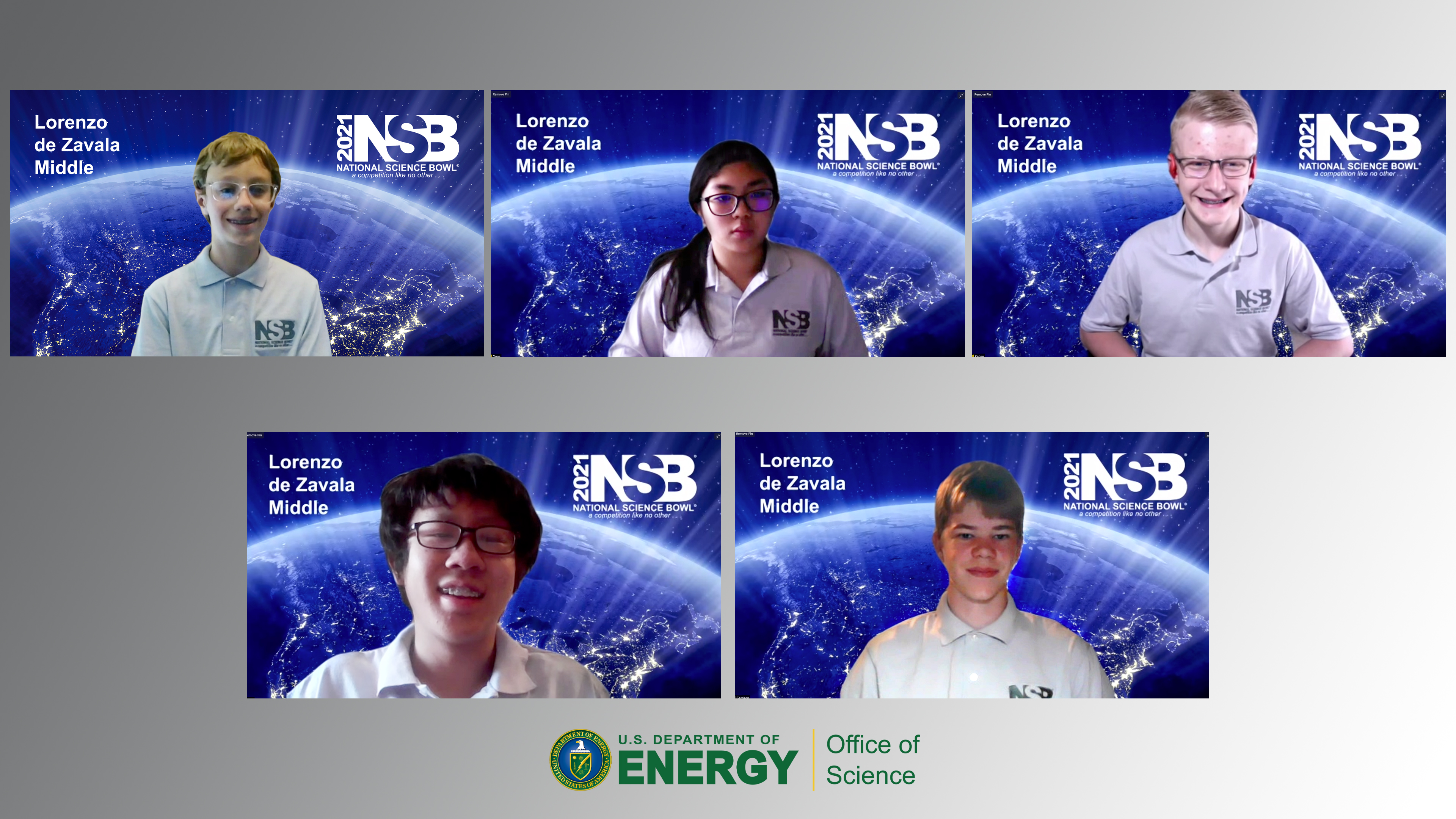 Coach Julie Diaz taught fourth and fifth-grade science at Dalhart Intermediate School for eight years. She is currently teaching fifth grade science at Lorenzo de Zavala where she has taught for ten years. During that time she has helped with and coached Science Bowl for ten years. She was raised in Central Texas and moved to Canyon, Texas to attend college at West Texas University to study animal nutrition. While there, she was hired to be a technology advisor to college professors which led to accepting a job to run the American Reads program through the education department. Soon she learned she had more of a passion for educating students than animal nutrition. She learned that she could mix both her passions by teaching science. She graduated with degrees in both reading and science. Coach Julie Diaz is married to Jesus Diaz, and they are proud parents to Maximus and Abigail Diaz.
Kaden Lackey, 14, lives in Amarillo, Texas and attends Lorenzo de Zavala Middle School. He is involved in athletics, band, and student council at school and Boy Scouts of America and his church youth group outside of school. Kaden's hobbies include writing, engineering, building with LEGOS, and spending time with friends and family. His favorite subject in school is math, and he finds it easy and enjoyable. In band, he plays the alto saxophone and has been successful at both the district and regional competitions as well as solo and ensemble. He plans to continue playing through high school at Tascosa High School.
Yuna Ng is thirteen and in eighth grade. She is currently attending Lorenzo De Zavala Middle School. She previously attended Woodlands Elementary School. Her interests include playing volleyball, listening to music, reading books, and playing the viola. She has been playing club volleyball for two years and has been playing the viola for three years. Her favorite subjects include math, science, and social studies. She dreams of pursuing a career in the medical or in a STEM field. She loves traveling to Japan every year over summer to visit her family. She attends school there every summer and has the opportunity to enjoy the interesting cultures.
Jason Vo has a very busy life. He is a martial artist and has received high ranks in two different dojos. In addition, he is a Boy Scout and is working for his Eagle scout rank. However, nothing outshines his love for science and mathematics. Generally, he can pick up science and arithmetic concepts fairly quickly, but he is usually lazy and doesn't bother to study himself. Throughout the time of him studying for the Pantex Science Bowl, he has learned many new and interesting concepts such as the doppler effect. His main goal in life is to help others. He isn't entirely sure what career choice fits for him, however, he is searching for careers that will allow him to help others as much as possible. In the end, it doesn't matter to him whether the end result is a loss or win, it just matters that he had fun.
Garrison Magloughlin has gone to Lorenzo De Zavala Middle School since he was in fifth grade. He has multiple hobbies including reading, building, and playing games with his cousins. His favorite subject in school is U.S. History taught by Mr. Crump. He plans to be an architect/welder when he gets older and will attend the new Amtech Career Academy next year. He also is part of the school orchestra. An interesting fact about Garrison is that he can make a wave with his eyebrows. He also is very competitive at ultimate frisbee and disc golf. He plays defensive end and offensive tackle in football and is an orange belt with a black stripe in Karate. His dad, Nate Magloughlin, is the pastor of Trinity Baptist Church. He runs the sound for his youth group and occasionally in the sanctuary on Sunday mornings. He has two lab dogs. Furthermore, he is very good friends with others on the Science Bowl team.
Finn Archer, an eleven-year-old, who is a seventh-grade student at Lorenzo de Zavala Middle School. He is in the honors orchestra and student council. His favorite subjects are math and science, but he likes every class. He also participates in Battle of the Books. In sixth grade, Finn won his school spelling bee. He also participated and won first in math and science.
He plans to go to Amarillo High School next year. After that, he thinks that he would like to go to a college in Texas, such as the University of Texas or Rice University, and major in biochemistry or computer science, possibly with a minor in Spanish. After he graduates from college, he would either like to go to medical school to become a pathologist, radiologist, or become a computer scientist. He has seven siblings. He enjoys reading, playing chess, jumping on his trampoline, and walking his two beagles, Watson and Franklin.