Harvard Westlake Middle School - Cal State LA Regional Middle School Science Bowl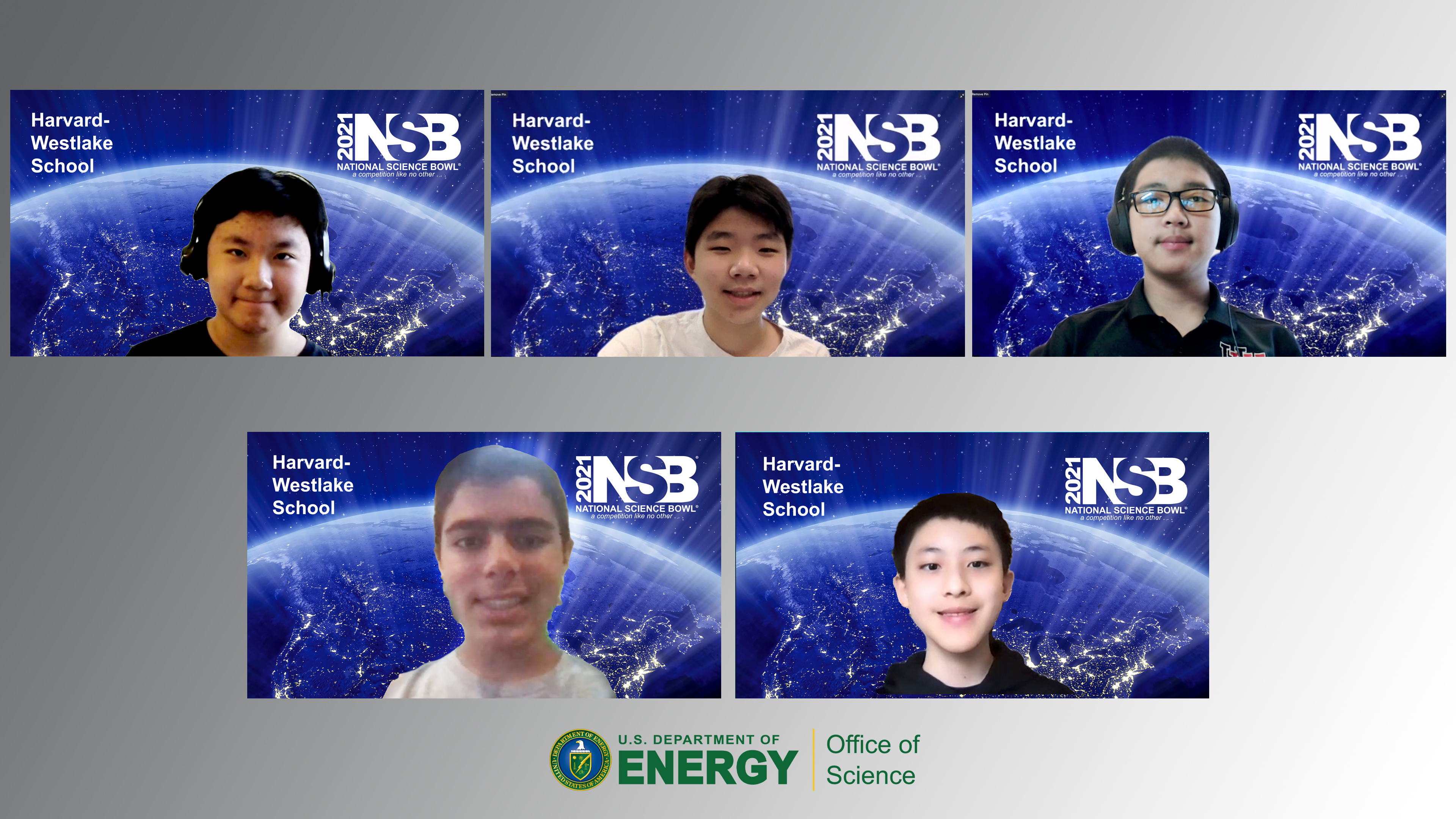 Coach David Fromme has been teaching biology, integrated science, and technology courses at Harvard-Westlake School for the past 17 years and has "coached" the Science Bowl team for the last nine years. He earned his bachelor's degree from UCLA where he studied biology and English literature. When not trying to keep up with his students, Coach Fromme enjoys trying to keep up with his seven-year-old daughter, Alice. Coach Fromme hopes that with continuous hard work he will one day know as much as the students he teaches and coaches, though for now he is exceedingly grateful that he can ride the coattails of his impressive students.
Hugh Cheng is an eighth-grade student interested in math, music, and computer science. He participates in multiple math clubs and math circles. Hugh has advanced to the AIME as a seventh and eighth-grade student, advanced to the state-level MATHCOUNTS in all three years with two first-place chapter scores, and has won first place on the Math Kangaroo three times. In his free time, Hugh enjoys speedrunning Minesweeper and aims to clear a 16x16 Minesweeper board in under 45 seconds and a 16x30 Minesweeper board in under 200 seconds. During quarantine, Hugh has spent his time worshipping the potato gods and has decreased his IQ by at least 20 points.
Etan Kiang is an eighth-grade student whose interests include chemistry, automotive engineering, science of energy, and math. He is an active member of the school competitive math club, the school robotics team, and various other STEM clubs. He is a previous winner of a VEX IQ Regional competition and a defending champion of the Los Angeles Regional Science Bowl competition. If he is not participating in his science and math clubs or in school, you can often find him writing rap songs, swimming, or developing ROBLOX car models.
Alex Lee is an eighth-grade student who really enjoys biology, engineering, and art. He likes to play board games and online games with his family. He also plays the violin. He plans to go deeper into aerospace engineering with a focus on electrical engineering, and to get a job in the aerospace industry. He likes to play with his robotics kit, watch YouTube videos on engineering, read, occasionally write, toy around with a Synth app, and play games in his free time. His favorite class is science.
Jacob Massey is an eighth-grade student whose favorite subject is math but is also interested in science and history. He's been in math competitions before, including MATHCOUNTS a couple of times. He's active in the math club at his school and will be in pre-calculus by ninth grade. In his free time, he enjoys watching YouTube, playing video games, playing sports, and reading. He got second in a pretty big math competition once, which is pretty cool. Another time, he was invited to Atlanta so he could compete in the nationals round of a solo science competition, in which he did OK. He doesn't really have concrete plans for his future, but he thinks it would be nice to have a job where he could invent or discover something new.
John Xu is an eighth-grade student whose favorite subjects are physics and programming. In his free time, he enjoys coding games using a variety of programming languages and game engines. John has won awards in multiple coding competitions such as the Best in Class Exploration Theme award in the XPrize sponsored Code Games Challenge and first place award (seventh-eighth-grade student category) in the 2021 Game Gala. He also enjoys golf and reading. Eventually, he hopes to pursue a career in computer science.