Great Neck South Middle School - New York City/Long Island Regional Middle School Science Bowl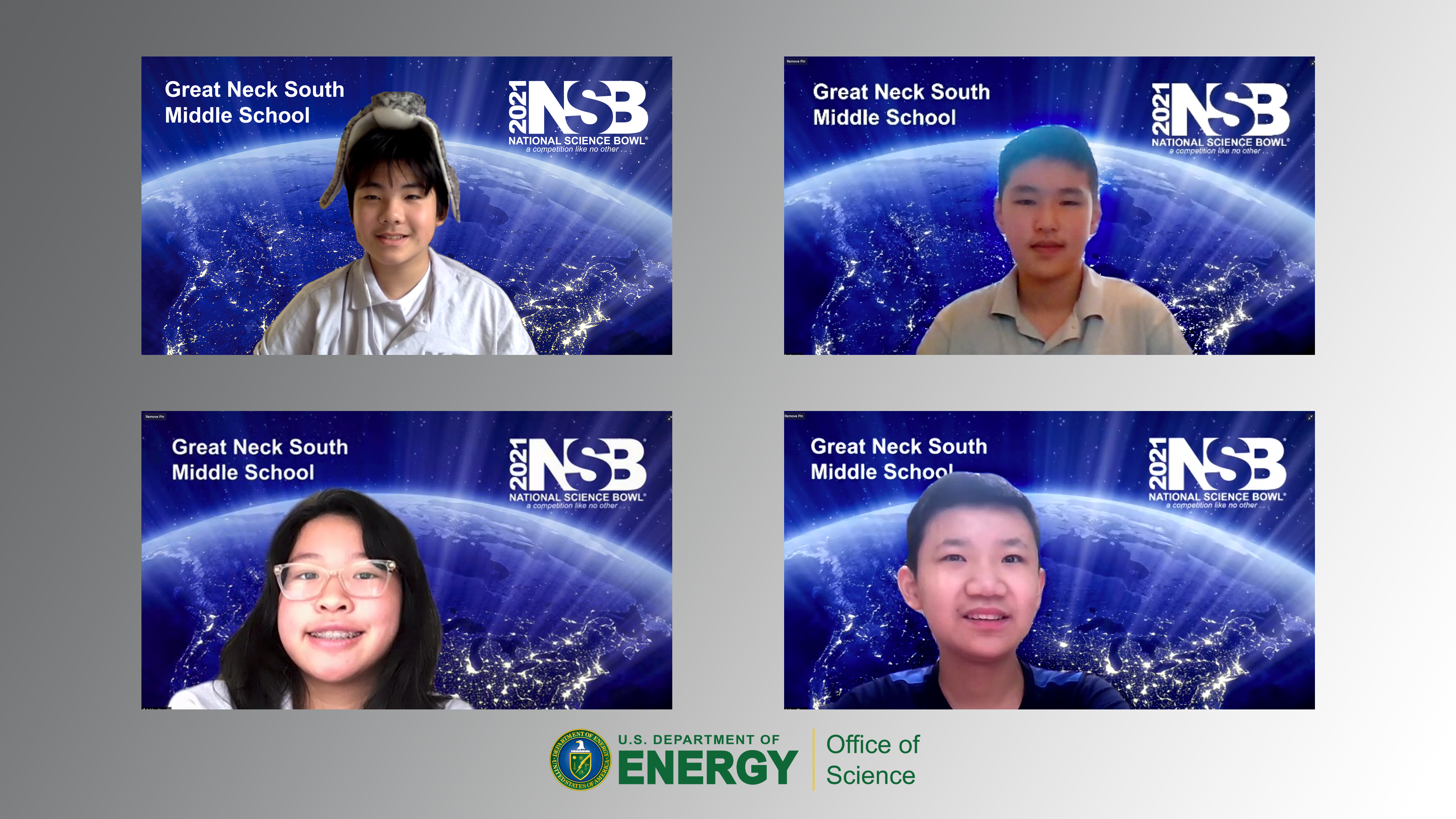 Co-Coach Diane Caplain is a seventh-grade life science teacher. She has been teaching middle school for over 25 years. She has been coaching the Science Bowl team for five years. She also mentors students doing science research. She graduated from Cornell University and did graduate research in both genetics and molecular biology at the University of Southern California and at SUNY@Stony Brook. Coach Caplain loves cats, especially her tabby, Boris, and going on road trips with her husband. She especially enjoys checking out tide pools when visiting her daughter in California. Both coaches are proud of their team!
Co-coach Tobias Hatten earned his B.A. in earth science from Boston University, and M.S. in marine science, Master of Arts in teaching in earth science education, and educational leadership certificate all from Stony Brook University. Coach Hatten teaches earth science at Great Neck South Middle School, serves as the department chairperson and advises the Environmental/Birding Club. Coach Hatten also coaches both of the school's Science Olympiad teams. Coach Hatten is an avid birder, enjoys paddle boarding, surfing, golf, tennis and has completed three full marathons. He lives on Long Island with his wife, Annie, his daughter and son and his Silky Terrier.
Zican (Arthur) Zhang is an eighth-grade student at Great Neck South Middle school. He is very interested in science and math. His favorite things are cats, huskies, video games, and drama action movies/TV shows. His favorite hobbies are playing video games and chess. His favorite subject this year is science. He is currently participating in two different virtual clubs: math team and Science Bowl. He is very good at history, warfare, and military tactics, mostly because of a historical grand strategy video game that he plays. He is very science-centered and is a big fan of the Minecraft YouTube (MCYT) community; often watching the content creator's streams and growing somewhat obsessed with Dream SMP lore.
Allen Vee is a seventh-grade student with an extreme obsession with penguins. He enjoys Science Bowl very much, having participated since sixth grade. He likes to play video games such as Minecraft and Bloons TD Six, chess (he is rated 1700 online), and table tennis. He also likes hanging out with his friends. Allen has a YouTube channel called PippyThePenguinnine. His favorite subject in school is science, which is why he knows a lot of random science facts. Allen likes to rickroll people. He is very sad because of this pandemic and would like it to end as soon as possible. When it does end, he will go to an all-you-can-eat restaurant and eat a lot of food. Don't underestimate the amount he can eat. You will quickly find out if you ask his friends.
Ashley Nguyen is a seventh-grade student who is passionate about science and math. She has always been interested in these subjects, ever since first grade. Ashley is a member of the school Science Olympiad team and constantly prepares and works hard in her competitions. In addition, Ashley enjoys learning about birds and programming her EV3 robot to perform basic tasks. Outside of school, she frequently takes part in other recreational activities such as fencing, playing piano, gardening and skiing. In the future, Ashley aspires to work in the medical field.
Yilin Qiao is an eighth-grade student at Great Neck South Middle School. Yilin enjoys life science; particularly human biology. Yilin loves cats and would like to have a ragamuffin cat one day. He also enjoys history and politics. Yilin does swimming and participates in various other science events, such as the Science Olympiad team. He is interested in coding and math. Yilin likes playing chess, and Minecraft. He enjoys architecture, and hopes to learn about it more, and become an architect in the future. He also enjoys just sleeping and food.