Freedom Middle School - Volunteer State Regional Middle School Science Bowl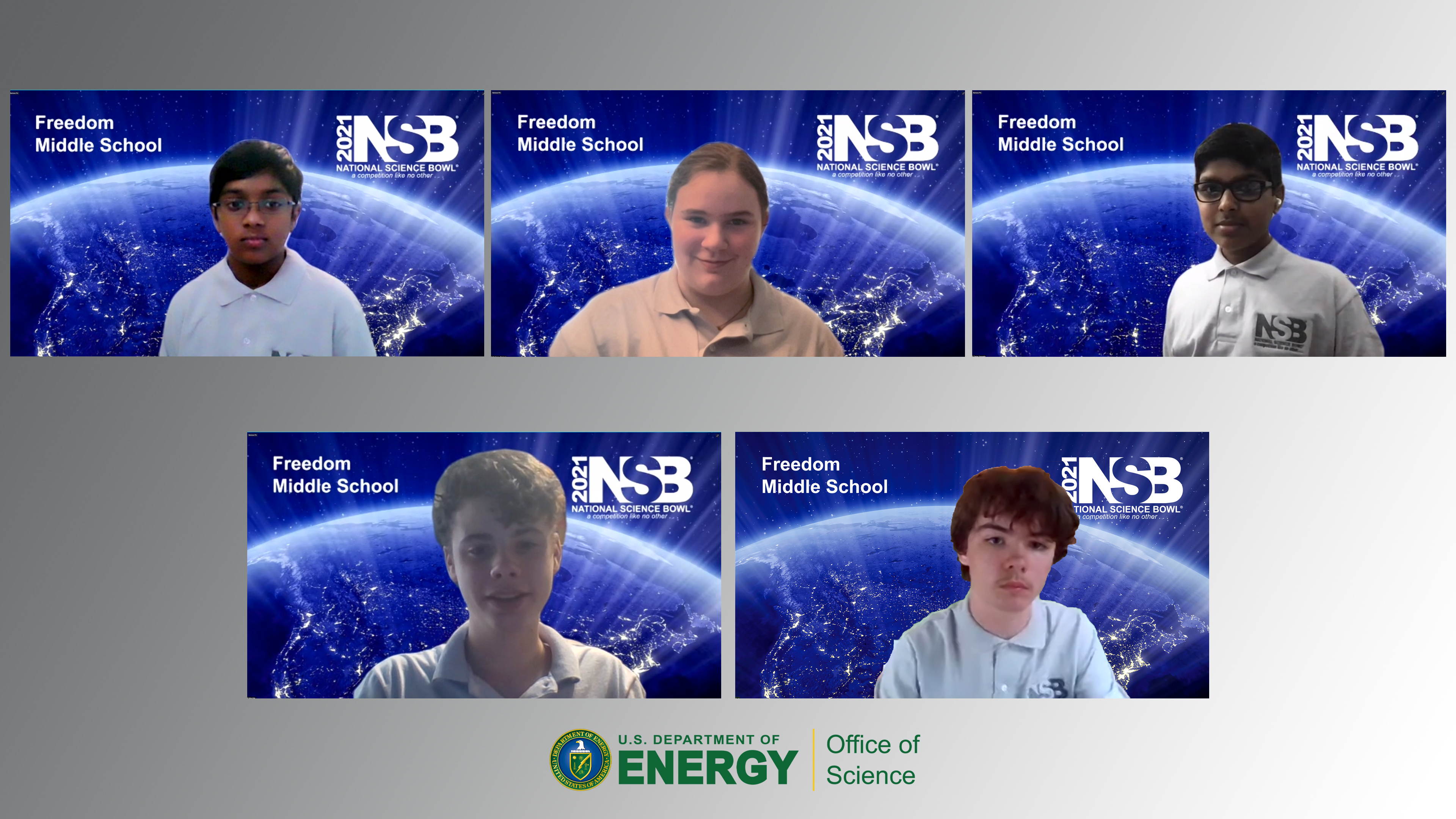 Coach Hollie Osteen is the accelerated learning specialist at Freedom Middle School in the Franklin Special School District. She has been at FMS for 16 years and has served as the volunteer academic competition team co-sponsor for three years. Prior to serving as an accelerated learning specialist, Coach Osteen taught science for eight years and is passionate about seeing her students have those "ah-hah" moments where science really comes to life. Coach Osteen also serves as the boys' soccer coach, boys' and girls' tennis coach, and works with the drama department. Coach Osteen enjoys working with FACT (Freedom Academic Competition Team) and watching students expand their knowledge base while getting a chance to show their friends, family members, and community all that they know!

Madison Garey is an eighth-grade student and attends Freedom Middle School in Franklin. She is a second chair mid-state trumpet player and will be joining the local high school's marching band in the fall. She has recently been invited to the IAC National Competitions for the National Science Bee and the International Geography Bee. She is also a member of the National Juniors Honors Society, an organization that is mainly focused on community service. A subject she enjoys is geology and hopes to possibly go into that field as a career. Outside of school, Madison enjoys video games, reading, and building lego sets.

Alex Kee is an eighth-grade student at Freedom Middle in Franklin, TN. He enjoys acting and singing and is a member of the FMS drama program as well as the local acting school, Act Too Players, where he has achieved numerous roles in full-scale productions. His dream college is NYU where he hopes to study performing arts. Staying active is important to him and he loves swimming and running track. Other of Alex's hobbies include cars (especially JDM), hanging out with friends, and writing music with one of his close friends.

Srinath Narayanan, a student at Freedom Middle School, is from Tennessee with family heritage from southern India. He has a variety of interests, including photography, programming, and biking. He conducts coding classes on various languages such as Python, SQL, and HTML all for free. Srinath is also in his local BSA troop. He also enjoys using his raspberry Pi-4B to automate things around his home. He also has a YouTube channel where he teaches and shares his projects and tech reviews. Srinath enjoys playing online chess and has received various trophies at various tournaments. Playing the piano is an activity that Srinath enjoys doing. Srinath would love to pursue his dream career as a neurodiagnostic technologist. He hopes to pursue this career through Stanford University in California. Math and science have caught his interest significantly causing him to have a love for medicine. One day, Srinath would love to visit the Smithsonian Museums in Washington D.C.

Will Osteen is an eighth-grade student at Freedom Middle School in Franklin, TN. He was a member of the FMS tennis team where he was the WMAA #1 doubles champion in 2020 and the WMAA #2 doubles champion in 2019. He was a member of the FMS soccer team for the past three years. Will is also a member of the Freedom Middle School drama department, with roles in Alice in Wonderland and Descendants the Musical. He also has a job as a certified soccer referee for both recreational and club soccer teams. His favorite areas of science are earth and space science. Will enjoys spending time with his family and friends as well as biking, bowling, reading, and playing darts in his free time.

Chetan Yenigalla is an eighth-grader at Freedom Middle School in Franklin, Tennessee. He strives to perform to the best of his ability in and outside of school and loves to challenge himself. He is a first-degree recommended black belt. In this position, he practices courtesy, integrity, perseverance, self-control, and indomitable spirit. He has a passion for science and mathematics. He exceeds expectations in both of those subjects and always aims to improve. His dream is to have a career as a neurosurgeon after graduating from Harvard University. The branches of science he is most interested in are medicine, chemistry, physics, and biology. His greatest hobbies are exploring the world of science, and spending time with family and friends. Next year, he will begin high school and will have many more opportunities to pursue his dreams. He would do anything to help his family and friends and won't let any obstacle in life stop him from achieving his goals.