Crestview Middle School - Missouri Regional Middle School Science Bowl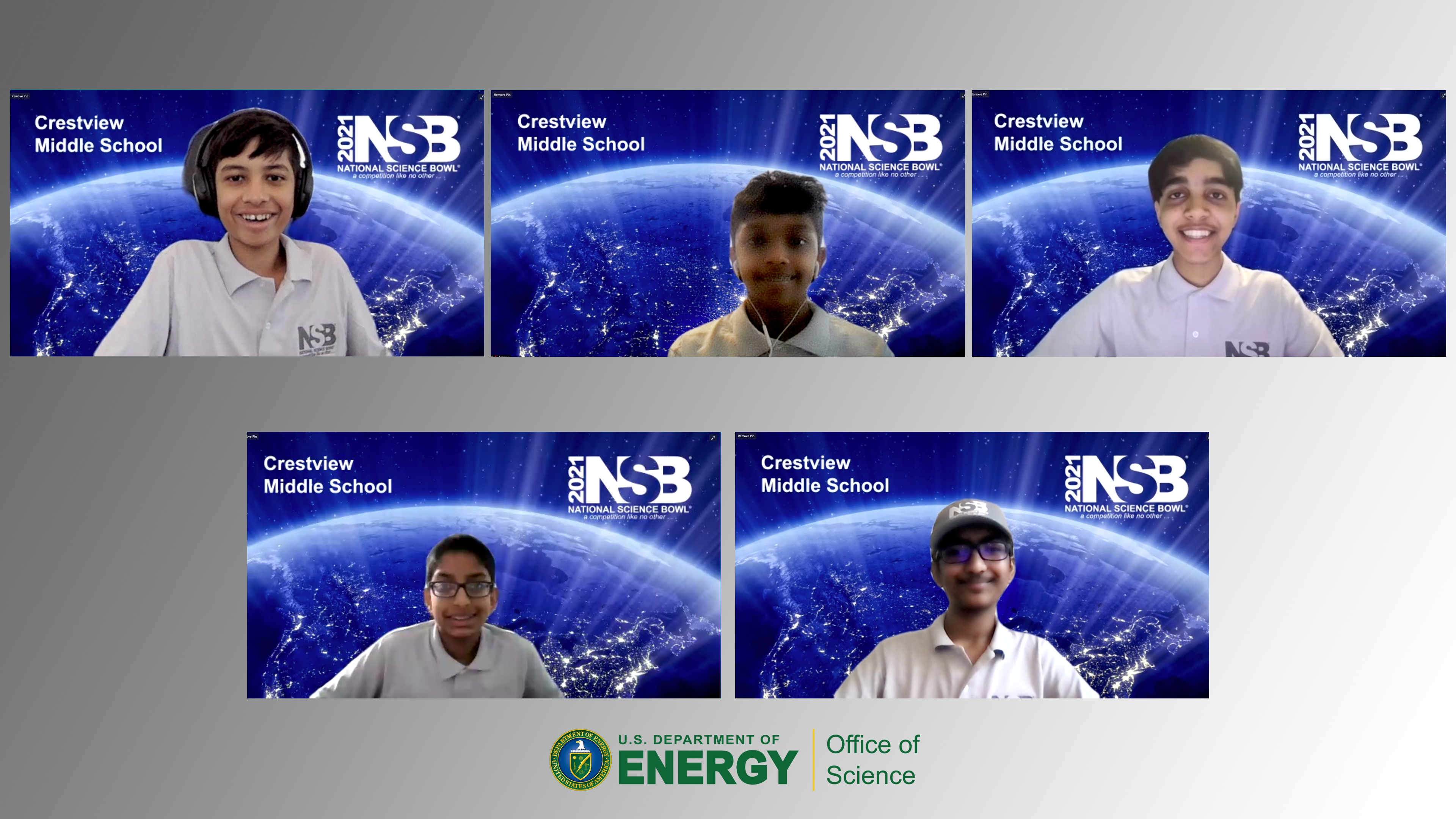 Coach Kristina Groves is in her twelfth year of teaching eighth-grade physical science and has been at Crestview Middle School for seven years. She has a master's in educational administration from Missouri Baptist University and a middle school teaching degree from Missouri State University. Coach Groves is the PLC lead and has been an advisor for several clubs throughout her years teaching. She is in charge of leadership events at Crestview and is part of the building leadership team. She enjoys going on science trips with students and has traveled to the Smoky Mountains, the Great Lakes, and the Virginia Coast. She has also traveled to Philadelphia and Washington DC with students competing in the You be the Chemist competition. In her free time, Coach Groves loves spending time with her family, hiking, watching sports, playing golf, and reading.
Coach Veeru Vasireddy is a lead software engineer at Graybar Electric and enjoys coaching Science Bowl. He has a Bachelor of Engineering degree in computer science. He has a passion for coding and computations, which is why he took a job as a computer engineer. He also enjoys traveling around the country, and he has been to the majority of the 50 states, including California, New York, and Michigan. Additionally, he enjoys annual flights to India to visit his family that lives there. Outside of work and coaching, Coach Vasireddy loves watching sports, spending time with his family, and watching television programs.
Ayush Vasireddy is a sixth-grade student at Crestview Middle School. He is intuitively engaged in life science and math. He is pursuing a career as a neurosurgeon. In his free time, Ayush enjoys solving math problems, playing cricket, reading and playing tennis. In addition to Science Bowl, he participates in Math League, and You Be The Chemist.
Aryan Valsa Pradeep is an eighth-grade student at Crestview Middle School. His favorite subjects are math, science, and Spanish. He likes to code and wants to be a computer programmer when he grows up. In addition to coding, he enjoys reading and playing chess in his free time. Aryan is competitive and also participates in other math, science, and programming competitions.
Rohan Deshpande is a seventh-grade student at Crestview Middle School. He likes geography, history, and science. Rohan is pursuing a career as an airline pilot or air traffic controller. In addition to Science Bowl, Rohan enjoys participating in National History Day, chess tournaments, cricket tournaments, and the Geography Bee. In his free time, Rohan likes to play the viola, watch planes, and run, as well as traveling, and learning Spanish.
Shreyas Muppana is a seventh-grade student at Crestview Middle School. He enjoys participating in Science Bowl and other contests like the St. Louis Science Fair. Right now, he's also participating in You Be The Chemist with three of his Science Bowl teammates. He wants to have a job in software development when he grows up because he's interested in programming, computer science, and the like. He's not sure yet what college he'll go to, but it may be either MIT or Stanford. He enjoys reading, programming, and playing tennis, soccer, and chess. One of his favorite books is "And Then There Were None" by Agatha Christie. He's also currently learning French in school.
Atharva Shinde is an eighth-grade student at Crestview Middle School. His favorite subjects are math and science. He wants to be an engineer when he grows up, and his dream college is Stanford. Cricket is one of his favorite sports, along with soccer and football. He also likes to participate in contests because he likes to be competitive. He has participated in robotics contests, science contests, chess tournaments, and many math competitions. He likes music. Atharva is very creative and enjoys learning new things. Atharva also enjoys reading, and one of his favorite books is "Call of the Wild" by Jack London.