Canyon Vista Middle School - Texas A&M Regional Middle School Science Bowl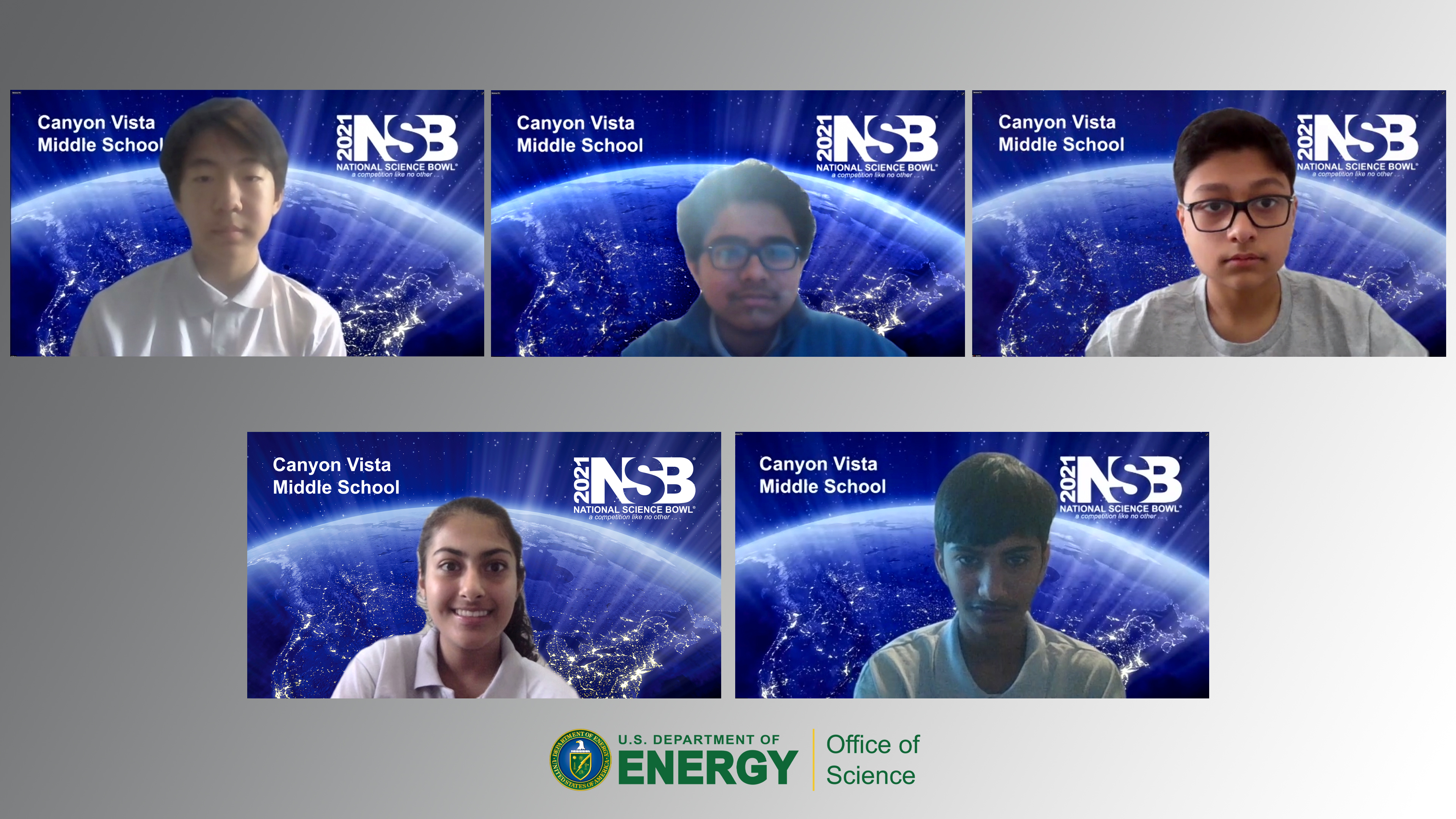 Coach Jennifer Arcaya teaches eighth-grade computer science and business information management at Canyon Vista Middle School. This is her twelfth year teaching, the tenth year coaching the Science Bowl team, and fourth time to the National Science Bowl. She is married to the most wonderful, supportive man in the world and has three children. Jennifer graduated from Texas A&M University with a B.S. in psychology. In her spare time, she enjoys being outdoors, traveling, and spending time with family and friends. She is so proud of her students and is honored to be taking this journey to nationals with them.
Coach Jennifer Gonzalez teaches seventh grade Texas history at Canyon Vista Middle School. This is her second year teaching in middle school. She comes from the elementary world where she taught for five years. This is also her first year coaching the Science Bowl team. She is married to an amazingly supportive husband, and the proud mother of two adult children. Coach Gonzalez graduated from Texas State University in San Marcos with a B.S. in education. When she's not guiding the most phenomenal Science Bowl team, she enjoys beekeeping, walking her dog, crocheting, and acting on the local community theatre stages. She is so very proud of this team of young people and honored to be able to support them on their journey to the National Science Bowl.
Ram Sivaraman is an eighth-grade student at Canyon Vista Middle School. He is passionate about three things: science, math, and music. He has been working on several science projects and competed at regional and state Science Fair competitions. His focus areas in science have been physical sciences and computer science. Math is second nature to Ram. He has participated in several math competitions including UIL, AMC, AIME (American Invitational Math Examination), and MATHCOUNTS. From an early age, he has shown ease for learning different computer science concepts, algorithms, and programming languages. He has implemented several apps and software. He is now studying the mathematics behind computational techniques. Ram plays violin at the school honors orchestra. He has won several awards for music at UIL, Strings Festival, and other music competitions. He is also adept in Carnatic music and has performed at international festivals. He aspires to study computer science and engineering at MIT. Ram enjoys playing tennis.
Ryan is an eighth-grade student at Canyon Vista Middle School who studies biology and enjoys mountain biking, tennis, and robotics. He has competed in the USABO semifinal exams and British Biology Olympiads twice and has participated in Science Bowl since he was in sixth grade. He aspires to go to MIT and study microbiology.
Prisha is an eighth-grade student at Canyon Vista Middle School. She loves science, art, and volunteering. Neuroscience is a big area of interest for her. Other than science, Prisha's passions include various forms of art, from drawing and painting to sewing and embroidery. She has taken part in TAME, UIL, Jr. VASE, and the Round Rock Secondary Art Show. During the pandemic, she had the opportunity to volunteer at a mask-masking organization, earning the Presidential Volunteer Service Award. In her free time, Prisha enjoys reading books, playing the guitar, listening to music, and going on hikes. Above all, she loves learning new things and broadening her horizons.
Sambit Kanjilal is an eighth-grade student at Canyon Vista Middle School. He enjoys biking and playing table tennis and his favorite subject of science is math. Sambit has also participated in the AMC 10 and MATHCOUNTS competitions, and he hopes to be able to compete in the USAMO math competition.
Naithruv Kashyap is an eighth-grade student from Canyon Vista Middle School. He lives with his parents and his younger brother. His favorite subjects are math, science, and orchestra. His favorite fields of science are astronomy and earth science. He has been fascinated with flight even as a young child, and his dream is to study aerospace engineering at MIT and wishes to work at SpaceX, Boeing, or NASA. Naithruv has participated in robotics for the past couple of years; he loves public speaking and is a good debater. He plays the violin, and when not studying, he loves to read, listen to music, build robots, and dream all things space. Naithruv believes that it takes a dream to get started, desire to keep going, and determination to finish.