Bednarcik Junior High School - Illinois Regional Middle School Science Bowl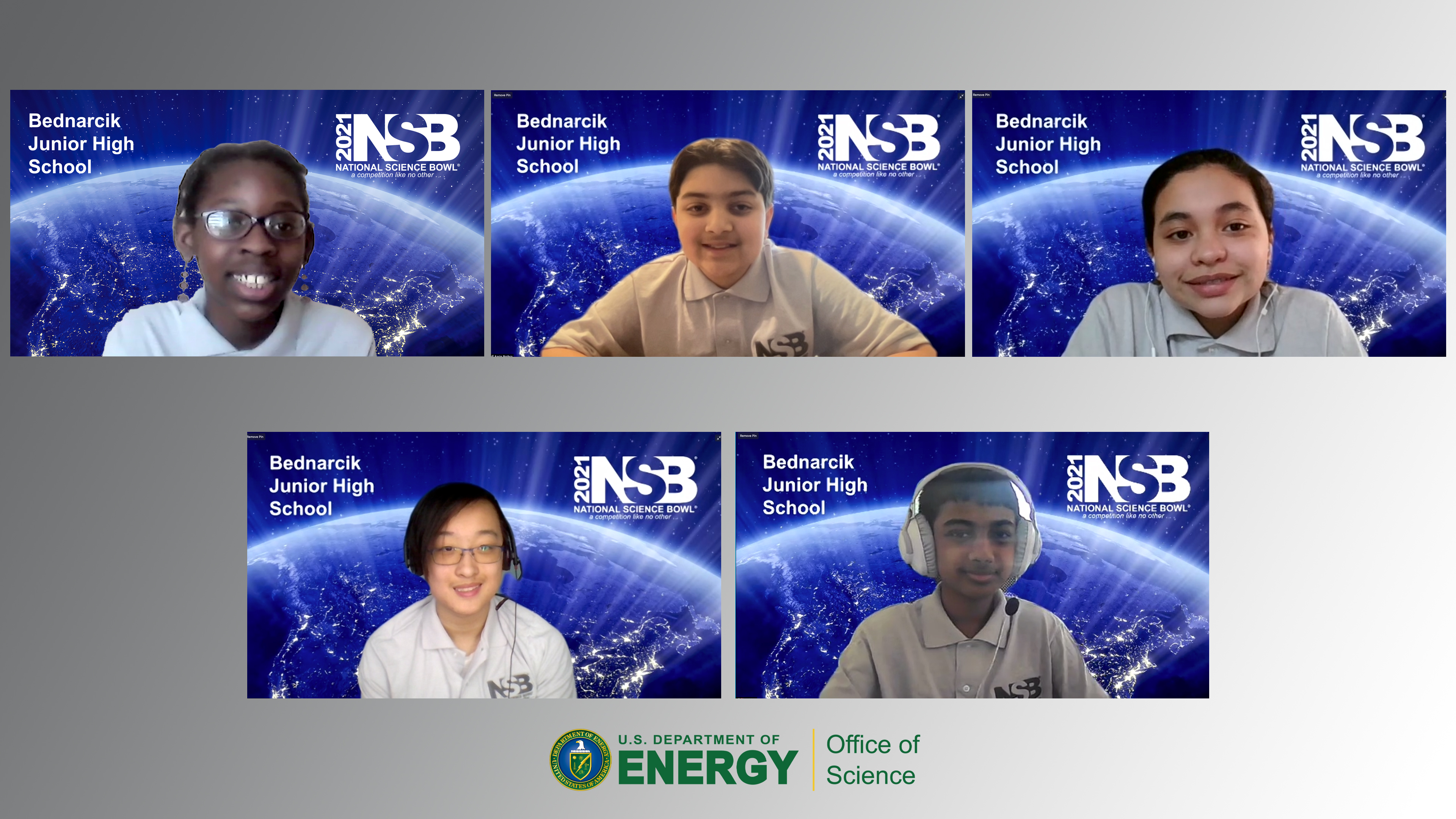 Coach Amy Truemper has taught seventh and eighth-grade science at Bednarcik Junior High School for 20 years. She served as a Peace Corps volunteer in Lesotho, Southern Africa and has traveled to over 100 countries. Coach Truemper is the advisor for several school clubs including Science Olympiad, Robotics and The Environmentalists, an ecology club that has won several national awards.
Vincent You is an eighth-grade student at Bednarcik Junior High School where he participates in Science Olympiad, National Junior Honor Society, and Yearbook Club. He was on the National Honor Roll grades four and five, top ten in SD308 fifth grade Noetic math competition, first place in Mu Alpha Theta SD308 math competition and the individual winner for the Build the Future ORISE competition. His dream for the future is to earn a degree in computer science, find a high-paying job, and save up enough money to start a business selling a device that can convert greenhouse gases to fuel.
Aarin Bothra attends seventh grade at Bednarcik Junior High School. He is in the Energy Club, Science Olympiad and robotics. He likes to code and learn about biology and life science.
Mary Cadena is in the eighth grade at Bednarcik Junior High. Currently, she participates in two other clubs: the Humanity Advocacy Group and the Girl Scouts. In the past she has participated on sports teams, Science Olympiad and robotics. Her interests include making and listening to music, learning, taking care of people and animals, as well as traveling. Her dream for the future is to attend Oxford University and live in England with lots of animals. She loves to help people and thinks it would be amazing if she could live every day doing that.
Prabhav Veeramachaneni is an eighth-grade student at Bednarcik Junior High School. Other clubs he is affiliated with are Science Olympiad and an FTC Robotics team named Rounded Cube. Recently the FTC team made it to the state competition. Prabhav is interested in science and math and his dream for the future is to start his own business. As of now, he hopes to be accepted into Illinois Math and Science Academy (IMSA).
Fiyin Akinyemi is a seventh-grade student at Bednarcik Junior High. She enjoys participating in the middle school Science Bowl team because of the great coach and great team. She also participates in the Bednarcik Science Olympiad team and in other activities outside school including CoderZ, soccer, swimming, and chess. She plays the piano, violin, and clarinet. She participated in First Lego League Robotics which she truly enjoyed. Fiyin really enjoys reading books, learning new things, and playing games. She loves spending time with her family, especially during cooking and meal times, game times, and vacation trips. She is looking forward to travelling to all 50 states in the United States. Fiyin has several aspirations including writing books, inventing something useful that helps everyone, and becoming a computer programmer or engineer. She recognizes that she has had great opportunities to learn and grow in middle school, and hopes high school and college experiences will help her learn and grow even more.