Alabama School of Fine Arts - Alabama Regional Middle School Science Bowl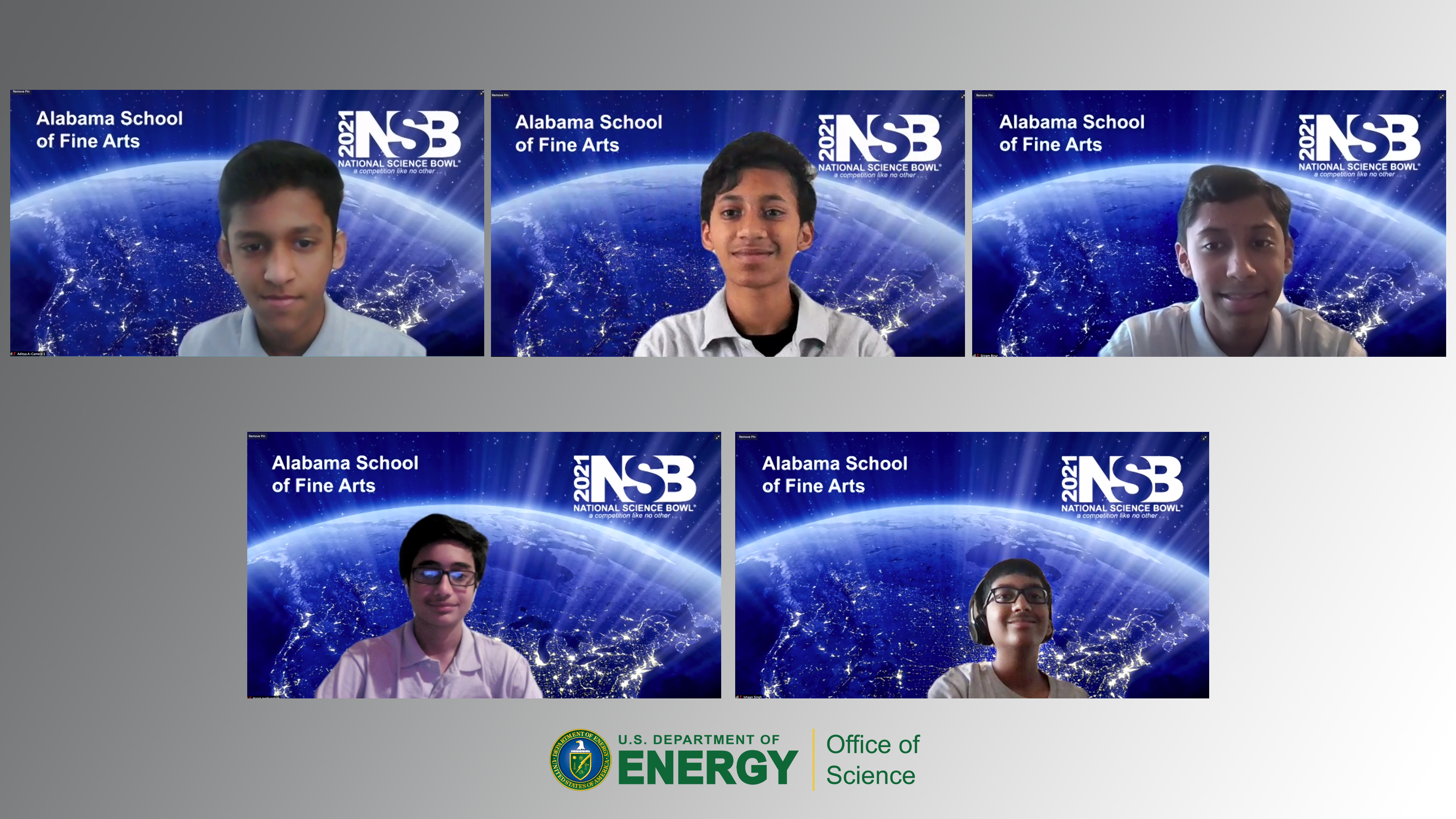 Coach Walter Uhoya teaches eighth-grade honors physics and honors physical sciences, high school space science and astronomy, research classes, electricity and circuits ,and AP physics courses. He has been teaching at ASFA since 2016. Coach Uhoya is the coach for the Alabama School of Fine Arts Science Olympiad Team along with being an NSB coach. This is his third time bringing a team to the NSB nationals after winning Alabama regionals in 2008, 2020, and 2021. He enjoys running and soccer. He has a B.A. in science and education science, a master's in physics from UAB, and a Ph.D. in physics from the University of Alabama at Birmingham. He has conducted several synchrotron studies at Argonne and Brookhaven National Labs, and neutron diffraction studies at ORNL. His graduate work was on how extreme conditions of pressures and temperatures affect the physical and chemical properties of rare-earth elements and Fe-pnictide superconductors.
Aditya Anandakumar is an eighth-grade student. His favorite subjects in school are math, physics, and chemistry. In the future, he hopes to pursue a career in aerospace engineering in hopes of attending either the Massachusetts Institute of Technology or Georgia Tech. He hopes to work for NASA one day. He enjoys competing in math tournaments and has competed in tournaments such as MATHCOUNTS, AMC, etc. His hobbies include playing basketball and other sports, watching sports, and reading.
Sriram Birur is an eighth-grade student at Alabama School Of Fine Arts in the math/science division. His favorite subject is math because he loves critical thinking and enjoys the process of analyzing math problems. He is involved in the phi team and Science Bowl at school. He has been playing tennis and basketball since he was three years old and still loves playing them with friends and family to this day. He also enjoys playing the trumpet and is part of the Alabama Youth Symphony. He aspires to be part of the Duke program after he graduates from high school. He is still figuring out what career he wants to pursue in the future.
Ishaan Singh is an eighth-grade student at the Alabama School of Fine Arts. Apart from playing tennis, his interests include math and science. For two years in a row, he was part of a Scholar's Bowl team that reached the NAQT nationals. From these interests stems his passion to learn and acquire more knowledge. Ishaan has come to love Science Bowl. For fun, he likes to read and play guitar. He plans to enter the field of health-related sciences and finance as his career choice.
Rohan Parekh is an eighth-grade student who enjoys playing tennis, basketball, and football. When he grows up he has aspirations of becoming a doctor or a lawyer. His favorite subjects in school are math, science, and history. In his spare time not only does he play sports but he also enjoys reading and writing as well.
Nairit Jeethandran is an eighth-grade student. His hobbies include playing soccer, listening to music, and running track. His favorite subjects in school are math and chemistry. He has big dreams about being a doctor someday. Other than Science Bowl, he's also on the Science Olympiad team and Euclid team. He has played the piano for six years and the violin for about four years.