Stockdale High School - Kern County Regional High School Science Bowl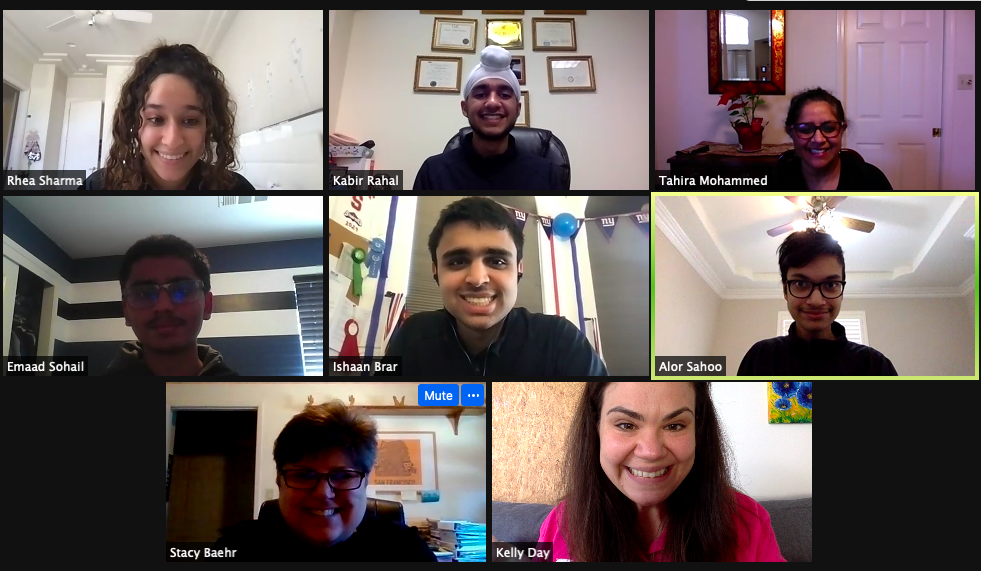 Coach Tahira Mohammed earned her B.S. degree in chemistry and biochemistry from the University of the West Indies. Her postgraduate work focused on the teaching of science and misconceptions in chemistry. She began her teaching career 31 years ago in her native Trinidad where she worked for thirteen years. In California, she has worked for 23 years at Stockdale High School where she teaches CP, honors and AP chemistry. Coach Mohammed has been married for 36 years and has two adult children. When she is not at school, she spends her time exploring her second passion, cooking.
Co-coach Stacy Baehr earned her B.S. degree in geology from CSU Bakersfield. She began her teaching career 24 years ago after working as a geologist overseeing environmental clean-up projects in California and Oregon. All 24 of those years have been at Stockdale High School in Bakersfield, California. She teaches college & honors prep chemistry and AP environmental science. She looks forward to retirement when she can indulge her other passion, traveling.
Alor Sahoo is a junior who enjoys mathematics and chemistry. He participated in the AIME and received USNCO Honors. He is especially talented at driving away others with corny chemistry jokes, especially his teammates, which is rather concerning. Additionally, after witnessing the plight of one of his coaches when she attempts to read complex, multisyllabic answer choices, Alor has learned to listen carefully. Always one to figure out how to maximize his chances of winning without preparation, Alor plans to develop an optimized guessing strategy that will magically beat the odds.
Emaad Sohail is a senior at Stockdale High School. He has participated in high school Science Bowl since his freshman year and participated in the national competition in his junior year. In the fall, he plans to attend UCLA with a pre-computational and systems biology major. When not doing homework or studying, Emaad enjoys watching shows and reading, as well as taking walks in the local park. Currently, his favorite series are One Piece and Haikyuu. Emaad has an older sister named Eesha who also attends UCLA and participated in Science Bowl when she was in high school, as well as an eight-year-old younger brother named Aden, who is in second grade.
Ishaan Brar is a senior. He is the president of Stockdale Forensics Club, and is involved with Math Club, National Honor Society, and is an Eagle Scout. His favorite subjects are biology, history, and chemistry. His (very optimistic) long term plan is to pursue MD Ph.D.. He would like to research the intersections of genetic modifications and auto-immune diseases. His current scientific research centers on inventing improved catheters, for which he won fourth in biomedical engineering at the Intel ISEF competition. He has been awarded the Prudential Award for his volunteer work with the underserved. His claim to fame are his ability to sleep in any situation, incredibly fast reading speed, and massive science fiction nerdiness.
Kabir Rahal is a junior who, despite his atrocious computer science skills, hopes to figure out a way to control this phenomenon known as "clientside," which is common on discord servers and has recently caused him much grief. Kabir has attended Nationals four times, and unfortunately, his friends say that this number is "more times than he can count," clearly a testament to his subpar counting skills. Other questionable abilities of his include baking, where he terribly burnt cookies which were then used as frisbees to solve projectile motion problems to help his teammate Alor practice his physics skills. Kabir is also notably a mineral enthusiast, and hopes to qualify for USESO camp so he can lick halite with his favorite IESO bronze medalist, Alec Zhu. Kabir hopes to become a doctor one day, and in the meantime, is very intent on reading Vander's Physiology instead of memorizing the chemical formula for geocronite, named after the legendary Geoffrey Wu.
Rhea Sharma is a sophomore who, despite being a passionate car and Formula One enthusiast, has not gotten her learner's permit. Her other talents include painting, surfing, dozing off during her first period honor's chemistry class, and incorporating her skills of biology to inform her seven-year-old cousin that eating an earthworm does not count as dinner. In Rhea's natural habitat, you can either see her roaming around Bakersfield with her friends or curled up with her Campbell's Biology Book. Rhea has attended nationals three times. She has aspirations of going to UCLA and going on to become the next Elon Musk (minus the car part) of biotech.