Reagan High School - Booz Allen Regional High School Science Bowl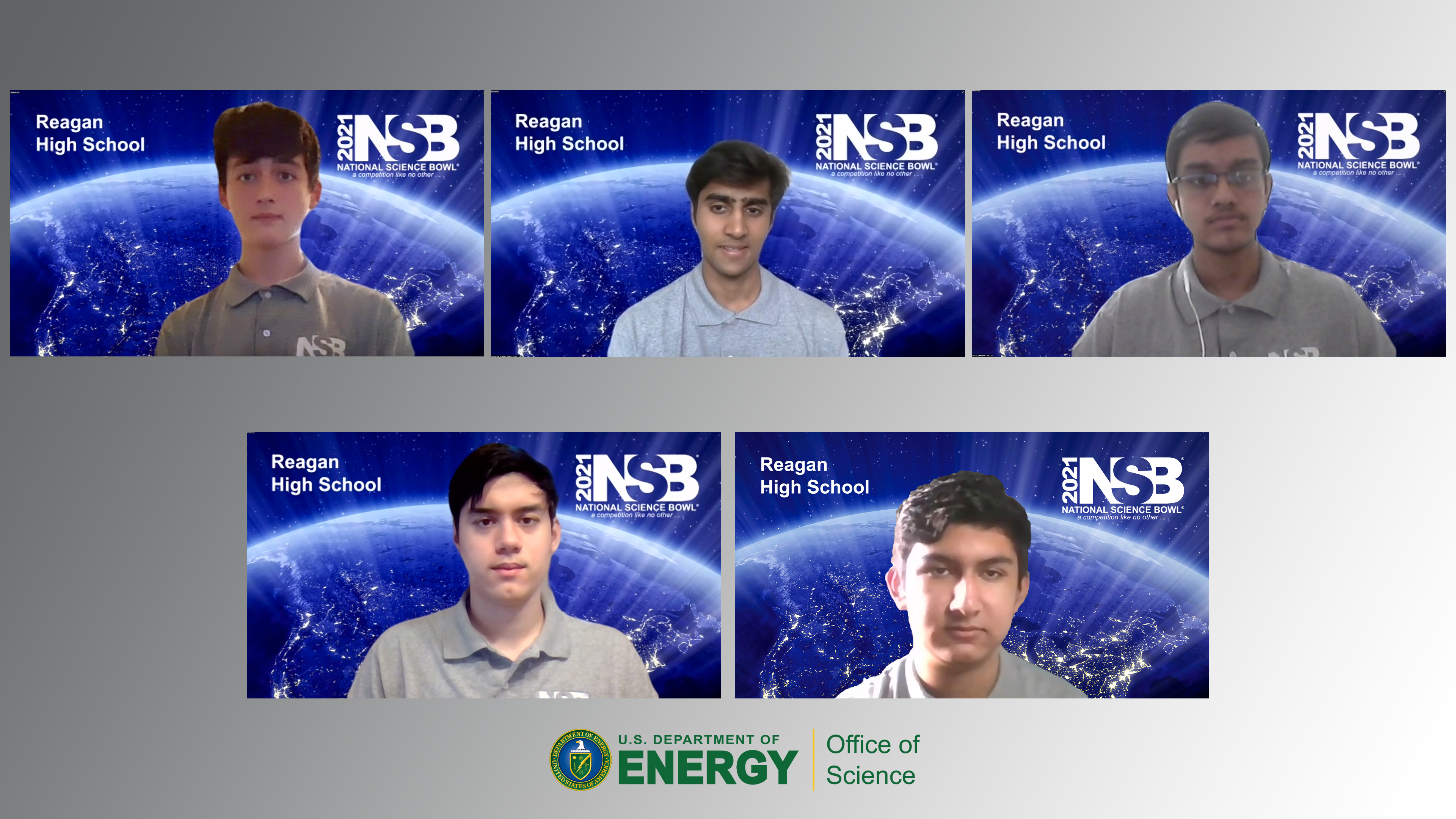 Entering his 26th year as a science teacher, Coach Tye Pannkuk enjoys every day at Ronald Reagan High School. He teaches both AP physics 2 and AP physics C and also sponsors the competitive math and science teams. In previous years he has taught sections of AP physics 1 and AP biology. Having competed in a variety of academic competitions growing up, Coach Pannkuk really loves to be around students who share the same passion. He attended Texas A&M University for his undergraduate degree and then earned a master's degree from the University of Texas at San Antonio. Solving the New York Times crossword on a daily basis is a relaxing year round activity. During the summer he enjoys hiking in the Rocky Mountains with his wife and two sons.
Patrick (PJ) Muehlberger is a passionate climate change denier, a firm believer in the power of tachyons, and an advocate for expanded research for flux capacitors. His favourite high school subjects are chemistry and physics, and plans to study chemical engineering in college at either Notre Dame or UT Austin. He has participated in Science Bowl for three years in high school and has competed in UIL academics for two. He has a fantastic team and coach (shoutout to Coach Pannkuk!) who he trains with weekly. Outside of school, he also enjoys soccer, time with family, video games, and gambling in the stock market. Oh, and of course, most importantly of all, PJ is a master pizza boy who serves the honorable Father Johnathan, more affectionately known to the public as Papa John.
Ethan Bull is a senior who enjoys looking at plants and invertebrates. He particularly likes arthropods, as he thinks bugs are awesome for some reason. His favorite class is biology, though he enjoys all science related courses. Ethan will be attending Rice University this fall as a biochemistry major. Aside from academics, Ethan is definitely not addicted to video games and can quit anytime. Through years of haphazard practice, Ethan can occasionally shuffle a deck of cards with one hand. He sought to achieve this because it looks cool.
Dominic Tharakan is a senior whose favorite subjects are biology, pathology, and immunology. He enjoys playing guitar, learning about medicine, and not forgetting about helper T cells. In his free time, Dominic likes to play basketball, read and volunteer with a local hospital. He endeavors to become an immunologist in future, doing both research and clinical work.
Rishan Edussuriya, a junior, has held a fervent love for mathematics since an early age. During the past Summer, Rishan enjoyed spending his days encompassed by calculus, devotedly studying a near three courses worth of math over the period of a few months. Rishan is an active member of the student body, being a member of the Mathematical Honor Society and the Science National Honor Society, and also cherishes and understands the importance of student activism and volunteering. This past year, he recognized the strong demand for and apparent lack of youth in the volunteering scene, and became inspired to co-found the Helping Hand Club at Reagan where he plans volunteering opportunities and provides student to student tutoring for a variety of subjects. Rishan plans on attaining a computer science degree in his future, allowing him to pursue his dreams in software engineering.
Sarthak Dayal is a sophomore with interests in computer science, physics, entrepreneurship, and mathematics. He is involved in many science and math clubs across his school and loves socializing with people who have similar interests. Sarthak loves to write programs, work out physics problems, and think about ways to change the world. Sarthak also engages in meaningful volunteering with many organizations, such as the American Red Cross. He recently qualified for a state-level entrepreneurship competition at DECA. After high school, he would love to study computer science to gain new superpowers to help him in his quest to change the world. In his free time, Sarthak loves to play his guitar.