Oklahoma School of Science and Math - Oklahoma Regional High School Science Bowl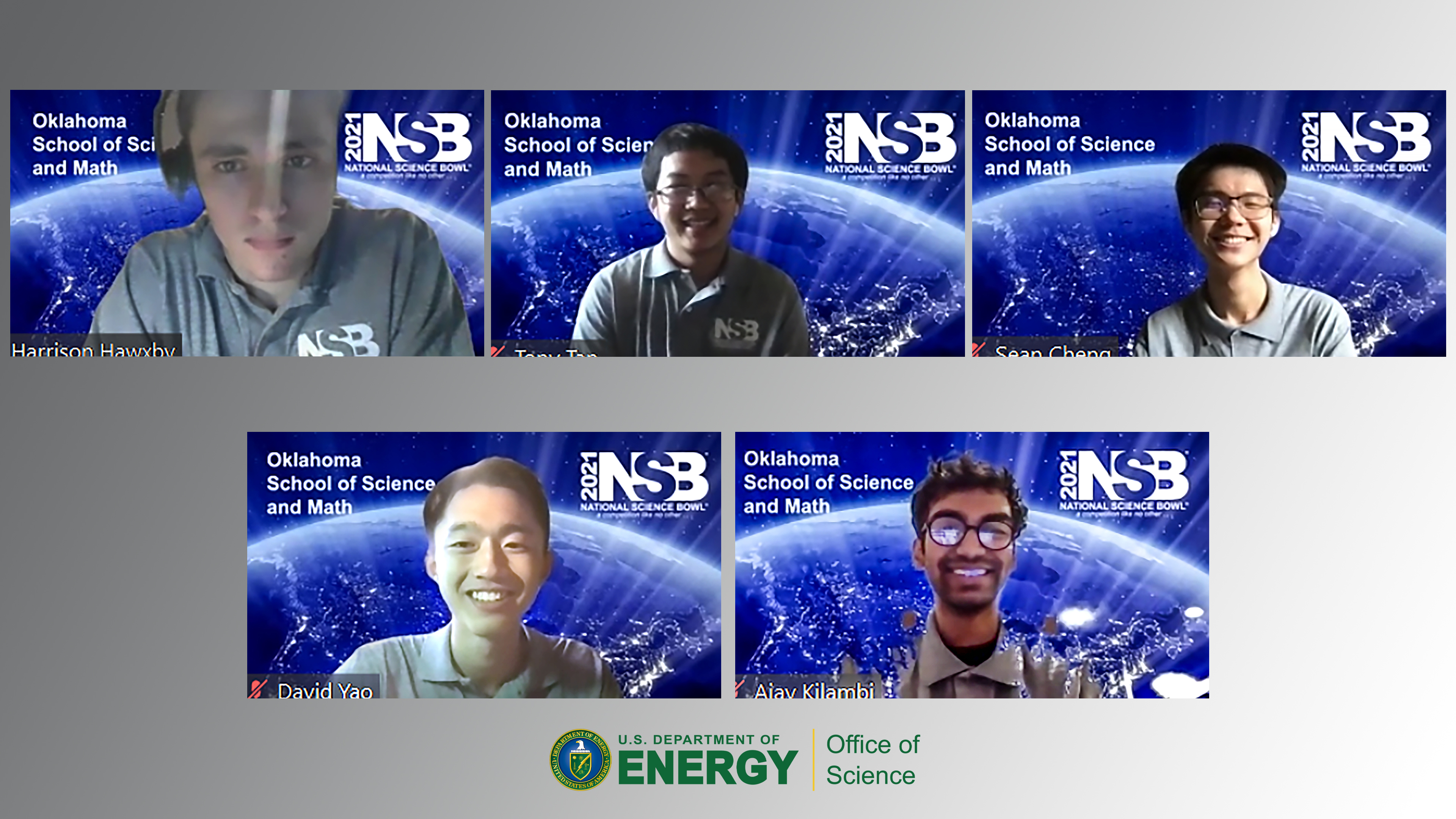 OSSM Winning Team Members : Coach A.K.Fazlur Rahman Ph.D, David Yao, Ajay Kilambi, Harrison Hawxby, Sean Cheng, and Anthony Tan. The Same team won the 2020 competition.
Coach A.K.Fazlur Rahman has a Ph.D. in organometallic chemistry from the Australian National University. He has been teaching organic chemistry and inorganic chemistry to advanced high school students at the Oklahoma School of Science and Mathematics for the last 28 years. In addition to coaching NSB, he also coaches the Chemistry Olympiad and the TEAM+S competition. Coach Rahman supervises students' research at OSSM and has published 67 conference papers and 24 Journal publications. He is the recipient of the Oklahoma Chemist Award 2015, American Chemical Society (SW regional) award 2009. He is an affiliated chemistry faculty at the University of Oklahoma and has held visiting faculty positions at Cal-tech, Texas A&M, Univ of Rochester, and the University of California at Berkeley.
David Yao is currently a junior and attends the Oklahoma School of Science and Mathematics. As of now, he is relatively unsure where he wants to go to school. He is interested in both physics and math and hopes to pursue those topics well into the future. Believing that the community is important, he is a member of his school's student council and student ambassadors. In his free time, one of his favorite things to do is play The Game. He often plays tennis and basketball and watches YouTube and movies. He also likes eating dessert. One of his favorite desserts is baked Alaska. Moreover, he enjoys playing cello as well as performing magic. In addition to those hobbies, he likes to keep up with any news in the universe, even to a relatively local topic such as life on Mars.
Anthony Tan is a junior currently attending the Oklahoma School of Science and Mathematics, a public boarding school in Oklahoma City. He holds great interests in all types of STEM classes such as differential equations and physics. In the future, he plans to study medicine or computer science. Outside of school, he enjoys club and high school swimming as well as playing many musical instruments, including the piano, violin, and trombone. He has been an active participant in many clubs/organizations including Academic Team, Mu Alpha Theta, and National Honor Society. His passion for helping others has led him to become an overall person. He has spent many hours volunteering at El Sistema and Asbury Methodist Church. Fun facts about Anthony include his love for visiting zoos and wildlife reserves and his passion for watching sports of all kinds.
Ajay Kilambi is a senior attending the Oklahoma School of Mathematics and Science, a public residential high school in Oklahoma City. His favorite classes in school are mathematics and physics. He plans to study engineering and medicine in the future. One of Ajay's favorite hobbies is his love for singing Carnatic music, which he has been learning for twelve years. He is currently advancing his singing skills through a top artist in India. Ajay is a great chef and has been learning cooking techniques since the age of nine. He also loves to play table tennis, read, and watch movies.
Sean Cheng currently attends the Oklahoma School of Science and Mathematics. Throughout middle and high school, Sean has enjoyed playing soccer and ping-pong. Sean's favorite subject in school is modern physics, and he hopes to become either a math or physics professor after graduating from college. In his free time, Sean enjoys reading books; his current favorites are the Kingkiller Chronicles by Patrick Rothfuss.
Harrison Hawxby attends the Oklahoma School of Science and Mathematics. His only hobby is staring at the wall. Nothing science-related really interests him, so in the future, he wants to become the owner of a ski resort so he will be able to ride around on snowmobiles whenever he wants.