Lexington High School - Massachusetts Regional High School Science Bowl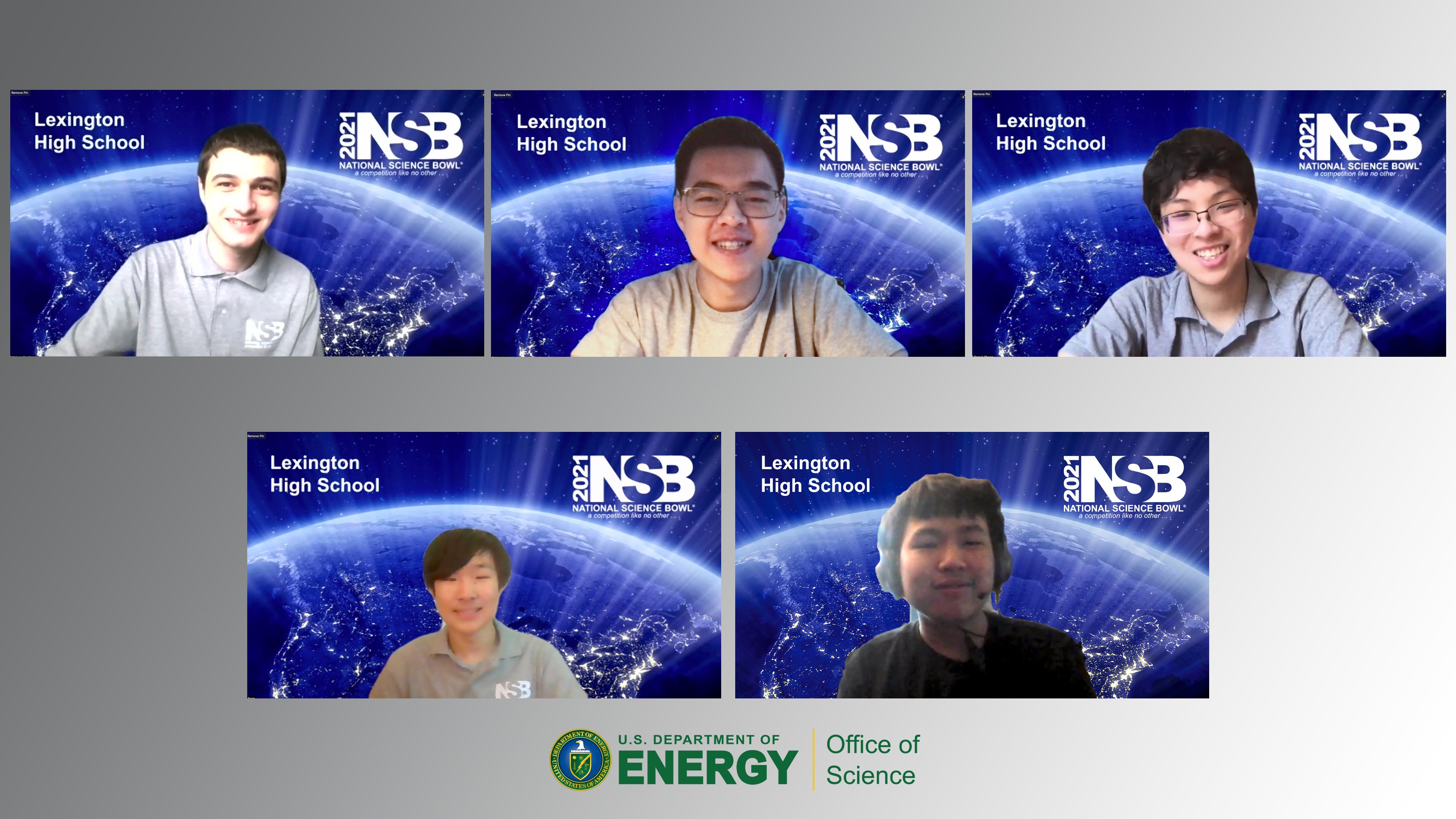 Coach Nicholas Gould holds a B.A. in math and physics from Colgate and an MAT in physics from Bridgewater State. He is thrilled to teach physics and coach Science Bowl at Lexington High. His parents and an enthusiastic math professor fueled his passion for teaching. As an avid ping pong enthusiast, he teaches how to induce topspin on strange neutral 40mm Gaussian shells though his current students lack the capacity to resist his circuitous and revolting explanations. He enjoys playing pool so he can show his team how both momentum and energy can be created without the need for an external force. Nicholas is excited to be a part of the NSB for the 14th time, and due to the pandemic he won't have to leave his family for too long to go to the NSB. When not subjecting his students to periods of "pun"ishment and baffling them about the conservation laws, he enjoys tutoring, photography, high-end audio, and surfing.
Alex Li is a senior from Lexington High School, and will be attending the Montana Institute of Technology in the fall. When he isn't clicking on pokeballs to try and fail at catching squirrels, Alex enjoys clicking azides with alkynes in Cambridge labs. This year, Alex has even discovered that clicking together circuit components is just as fun! Sadly, Alex thought he could mix the universal solvent with circuits, and is now suffering from a debilitating Anime addiction. While learning about waves by plucking his guitar, Alex allows his biology teammates to get a lesson on Meniere's Disease. When he isn't playing Pokemon Go, watching Anime, deciding which snacks to accept, or strumming his guitar, Alex can be found attentively listening to the questions in every subject except chemistry. His goal is to win the national competition so he can finally collect a Pachirisu and a Kangaskhan, and put it at the front of his resume.
Sean Fei wrote a very creative bio that had nothing to do with Science Bowl. However, the DOE believes he has a future as a novelist if he chooses to not pursue a career in STEM.
Daniel Zhang is a junior at LHS whose interests include excavating fossilized pokemon and exploring the finer points of Japanese youth culture. He is also extremely academically enlightened, having bested the legendary Mr Wilson in an intellectual battle of wits so legendary that it was later retold in an epic, aptly known as the JRP. Not satisfied by just this one momentous achievement, he has also climbed the mount Olympus of extracurriculars, finally earning himself a spot in the Pantheon as CD captain, the most prestigious role in the highly successful Science Bowl club. In his free time, he enjoys abusing mice, sacrificing their souls in the hopes that one day he can best his arch-nemesis, Extrino, in the true test of manliness, a Minecraft© pot PVP duel.
Gideon Tzafriri goes to Cambridge-Farms High School and is serving his third out of a four year sentence. Gideon is literally deaf and mishears half of the questions. Gideon likes to run on his treadmill while yelling at his incompetent subordinates to finish the question writing for LOST™ (Lexington's Online Science Bowl Tournament). His subordinates don't unionize against him as Gideon is hailed as the epitome of the 5'5 body plan, with such flawless skin he shines brighter than the Empire of the rising sun while exuding alphaness that practically blinds your eyes. Bored one day, he casually generalized the TY-Jan-Tyler effect, an application of perturbation theory to the Northeast regional. Gideon subscribes to the art of Ludditeness, once trying to plug a mouse into a monitor. Originally a chemistry major, he now is a supermodel; after taking off his mask, he's practically an S-tier waifu.
Daniel Zhou is serving his second to last year of service to this club. He is of legal age of driving, where he spends his days patrolling the streets of Lexington while intensely reading his copy of Campbell, destroying unsuspecting newbies at bedwars. Often, he will be found in the surrounding forests counting the leaves on an unsuspecting oak tree. His favorite class is statistics with the other Daniel who also, coincidentally, does Science Bowl. As he spends his days lamenting over specific wording, he wonders what the real touch of a brachiopod truly is.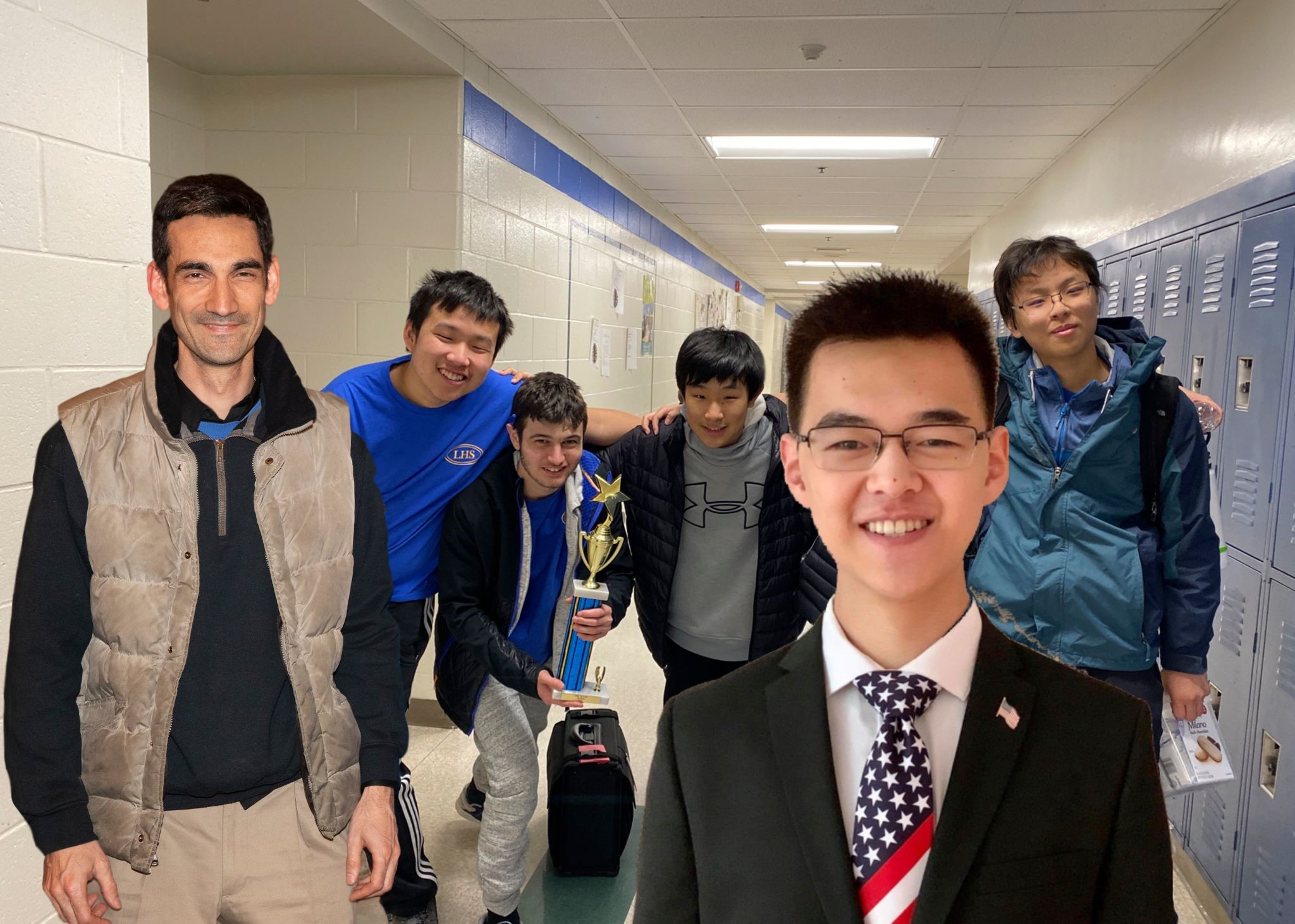 ***** Picture from 2019