Lakeside High School - Savannah River Regional High School Science Bowl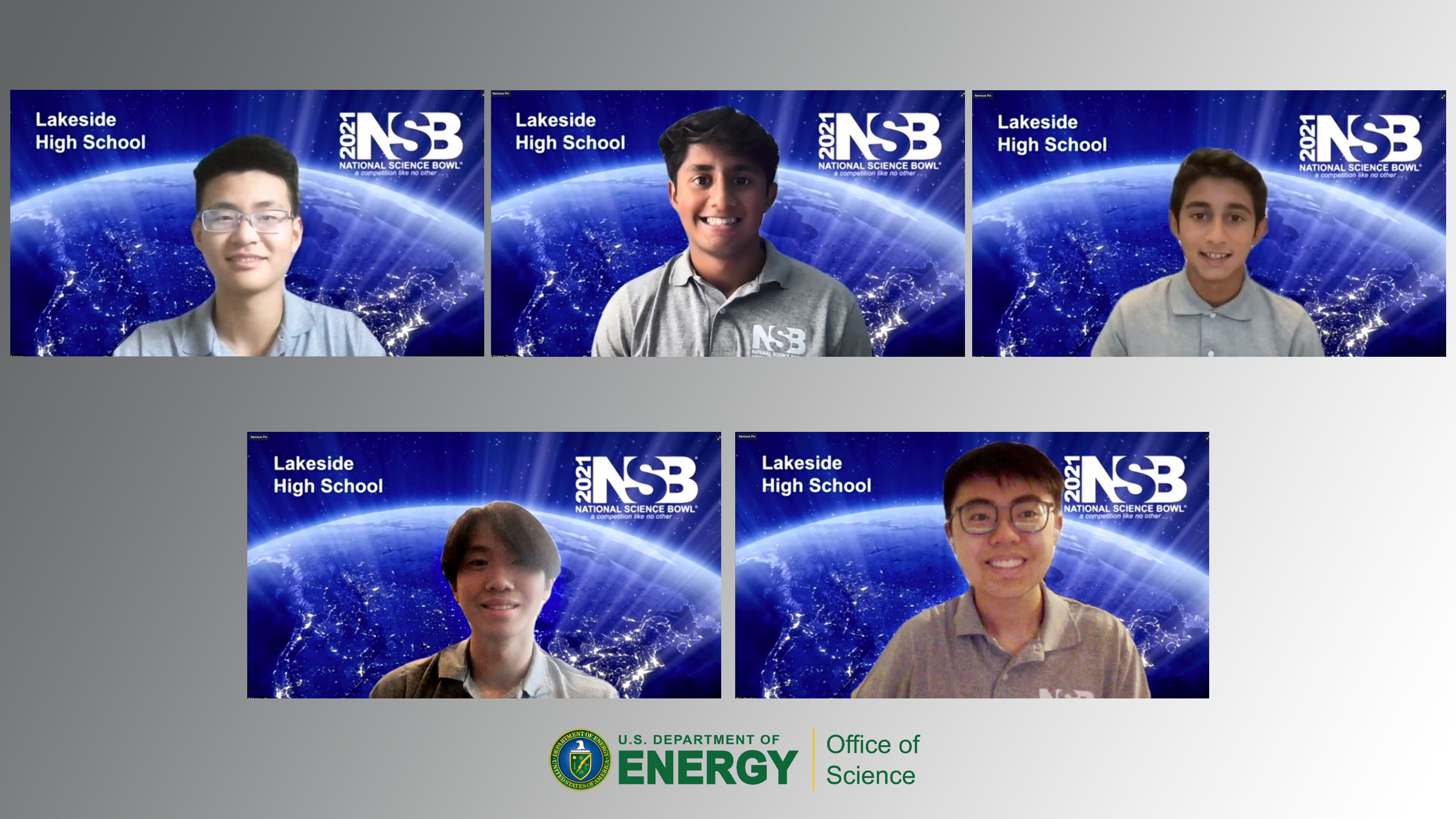 Coach Charlotte Smith has been coaching the Lakeside Science Bowl for many years and has attended several NSB competitions with her awesome students. She teaches gifted and AP biology and also coaches the Science Olympiad Team at Lakeside. She has a degree in zoology from the University of Georgia but has learned far more from her students than any university courses. Teaching is her passion and therefore her favorite thing to do. "It's hard to retire from something you enjoy so much" is what she has been heard to say from anyone who asks her about retirement.
Charlie Li is a senior at Lakeside High School. He enjoys all things science, art, and humanities and hopes to pursue a profession combining all of them one day. In his free time, his hobbies include creative writing and piano performance.

Zhengyu Lu is a freshman at Lakeside. His major topics of study are questions related to physics and chemistry, enjoying the physical sciences. Zhengyu has been to Nationals for the last three years in a row. He was the captain of the Stallings Island Middle School team last year, leading the team to the second elimination round at the Virtual Science Bowl last year. Zhengyu Lu's favorite extracurricular activities include table tennis and piano. He has achieved accomplishments in both, gaining recognition at the state GMTAs auditions for piano, and getting third in U14 singles at the annual Georgia Games two years ago. Zhengyu has also started immersing himself in competition math this year, qualifying for AIME.

Zach Thomas is a senior who enjoys listening to music, playing tennis, and hanging out with his friends. One of his favorite activities is destroying Matthew and Charlie in spikeball on Fridays after school. He hopes to pursue a career in biomedical engineering and travel abroad throughout his time in university. This summer, he plans to spend his time regaining the sleep that he has lost throughout high school.

Iziq Thomas is a freshman at Lakeside High School. He is 15 years old and enjoys running track and field in his free time. Iziq also like cooking, and his favorite food is mac and cheese. His favorite subjects in school are math and science, and he is the youngest of three siblings.
Matthew She is a junior at Lakeside High School. He enjoys playing Tagpro and is one of the top players in the world. In his free time, he likes studying for math competitions and playing Tagpro.