Eastside High School - University of Florida Regional High School Science Bowl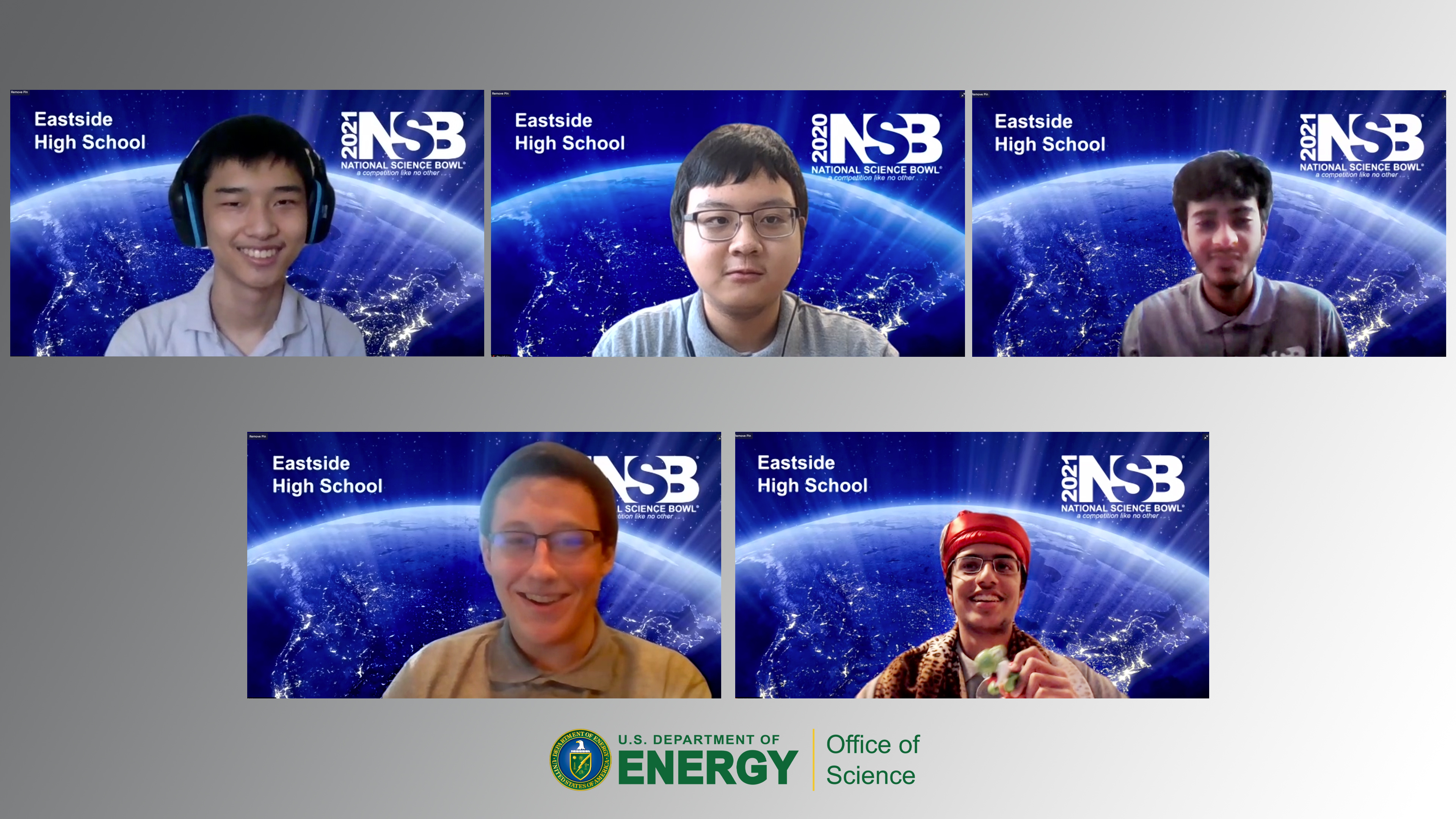 Coach Nicholas E. Simpson, Ph.D., is in his eighth year of teaching. He was educated at the University of Michigan (B.S., cell & molecular biology), Wayne State University (Ph.D., cancer biology) and Emory University (post-doctoral, tissue engineering) before his 'first career' at the University of Florida, rising to the level of Associate Professor of Medicine. In his 'second act' as a high school chemistry teacher, he has also sponsored an array of school clubs (Science Bowl, Quiz Bowl, HOSA, Astronomy, Jazz, Anime, Art). His hobbies are equally diverse: photography, painting, music composition, and collecting stamps, coins, sports cards and Beatles memorabilia. He was a professional trombonist as a teenager, and still plays regularly in the North Central Florida region with the small jazz group Swing Theory.
Bill Zhao is a senior whose favorite subjects include physical chemistry, inorganic chemistry, analytical chemistry, biochemistry, astronomy, and math. This is his second time "attending" nationals as a high schooler, and fourth time overall. He has participated in the USNCO, AIME, and numerous math competitions around the state. In his free time, he can be found trying to play the violin or blankly staring at a chemistry textbook as he tries to figure out how he could've not thrown the Bedwars game he lost 10 minutes prior. He will not be attending Eastside High School in the fall.
Atharva Pathak is a junior. This is his fifth trip to NSB nationals. His favorite subjects are physics and math, and he has competed in the USAJMO and the USAPhO. He enjoys working on puzzles, but he puts his inflated ego at significant risk when attempting and failing to solve them. He hopes to study computer science or mathematics in college and has taken some math classes at the University of Florida. Regarding more interesting topics, Atharva is a cultured man and loves watching football (the better, American kind). He is an ardent supporter of the Florida Gators, and he knows and reads far too much about Florida football and recruiting. He will be attending Eastside High School in the fall.
David Liu is a senior who favors all the subjects at school equally. His extracurricular hobbies include chess, piano, and tennis. He frequently plays in chess tournaments in the state as well as tennis for his school team. Less frequently, he plays chess out of state and plays at piano recitals. His more casual hobbies include legally watching movies and playing Puzzle and Dragons while trying to not fall asleep. He will not be attending Eastside High School in the fall.
Akash Verma is a sophomore whose favorite subjects are anatomy, astronomy, and psychology. His extracurriculars include various sports, science fairs, chess, HOSA, and volunteering for hospitals and homeless shelters. He loves playing and watching soccer, basketball, and football and is an avid Florida Gator fan. This is his first time attending nationals and fourth year being a part of Science Bowl. He will be attending Eastside High School in the fall.
Andrew Dodds is a senior. His favorite subjects are math and physics. In his free time, he enjoys cycling various nature trails and volunteering for a local elementary school. After high school he would like to study artificial intelligence in order to assist firms with market analysis and data mining but is also looking at learning about the applications that artificial intelligence may have in the medical field. He will most likely be attending the University of Florida in the fall.