Carmel High School - Indiana Regional High School Science Bowl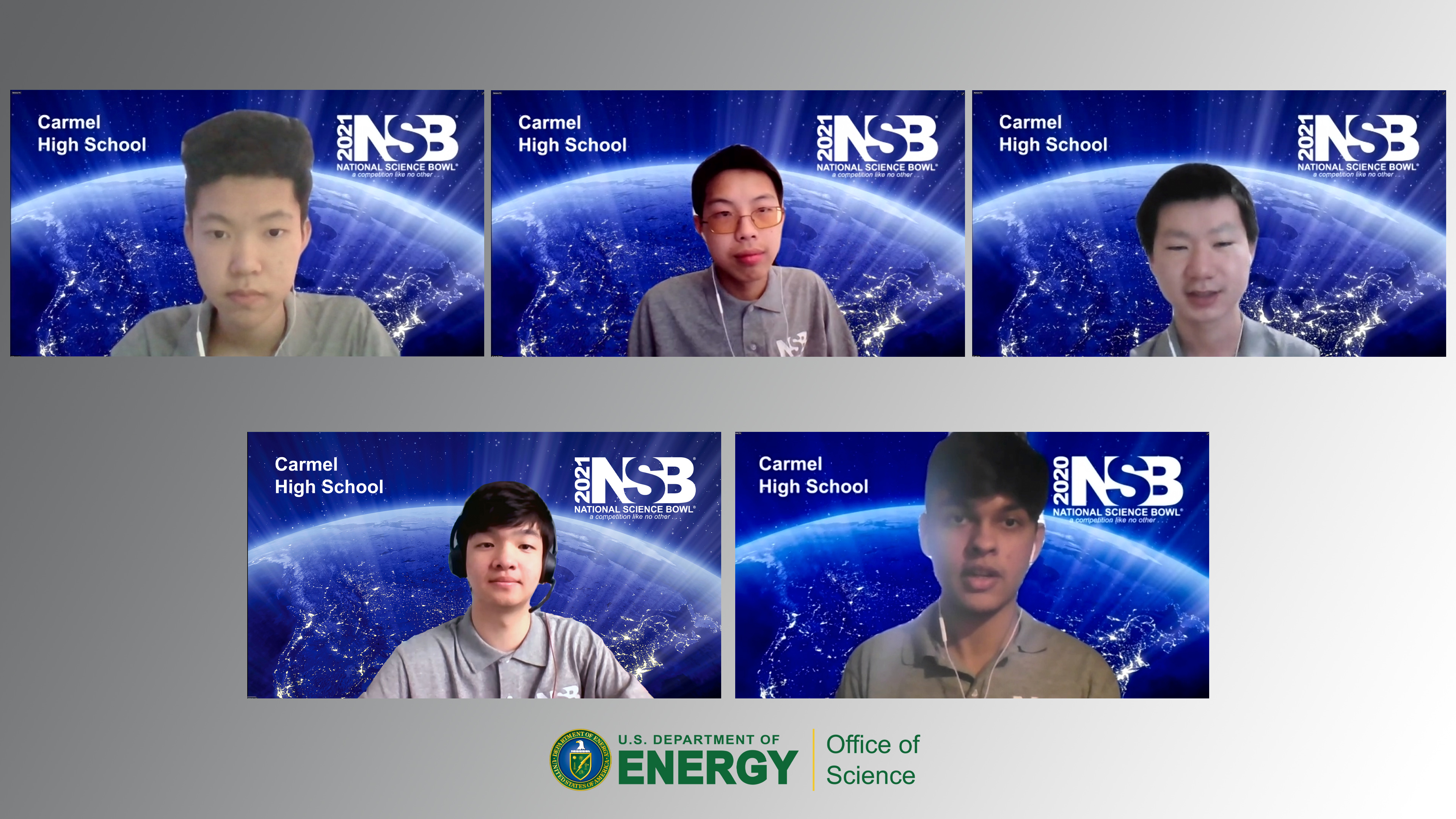 Coach Ginny Kundrat teaches AP chemistry and sponsors several science clubs. Prior to teaching, she worked as a chemist and metallographer. She enjoys playing the French horn with the Carmel Symphony Orchestra and other chamber groups. She is looking forward to a time when NSB meets in person again in hopes that the brightly-colored luggage tags will travel around the globe faster than COVID-19.
Jack Liu is a junior and an avid Anime enthusiast. When he is not consuming Anime content, he spends his time laughing at all of Jacob's hilarious jokes. (They are really funny.) Jack frequently visits Rick Astley's "Never Gonna Give You Up" music video on YouTube, although it is never intentional. Jack enjoys eating cold pizza and hotdogs without the bun. His hobbies include studying faults and other diagrams in textbooks, as well as faking having perfect pitch. Additionally, although Jack is also a USAMO qualifier, he often struggles to do simple arithmetic during practices and requires the help of the ever-capable Jacob. However, he is very well known for his amazing guessing skills, especially for short answer earth science questions. Despite being a USNCO high honors qualifier, Jack only spends an average of 4.20 minutes studying chemistry per week.
Nathan Ou is a junior and is very passionate about the subject of biology, meaning he enjoys looking at all the pretty pictures in his textbooks. Nathan also really enjoys playing soccer, where he streams to his avid fanbase on Instagram, averaging around 2.5 viewers per day. While Nathan has received offers from several professional soccer teams, he declined all of them in order to pursue his main interest in biology. Despite his avid studying and being a USABO semifinalist, his teammates (especially Jacob) often meme him as a "group of cells trying to learn about cells." Because of this, while Nathan used to be a contributing member to the team, he now finds it the most productive to never buzz in on biology questions and instead laugh at his teammates' incompetence. Nevertheless, his teammates ridicule his enjoyment of filling his brain with biology, or as they like to call it, useless information.
Aneesh Dasgupta is a junior and his favorite subject is math, although his teammates agree he is more proficient in quantum biology. He is quite qualified in the math and computer science fields, being both a USAMO qualifier and a USACO platinum qualifier. Despite this, he strongly dislikes geometry questions and passes them on to Jack as "applied art." Recently, he developed a modified bogosort sorting algorithm which is faster than all known sorting algorithms, but has yet to publish it in fear that it will crash the stock market. Aneesh is also a long time Brooklyn Nets fan, if you consider ten months a long time. He was also a Mavericks, Lakers, and Nuggets fan ten months ago. When asked whether or not he was a bandwagon fan, Aneesh responded, "I like the weather there."
Jacob Zhang is a junior and is not an avid Anime enthusiast. His hobbies include making not so funny jokes (they're really not funny) and subsequently laughing at his own jokes. While Jacob likes to occasionally dabble in other subjects such as German philosophy and bagpiping, he is best known on the team for his proficient skills in every single Science Bowl subject, especially biology. Indeed, Jacob is not only a USABO quarterfinalist, but also a USNCO locals qualifier, AMC 12 qualifier, F=ma qualifier, USESO opens qualifier, USAAAO opens qualifier, and an active USACO Bronze competitor. Yes, Jacob really can do it all. While many have encouraged Jacob to "be the best like no one ever was" and achieve Ash Ketchum status, he instead aspires to be a professional Minecraft player and Twitch streamer when he grows up.
Canaan He is THE genius sophomore at the young age of nine and a half. (He turns 10 in June.) At the age of seven he had the privilege of going on the famous game show "Are You Smarter than a fifth Grader?" and thoroughly defeated the fifth graders. He crowns this achievement to this day, despite already being in eighth grade at the time. His many hobbies include creating fake discord accounts and trying to be a stereotypical "zoomer" as much as possible. Due to his youth, Canaan often requires assistance from his teammates on many basic life skills, especially Jack, who is responsible for tying Canaan's shoes for him at practice.