Bentonville High School - Arkansas Regional High School Science Bowl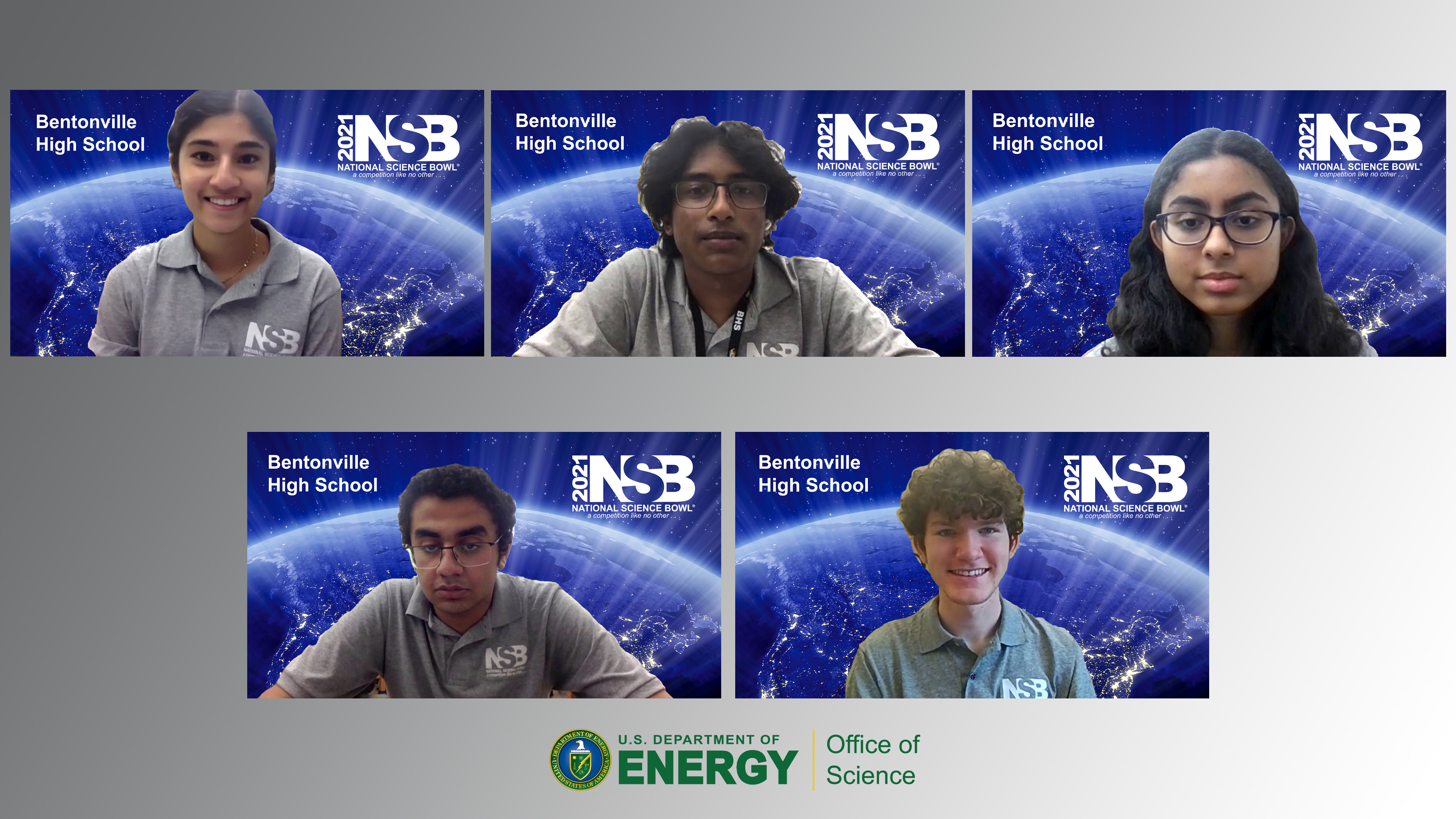 Coach Amanda Teece has been teaching for twelve years, three years in St. Louis and nine years at Bentonville High School where she currently teaches AP biology, anatomy & physiology, and accelerated biology integrated. This is her second year to coach the Science Bowl team and she will be starting an eSTEM hub for student research next academic year. Amanda attended the University of Arkansas to earn her B.S.E in kinesiology: exercise physiology & biomechanics because she loves athletics and finds the human body to be the most fascinating subject. She was a trainer and coach for a while before deciding to attend the University of Missouri, St. Louis for her M.Ed. in secondary education and pursue a career in teaching. She is married to her awesome husband Erik and they have two amazing kids, Gavin (7) and Lainey (4). In her spare time, Amanda enjoys reading and drawing, walking her dog, watching Gavin play baseball, and watching Lainey dance.
James Quirk is a senior at Bentonville High School who is interested in physics and environmental science. Originally from Little Rock, he moved to northwest Arkansas in tenth grade, where he first discovered his love for science. Thanks to his AP physics and AP biology teachers, he felt invited into a community of academic inquiry and insatiable curiosity. Presently, he is planning on being a member of Dartmouth College's class of 2025, where he will likely study engineering physics or engineering sciences. Outside of Science Bowl, James enjoys participating in Model UN conferences and competing in Quiz Bowl tournaments. He spends countless hours at the Bentonville Municipal Airport, where he obtained his private pilot's license through Summit Aviation and works as the establishment's aircraft and hangar intern.
Tejasv Bhatia is a junior at Bentonville High School. He is a frequent participant in mathematics competitions, and runs his own competitive math tutoring non-profit organization, with all proceeds going towards cancer research. At school, he is the captain of the Quiz Bowl team, and is involved in FBLA, ACE, and Mu Alpha Theta. His subject of passion in school is mathematics, and though he is divergent between applied mathematics, computer science, and economics in regards to future education and career prospects, he would love to work on AI development in the field of nuclear power plant safety and fuel regulation. In his free time, he enjoys practicing and demonstrating card tricks and cardistry, having performed at many shows as well, as well as reading online novels, specifically of the fantasy genre, and biking outdoors. Interestingly, he has a fear of stuffed animals.
Anushri Kulkarni is a senior at Bentonville High School and will be attending SUNY Stony Brook next year as a biomedical engineering major on the pre-medicine track. Along with the Science Bowl team, Anushri is involved in Bentonville High School's Spanish Honor Society, Student to Student Mentoring Club, Model United Nations, and the Quizbowl team. Anushri's favorite Science Bowl subject is biology. She has always been fascinated by human anatomy and physiology because she loves learning about the complex chemical interactions that drive physiological processes. Along with human anatomy, Anushri also loves learning about plant anatomy and physiology. Her favorite plant group is the gymnosperms--everything from the cycads to the redwoods fascinates her. Science is Anushri's main academic interest, but she also enjoys literature and writing and is considering double majoring or minoring in English along with biomedical engineering. Anushri hopes to get an MD/Ph.D. to become either an orthopedic surgeon or a neurologist in the future.
Rachael Thumma is a junior at Bentonville High School. She is an avid classical Indian dancer and a piano enthusiast. She is also the president of her school's HOSA club, dedicated to the development of future health care professionals. In addition, she is involved in FBLA and Chemistry Club. Her subject of passion at school is biology, stemming from her love of the medical field. In the future she plans on majoring in biochemistry and pursuing an MD/Ph.D. program. With that knowledge she hopes to research and design novel disease treatments. Under the intention of getting an early start to her prospective career she is pursuing an EMR/EMT certification program through a school connected program. In her free time, she enjoys reading novels, specifically dystopian and fantasy genres, but is also fond of the outdoors, spending time biking long distances.
Dinesh Vasireddy is a sophomore at Bentonville High School and is involved in many different organizations outside of Science Bowl including FBLA, Model United Nations, and the school tennis team. Dinesh's favorite subjects at school are physics and computer science. Dinesh has always been more of a STEM person and has been fascinated with astronomy and earth science since a young age, even saving up for years to buy a telescope to see the many amazing constellations in the sky. He hopes to major in computer science and specialize in both artificial intelligence and cybersecurity. Dinesh has even recently been admitted into the districts IGNITE Technology program, which will allow him to explore his own interests and begin his career in the field of computer science. Dinesh is very determined to continue working toward his dreams of one day starting his own cybersecurity consulting firm and develop new products and softwares to revolutionize the industry and make a name for himself.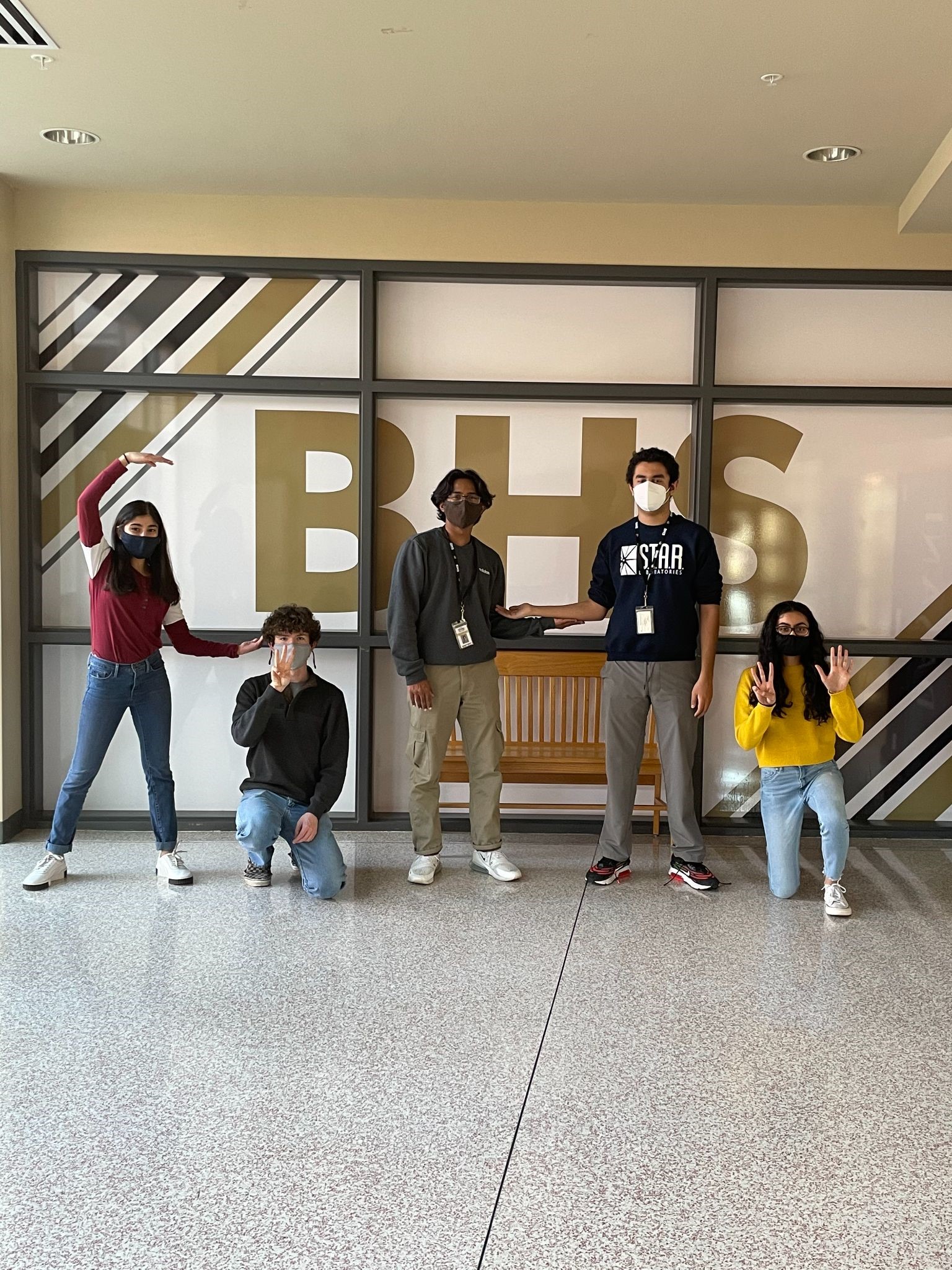 Left to right in the first two pictures: Rachael Thumma, Dinesh Vasireddy, Tejasv Bhatia, James Quirk, Anushri Kulkarni
Left to right in the third picture: Rachael Thumma, James Quirk, Dinesh Vasireddy, Tejasv Bhatia, Anushri Kulkarni