Amity Regional High School - Connecticut Regional High School Science Bowl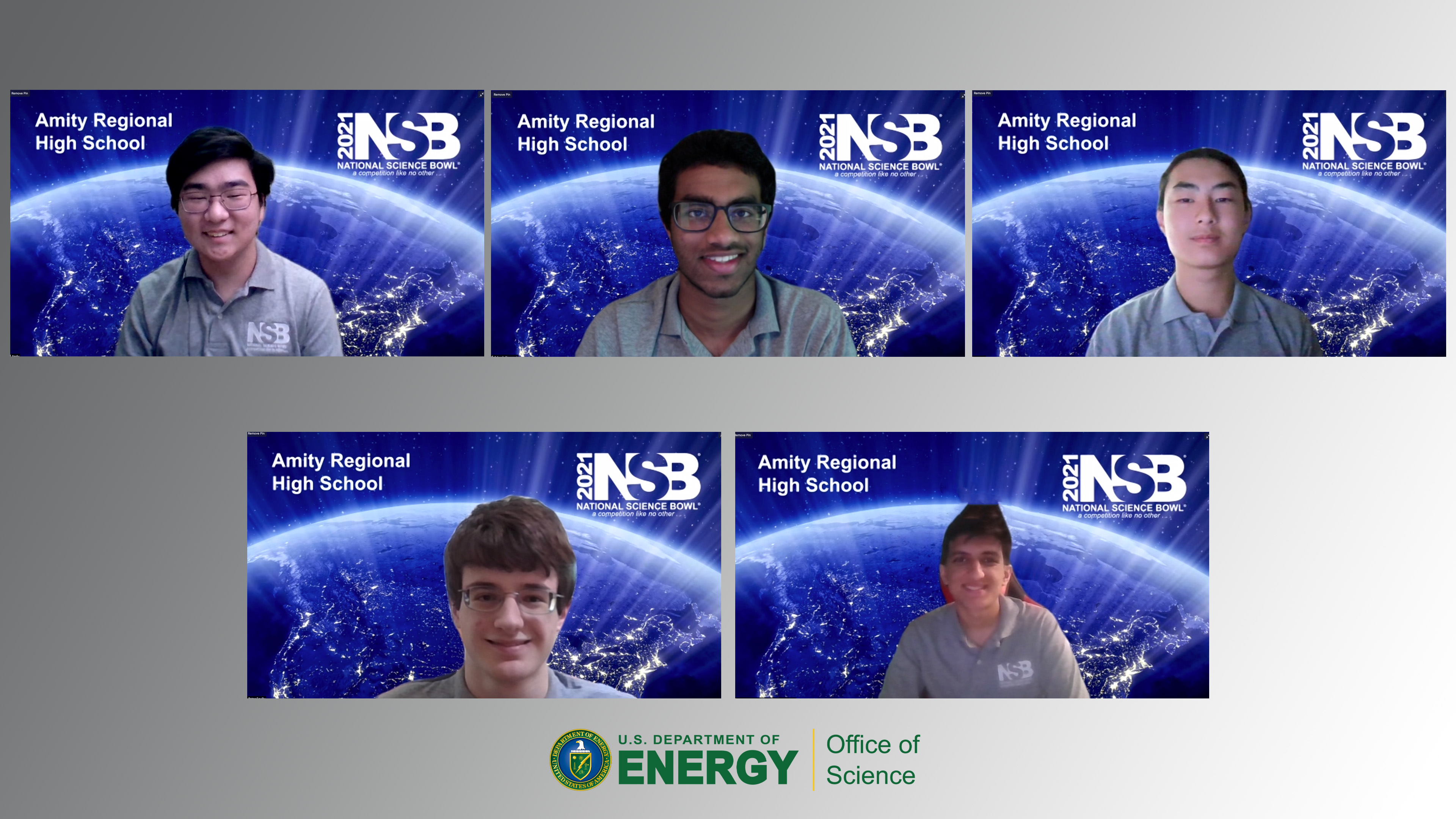 Coach Deborah Best has been a teacher at Amity High School for the past twelve years. She teaches biology and forensic science and is advisor for the subtropical environment class. Born and raised in Connecticut she settled in the New Haven area and formerly worked at Yale University Medical School in molecular biology. Coach Best attended SCSU and UNH and earned a B.A. in environmental science, B.S. in biology, a masters in education, and a sixth year in science education. Hobbies include reading, gardening, cooking, camping, and hiking. Currently Coach Best is challenging herself to complete the New England trail that runs from the CT shoreline through Massachusetts and into New Hampshire.
Peter Scully is a senior who enjoys earth science, chemistry, and computer science. Beyond Science Bowl, he competes frequently at various debates and math competitions and has qualified for AIME and the National Parliamentary Debate League Tournament of Champions. In summer 2020, he also qualified for the U.S. earth science team. His favorite classes have been AP U.S. history and his chemistry classes. Peter is not sure what career he would like to pursue, but he is leaning towards a career in either geology or chemistry. He is also not sure what college he will go to, but hopefully that at least will be figured out by when you read this. Outside of academics, Peter enjoys playing video games, arguing with his teammate Andy Kim about which science is the best (it's definitely earth science or chemistry), and eating plain bread (he's a very picky eater).
Arnav Paliwal is a senior whose favorite subjects are math, social studies, and physics. He is the captain of his school's debate team, Science Bowl, and math team. Outside of Science Bowl, he spends most of his time debating every weekend and has gone to over 20 debate tournaments this year. Arnav is individually ranked as the fifth-best debater in the nation by the National Parliamentary Debate League, was in the top-breaking team at the largest Harvard World's debate tournament ever, and is an AIME qualifier. Arnav also volunteers coaching an elementary and middle school robotics team. He has made $7500 in profit selling sneakers and plays Hearthstone and Valorant in his personal time. Arnav's college plans are still up in the air, and hopefully, by the time you are reading this, they are finalized.
Eugene Chang is a senior who's interested in computers and chemistry. In his free time, he enjoys playing lacrosse, conducting research, building computers, and going to the gym. Occasionally, you might find him spending all day playing video games. Eugene hopes to study computer science and engineering in college and pursue a career in chip design, computational chemistry or natural language processing research. (He's not sure yet.) Most of all, he loves competing in Science Bowl.
Andy Kim is a senior who enjoys biology and psychology. His favorite pastimes are talking at length about his interests, writing poetry, and arguing with his teammate Peter Scully about the best science (it's definitely biology). You can probably find him talking to his friends about some random topic or, more likely, frantically finishing work that he didn't do from procrastinating. Andy hopes to pursue a career in developmental psychology or general pediatrics (though those two are fairly different). In his off time, he practices piano and guitar (while simultaneously mustering up motivation to practice sax) and plays games with anyone who's willing.
Adarsh Kongani is a senior who enjoys physics and mathematics and procrastination. In his free time he can be seen running around the neighborhood, especially in the spring and the fall (running in the winter is not guaranteed). Adarsh also loves reading books (LOTS of books) and building Legos (He's been trying to get his hands on that Saturn V rocket set). Outside of school Adarsh participates in research (usually his own designed projects), plays the violin, and attends the classes through the Columbia Science Honors Program on the weekends. Adarsh loves playing and watching sports (except for baseball or curling) from cricket to badminton to football (both types). He also has no knowledge of American pop culture. Adarsh hopes to study materials science and engineering because he can't decide whether to be an engineer or a scientist, and he thinks that materials are cool, cuz they're everywhere.