Ames High School - Iowa Regional High School Science Bowl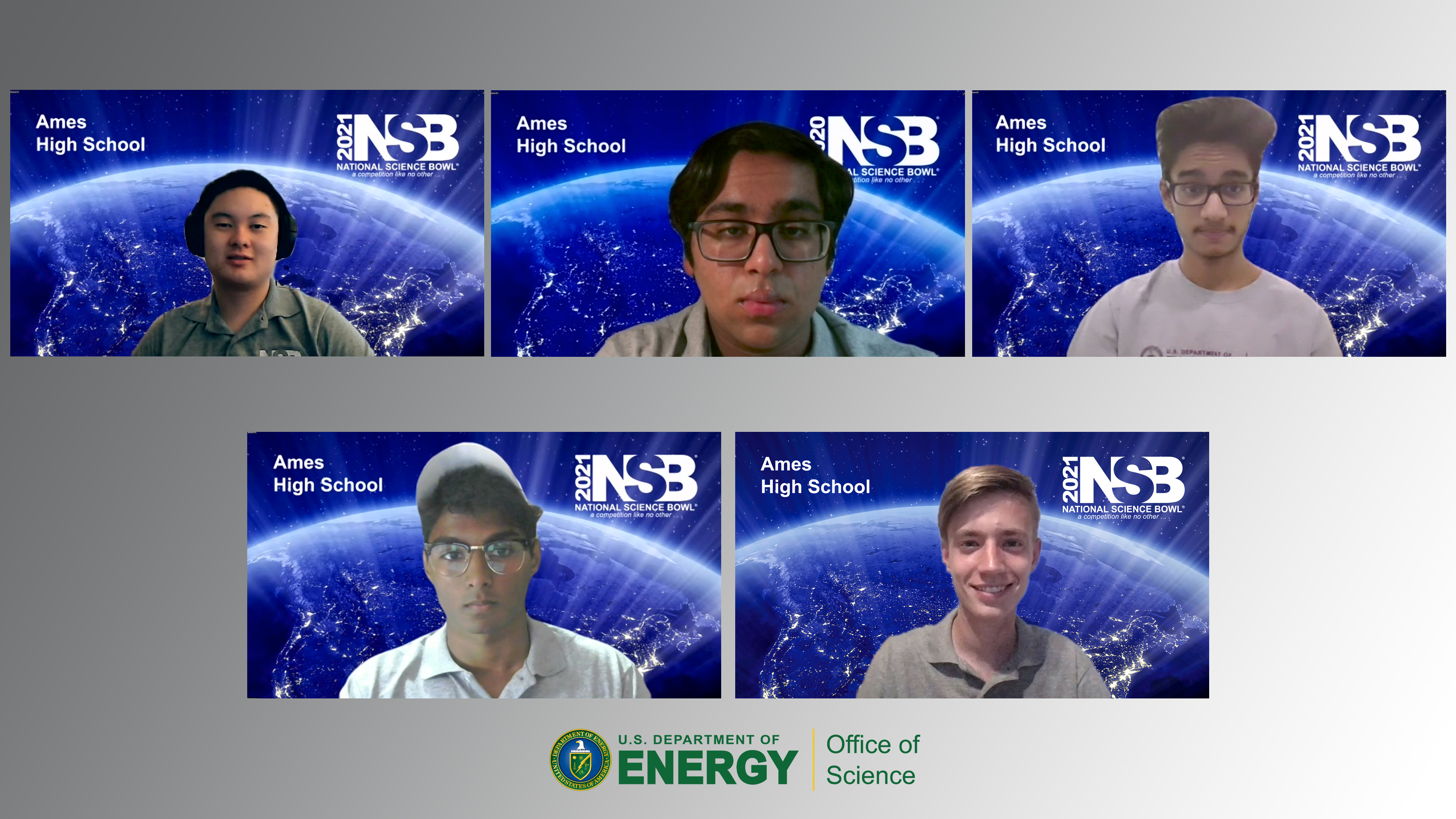 Coach Aileen Sullivan has taught high school chemistry for 25 years and relishes classes spent with students exploding hydrogen gas and freezing things with liquid nitrogen. She is the head of the science department and has served as a model and mentor teacher, chief negotiator for the teacher's union and has been an assistant coach for the girls track team at her school. Coach Sullivan also was named the 2018 Iowa Teacher of the Year and as such has a teacher friend from each of the 50 states. Coach Sullivan earned a Bachelor of Arts degree in chemistry and chemistry teaching from the University of Northern Iowa and a Master of Science degree in curriculum and instruction from Iowa State University. She and her husband, a social studies teacher, have two school-aged sons.
Rishabh Swamy is an eleventh-grade student at Ames High School, but he still feels like a sophomore (thanks, COVID). This is his sixth year participating in Science Bowl, and his fifth year competing at the national level. Rishabh likes to swim, run, and play soccer, but unfortunately, he can't do all three at the same time. His other hobbies include eating mac and cheese, watching Patriots football, and procrastinating. Thankfully he can do all three of those things at the same time. He also enjoys lifting, bench pressing his Campbell Earth Science book in one hand and Vanders Organic Chemistry in the other. Also, don't let Rishabh forget that he needs to give Ne a coupon for a back massage as Ne's back hurts from carrying the team. Rishabh would like to end this biography with a big shout out to the Science Bowl discord server for providing lots of fun times over the past year.
Ne Dassanayake is a junior at Ames High School. He has been to nationals twice in middle school and once in high school. Around the time of virtual nationals last year, he developed a passion for organic chemistry after reading Ahrens Modern Physics and learning about trivial reactions such as the Bergmann enediyne cyclization, the Tebbe olefination, and Nickel(II)-catalyzed asymmetric hydrovinylation. In his spare time he thinks about why he didn't sign up to take the USNCO in 2020, and is now reading the essential book Housecroft Inorganic Chemistry to prepare for the 2021 USNCO. Ne is interested in studying organic chemistry in college and intends on having at least one of his majors be chemistry.
Jacob Stevens is a junior at Ames High School. This is his sixth year competing in Science Bowl and he has qualified for nationals three times prior, twice in middle school, once in high school. Jacob enjoys playing and watching soccer. He supports English club Everton FC, who never fail to disappoint him year after year. Jacob also competes in debate and ethics bowl and is in the Ames High band as a percussionist. In his free time, Jacob enjoys mostly sleeping and eating, and occasionally hanging out with his friends if he feels like it. Jacob is interested in entering a STEM field in college (probably geology or atmospheric sciences), and believes that Science Bowl is a great way to learn more about science. When COVID is over he hopes to travel more, spend more time with his friends and hopefully return to DC for in-person nationals.
Jerry Han is a junior at Ames High School. He enjoyed traveling prior to the COVID-19 pandemic, enjoying his time in other countries. Unfortunately, since the pandemic began, he is stuck at home playing League of Legends and other games with his friends and streaming at twitch.tv/ramenofthefreshcow. Jerry also enjoys playing clarinet, doing so for six years and making the All-State Band two years in a row. He enjoys watching a variety of sports, as well as reading books when he has the chance.
Abhi Amuluru is a freshman at Ames High School. Abhi loves to be active, and some of his hobbies include playing tennis, running, and playing basketball. Abhi has played the alto saxophone for four years, and he currently plays the alto saxophone in the freshman band. He has been interested in biology and life science since the beginning of middle school. Abhi's first experience with studying biology was for the 2019 Science Bowl National competition, and he developed his passion for it. Abhi has also participated in Science Olympiad for three years. Some of his favorite activities include spending time with his friends, procrastinating/wasting his time, and watching movies/Netflix. Due to COVID, Abhi can't travel to Science Bowl and Science Olympiad nationals which are some of his favorite experiences. However, Abhi looks forward to future competitions and being able to travel again after COVID.