Dr. Kenneth Hicks
Program Manager for Heavy Ions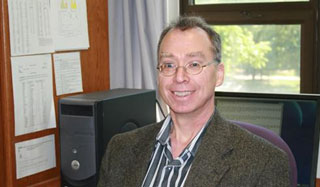 Dr. Ken Hicks has overseen the Relativistic Heavy Ions Program for the Office of Nuclear Physics since January 2021.
Prior to joining the Office of Nuclear Physics, Dr. Hicks was in the faculty of the Department of Physics and Astronomy at Ohio University (OU). From 1988 to 2022, he held a professorship at OU, where he researched the properties of particle resonances (excited states of baryons and mesons) using data from Jefferson Lab (USA) using the CLAS detector and at the Spring-8 laboratory (Japan) using the LEPS detector. During his time at OU, he advised 15 PhD students and directed numerous undergraduate research students, all with continuous funding from the National Science Foundation.
Dr. Hicks received a Ph.D. in physics from the University of Colorado for experimental research on fission induced by pions (particles produced by high-energy collisions). He did post-doctoral research at Tri-University Meson Facility (TRIUMF) Laboratory in Canada, where he was then hired as a staff Research Scientist until going to OU.
At Ohio University, he held numerous service positions, including Director of the Institute for Nuclear and Particle Physics, Director of the Structure of the Universe Project, and Chair of the Faculty Senate's Finance and Facilities Committee. For research, he served as Chair of the CLAS Collaboration (Jefferson Lab), a member of the Proposal Advisory Committee for the Research Center for Nuclear Physics (Japan), Secretary-Treasurer of the Division of Nuclear Physics (APS) and Chair of the NSF review panel on the 5-year cooperative agreement for the LIGO gravitational wave facility, among other roles. Awards include Fellow of the American Physical Society and Presidential Research Scholar (OU).
Contact Information:
Dr. Kenneth Hicks
Program Manager for Heavy Ions
SC-36/Germantown Building
U.S. Department of Energy
19901 Germantown Rd.
Germantown, MD 20874
Email: kenneth.hicks@science.doe.gov
Phone: 740-707-1009