Quantum Information Science (QIS)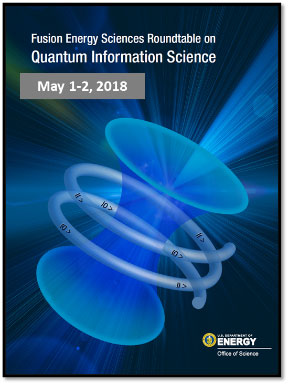 Fusion Energy Sciences (FES) supports fundamental research for public benefit to expand the fundamental understanding of matter at very high temperatures and densities and to build the scientific foundation needed to develop a fusion energy source. QIS research activities within FES are guided by the priority research opportunities identified in the 2018 Roundtable meeting which explored the unique role of FES in QIS. The report from this Roundtable identified fundamental science enabled by FES that could advance QIS development as well as QIS applications that could have a transformative impact on FES mission areas, including fusion and discovery plasma science. FES workshop reports can be found here.
PRIORITY RESEARCH OPPORTUNITIES FOR QIS TO ADVANCE FES (QUANTUM FOR FUSION)
Reconceptualizing classical plasma physics problems for quantum computation
Near-term opportunities (quantum simulations for fusion problems)
Quantum sensing for plasma diagnostics
PRIORITY RESEARCH OPPORTUNITIES FOR FES TO ADVANCE QIS (FUSION FOR QUANTUM)
High energy density laboratory plasmas science (HEDLP) for novel quantum materials
Relativistic plasma science for qubit control and quantum communication
Plasma science tools for simulations and control of quantum systems
FES issued its first Funding Opportunity Announcement (FOA) in QIS, "Quantum Information Science Research for Fusion Energy Science" in FY 2019. Topics supported include the development of concepts and algorithms that can solve important problems in fusion and plasma science with emerging quantum computers, quantum sensing approaches that can enhance diagnostic capabilities for plasma and fusion science, the use of high energy density laboratory plasmas (HEDLP) drivers and techniques to form novel quantum materials, and refinement of (semi-) classical techniques for simulation and control of plasmas and their application to the simulation and control of quantum systems such as quantum computers based on trapped ions and electrons. A follow up FOA was issued in FY 2020 with a similar selection of topical areas. The FES goal through these FOAs is to build a community of next-generation researchers in this exciting area.
SC Statement on Quantum Information Science
The Office of Science discusses the emerging and cross-cutting field of Quantum Information Science (QIS) in a Dear Colleague Letter here.
---
Award Lists and Abstracts
---
Current and Past Funding Opportunities
All current and past FES funding opportunities can be found here.
---
Contact
Kramer Akli
Kramer.Akli@Science.doe.gov
John Mandrekas
John.Mandrekas@science.doe.gov