Dr. Chris Bradley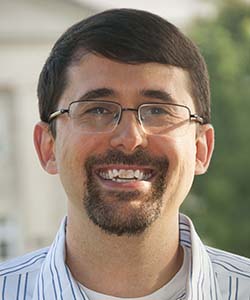 Program Manager
Catalysis Science Program
Office of Basic Energy Sciences
SC-32.1/Germantown Building
U.S. Department of Energy
1000 Independence Avenue, SW
Washington, D.C. 20585-1290
E-Mail:Chris.Bradley@science.doe.gov
Phone: (301) 903-2047
Fax: (301) 903-0271
---
Dr. Bradley is a program manager in the Catalysis Science Program.
He received B.S. degrees in Chemistry and Biology from the University of Kentucky in 2001 and his Ph.D. from Cornell University in 2006 with Paul Chirik, where he examined low valent zirconium complexes for dinitrogen activation. Dr. Bradley then conducted postdoctoral research with Don Tilley at the University of California, Berkeley, investigating synthesis and catalytic applications of silicone functionalized nanospheres. Prior to joining DOE in 2017, Dr. Bradley was a faculty member in Chemistry at Mount St. Mary's University (2012-2016) and Texas Tech University (2008-2012). During his independent career, he led research groups focused on synthesis of unsaturated cobalt(I) complexes for use in small molecule activation, specifically C-H bond functionalization.
Dr. Bradley has research experience spanning the areas of homogeneous catalysis, small molecule activation, and synthetic inorganic/organometallic chemistry.
Education
Ph.D. in Inorganic Chemistry, Cornell University, 2006
B.S. in Chemistry and B.S. in Biology, University of Kentucky, 2001