Discoveries
The Office of Basic Energy Sciences (BES) has been at the forefront of scientific discovery for several decades. BES staff and colleagues in March 2001 identified 28 of the more important discoveries supported by the program. Short descriptions of these major accomplishments are provided below. See the Office of Science (SC) Decades of Discovery for 73 descriptions of major achievements from other SC programs.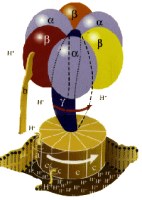 Enzymatic mechanism
of ATP synthesis
The energy cycle of all living organisms involves the molecule adenosine triphosphate (ATP), which captures the chemical energy released by the metabolism of nutrients and makes it available for cellular functions such as muscle contraction and transmission of nerve messages. A hard-working human adult can convert almost a ton of ATP daily. From the early 1960s through 1994, the Office of Science supported Paul D. Boyer's research at the University of California at Los Angeles on ATP synthase, the enzyme responsible for synthesizing ATP. His research examined the detailed chemical reactions involved in ATP synthesis and how the enzyme uses energy to create new ATP. Boyer theorized that this "molecular machine" with rotating parts functions in a surprising way for enzymes, a mechanism later supported by the work of John E. Walker of the United Kingdom. Among other things, Boyer discovered that energy input was not used primarily to form the ATP molecule, but rather to promote the release of an already formed and tightly bound ATP. Boyer and Walker shared half of the 1997 Nobel Prize in Chemistry for these achievements.
Scientific Impact: This work uncovered new concepts in enzymology and advanced understanding of how living cells function at the molecular level. Determination of how cells store and transfer energy has been among the most important advances in molecular and cell biology, enabling an entire generation of work at the cellular level in animal and plant research.
Social Impact: Research in cell biology has led to tremendous advances in medicine and physiology, such as clues to the genesis and treatment of cancer.
Reference: Boyer, P.D., "The ATP synthase—a splendid molecular machine," Ann Rev Biochem 997;66:717-49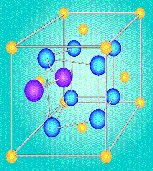 Model for Ceria Oxide System. Ceria atoms are yellow, oxygen atoms are blue, and the active oxygen at the defects are purple.
Catalysts, which accelerate chemical reactions, are valuable in many industries, from fuels to pharmaceuticals. Long-term research by government and academic scientists supported by the Office of Science has led to new understanding of catalytic phenomena, in particular the relationship between chemical structure and reactivity. For example, early work established two classes of heterogenous catalysts (which function by adsorbing molecules), based on whether chemical reactivity is, or is not, sensitive to surface structure. These studies showed that catalytic reactions once thought to be structurally insensitive actually took place on a dynamic surface. Research on the reactivity of hydrogen with catalysts—an issue in the world's largest-scale industrial processes, such as sulfur removal from crude oil-disproved the widely held belief that hydrogen molecules must dissociate into two atoms before undergoing reactions, and challenged the accepted notion that surface-bound (as opposed to embedded) hydrogen was the only reactive form. Other discoveries concerned the chemical behavior of organometallic complexes (combinations of organic and metallic species) that are used, for example, in plastics manufacturing.
Scientific Impact: Research on structure-reactivity relationships has increased understanding of both natural and synthetic processes. The discovery of nonclassical binding of molecular hydrogen created a new field of study that may overcome some of chemistry's greatest challenges, such as conversion of natural gas to more usable liquid fuels (methanol or gasoline).
Social Impact: A modern society's standard of living can be measured by its accomplishments in catalysis, because every manufacturing process and energy-generating technique starts with catalysis. Catalysts first introduced by investigators supported by the Office of Science revolutionized a process used to make about 100 billion pounds of plastics per year worldwide; this work is leading to catalysts that produce superior plastics with new properties.
Reference: C.E. Tripa and J.T. Yates, Jr. Nature, 398 (1999) 591.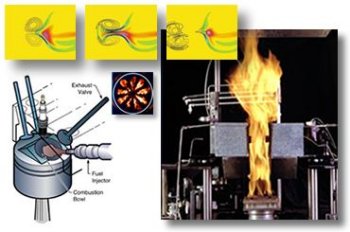 The molecular features that influence the rate of chemical reactions were poorly understood until the mid-1960s, when Dudley Herschbach and his postdoctoral student Yuan T. Lee began a series of experiments at Harvard University. With funding from the Office of Science and predecessor agencies, they explained in detail how chemical reactions take place, and solved the problem of how to observe the random directions and velocities of molecules in a gas or a liquid. They developed an apparatus in which crossed molecular beams were used to vary the velocities and approach angles of reacting molecules. With this tool, the scientists discovered and studied long-lived complexes of reactants formed before a reaction was completed, and described theoretically their formation and decay. They also examined the velocities of products, rotational energies, and internal vibration energies. In this way, they could map out all the details of a chemical reaction and explain the effects of temperature and pressure. Initially, these studies focused on reactions between alkali atoms and other molecules; Lee later adapted the crossed molecular beam method for general reactions. The 1986 Nobel Prize in Chemistry was awarded jointly to Herschbach, Lee, and a third scientist.
Scientific Impact: This work contributed significantly to the modern knowledge base for atmospheric and combustion chemistry. These scientists helped establish reaction dynamics as a discrete field of research, and their crossed molecular beam approach is among the most important contributions to this field.
Social Impact: These studies contributed to improvements in industrial production efficiency and assisted in the design of new products to be more useful, durable, and conserving of natural resources. This work also contributed to the development of predictive theories and models used to design and manufacture new products ranging from plastics to pharmaceuticals.
Reference: http://nobelprize.org/nobel_prizes/chemistry/laureates/1986/index.html