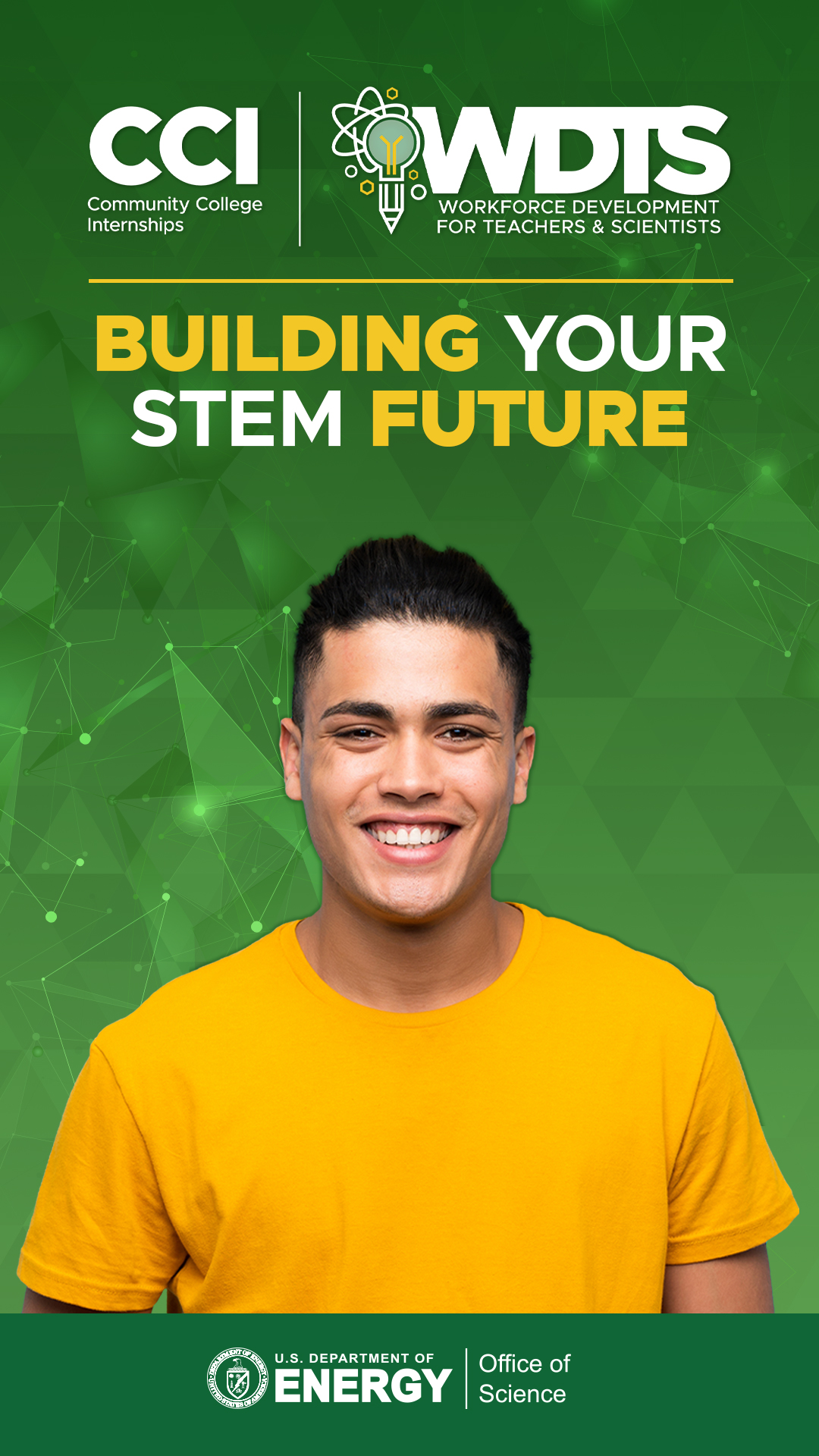 CCI Program Overview
Are you a community college student seeking opportunities to expand your technical skills and expertise while exploring career pathways in STEM? Then the Community College Internship (CCI) program is for you!
Each year, students from around the country participate in CCI at one of the 17 participating Department of Energy (DOE) laboratories/facilities. In this internship, you'll be part of a team that's working together to advance one of the many science and technology areas that underpin the DOE mission. This is an opportunity for you to develop your knowledge and skills in a major research facility, while discovering where your STEM interests can take you in the future!
For a list of Community College Internship (CCI) past participants, please click here.

Program Information
CCI is a paid internship opportunity that is sponsored and managed by the DOE Office of Science's Office of Workforce Development for Teachers and Scientists (WDTS) in collaboration with DOE laboratories/facilities. Students participate in a 10-week summer internship (May–August) or in 10-week internship during the semester (August–December or January–May).
Our participating DOE laboratories/facilities offer a diversity of research areas. You'll want to check out each lab to see which has opportunities most aligned with your interests.
Apply Today
Follow these steps to compete your CCI application!
Learn all about CCI: Visit our resources to understand the eligibility and participant obligations, as well as the benefits of CCI.
Verify dates and processes: As you prepare to apply, be sure to review the key dates related to the internship term you're hoping to participate in.
Review the CCI application check list and guides: We have a comprehensive application checklist available for you, in addition to guides on how you can request transcripts, recommendations, and how to approach the essay portion of the CCI application.
Attend a CCI application workshop: Sign up for our next workshop to answer your questions and help empower you during the application process.
Apply: You're ready to apply! You have all the details you need, and the resources required to create a competitive and compelling CCI application.

Learn More:
https://science.osti.gov/wdts/cci