Michelle Bailey
Research takes a former SULI intern to Alaska and beyond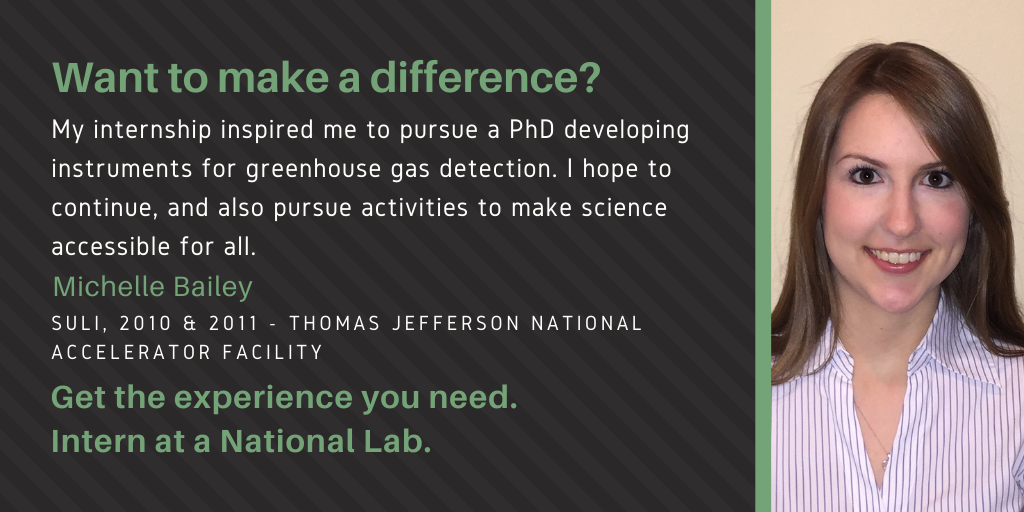 Internship program: SULI
Year: 2010, 2011
Undergraduate institution: Christopher Newport University
Major: Chemistry
Host DOE laboratory: Thomas Jefferson National Accelerator Facility (TJNAF), Newport News, Virginia
Mentor name: Michael Kelley
What was your research topic during your internship?
During my time at Jefferson Lab, my goal was to understand how organic material would adhere to mineral surfaces. We wanted to understand how different organic acids would bind to minerals and if the strength of the bond would be resistant to removal by water or a new organic material. This research was aimed at understanding the potential for carbon sequestration in geological systems.
What was it like coming to a National Lab for your internship?
Being at a National Lab was the first time I realized there was a community that shared my interests and goals. It was great to meet other interns who enjoyed learning how the world worked and I learned a lot from the staff who wanted to show us all the joy that exists in solving scientific problems. My experiences at Jefferson Lab opened my mind to a world of endless opportunity and inspired me to pursue my PhD.
What do you currently do, and where do you hope your career takes you?
I am currently a National Research Council Postdoctoral Associate at NIST in Gaithersburg, Maryland. I have spent the last 5 years, during my PhD and Postdoc, developing optical instrumentation for the detection of greenhouse gases. I hope to continue on in my technical career while also doing outreach activities that make science accessible to all.
Think of a time you experienced failure during your academic or professional career. How did you feel at the time? How did you deal with the failure and work past it?
While in graduate school, I participated in a series of field campaigns in Fairbanks, Alaska. These campaigns required me to build and test instrumentation that would be rugged enough to survive the trip to Alaska from Washington, DC, and be sensitive enough to measure our target gases (carbon dioxide and methane). During my first field campaign, we were halfway through our deployment when a critical component of the instrument failed. We were unable to replace the component and were left with little data and no instrument after the campaign. Starting from scratch was difficult after an 8-month race to the finish line. However, the failure gave me the opportunity to make major design changes that were better in the long run and I may not have considered if the initial prototype had been successful. I was able to work with the knowledge I gained to minimize (and ultimately eliminate) that failure in future endeavors.
Think of a time you experienced success during your academic or professional career. What did this success look like?
During the same series of field campaigns I describe above, the third campaign was my last chance to collect data. I made to sure start preparing for the third campaign as soon as we returned from the second and pulled on my previous two years of experience to know all possible roadblocks I could encounter. The feeling of successfully getting an instrument into the field and having data to bring home proved to me that the hard work and perseverance paid off. I also learned that resilience in the face of challenges is necessary. When you fail at your first attempts, it is just a way to learn how to do and be better.
Did you make any important personal connections during your internship?
Personal connections with people who value who you truly are and want to see you, and others, succeed are the most important to me. I formed strong connections with my SULI mentor, Dr. Michael Kelley, and the SULI program lead at Jefferson Lab, Lisa Surles-Law. I have carried those relationships with me to this day and Lisa has become a close confidante of mine. I know where to go when I need genuine honesty, but also genuine support.
What are your values? How do express your values through your academic or professional career?
I value strength in character. Awards and accolades are not important to me and, in my opinion, do not define the quality of a person or their career. I choose to take on projects that will have some level of impact. I always think about how what I am doing will impact others, even if it will be indirect or a number of years before the impact is realized.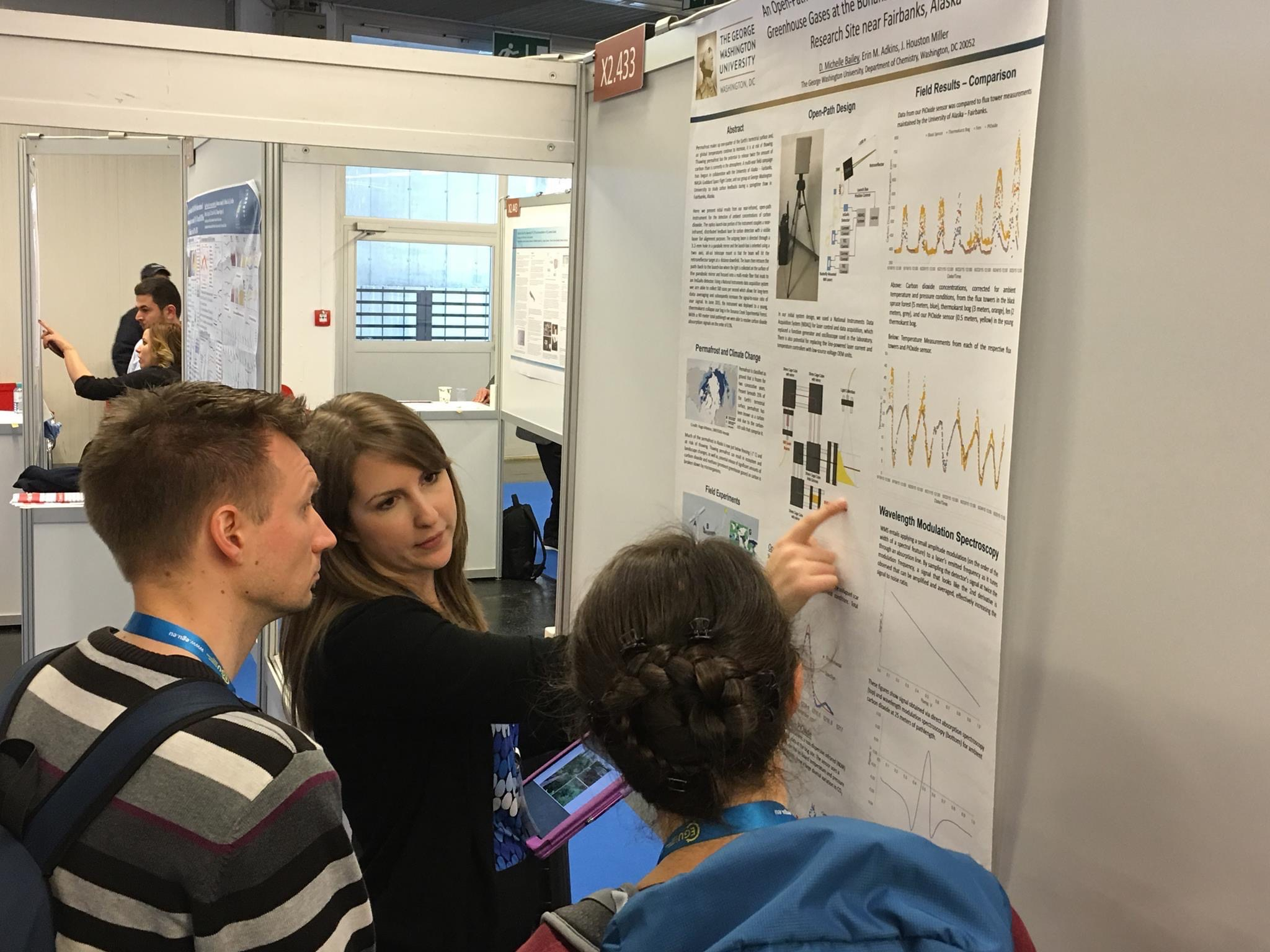 Michelle presenting a poster at an international conference (European Geophysical Union, 2016)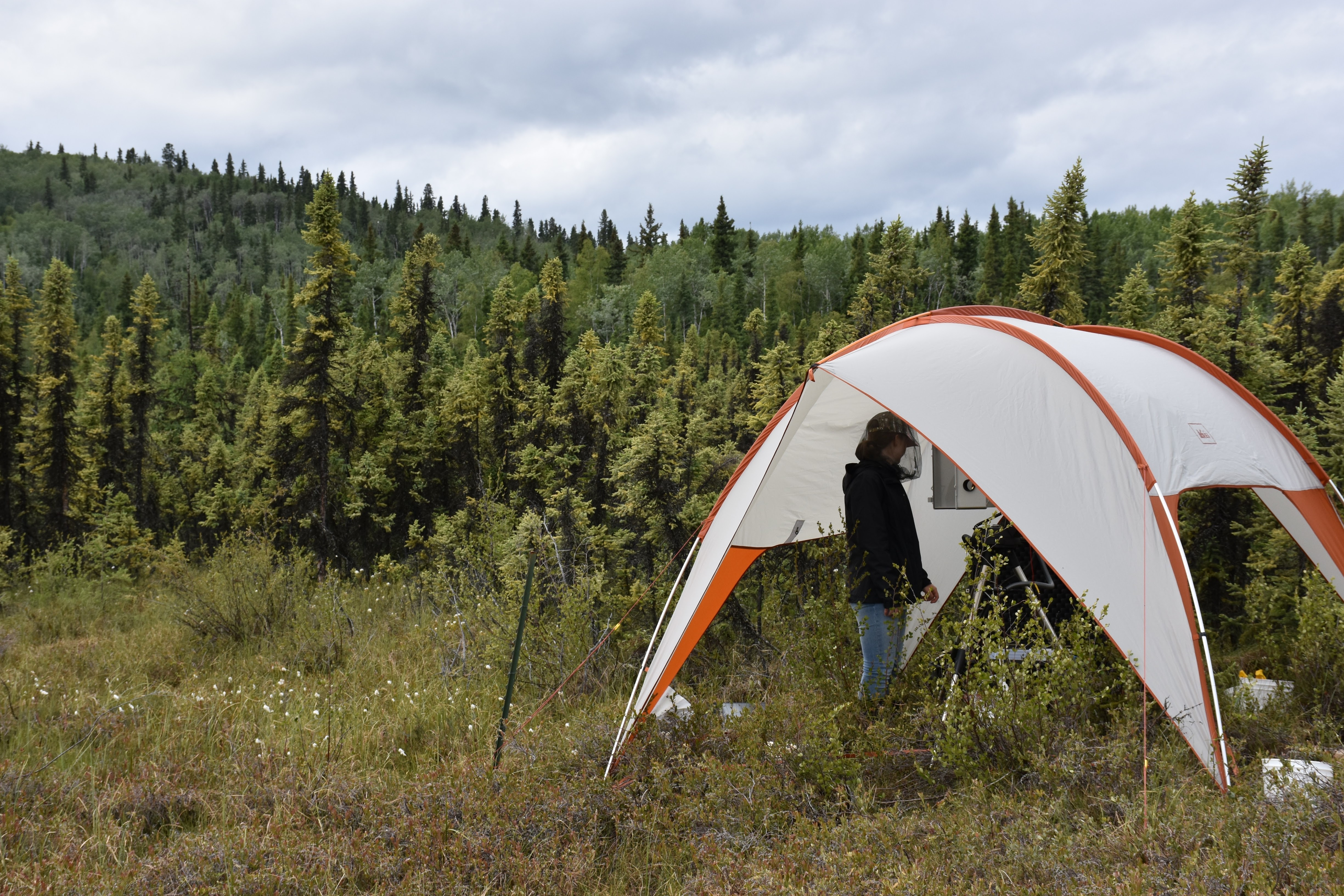 Michelle collecting data during one of the three field campaigns she championed during graduate school (2015)