Kyle Callahan
SULI intern develops code to determine chemical composition of plasma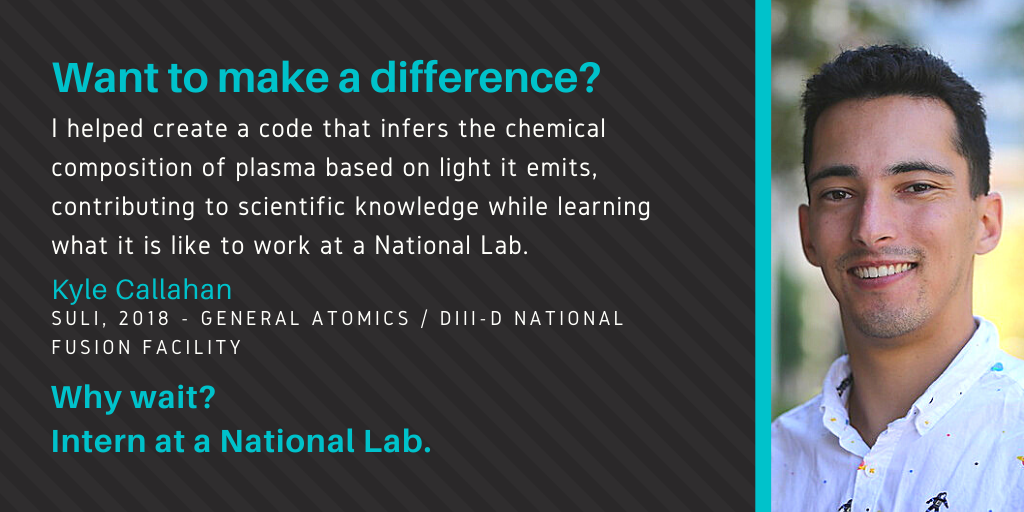 Internship program: SULI
Year: 2018
Undergraduate institutions: College of the Canyons; UC Irvine
Major: Physics
Host DOE laboratory: General Atomics / DIII-D, San Diego, CA
Mentor name: Brian Grierson
What was your research topic during your internship?
I helped create a computer code that infers the chemical composition of the DIII-D plasma using the light it emits. I had the privilege of working with DIII-D research scientists Brian Grierson, Colin Chrystal, and Shaun Haskey on this project. I was excited to contribute to the scientific knowledge of the facility and learn what it is like to be in the shoes of a researcher at a government lab.
What was it like coming to a National Lab for your internship?
I thought it was a wonderful learning experience to work at the DIII-D fusion facility. The facility was remarkably social and fostered a great work environment. All the scientists I had the pleasure of working with were collaborative, easy to talk to, and very eager to help me whenever I had a question. I was also very pleasantly surprised to see representation of my own Latin/Hispanic background at the facility, which demonstrated to me that I could also eventually work in this field.
Describe a concern you had while considering or applying to the internship. What advice would you give to help a student with the same concern today?
When applying to this internship I felt both imposter syndrome and concern that many other more highly-qualified students were also applying for the same SULI position. Additionally, I was unsure if I would be able to meet the expectations of my mentors. Looking back, these concerns were important motivators for me, but if they are a concern for current applicants, I recommend keeping them in check by reflecting on what you have accomplished so far. These accomplishments can be easily overlooked (I did so quite often), and reflecting on them can make it easier to keep a positive and motivated outlook. Staying positive can be very important for maintaining productivity when research gets tough!
Think of a time you experienced success during your internship. What did this success look like?
My SULI advisor, Brian Grierson, encouraged me to give a "Friday Science Meeting" presentation on my summer research. I received many congratulations for my presentation and it was a valuable skills-building experience that helped prepare me for graduate school. Specifically, this experience trained me on how to give science presentations to an audience of professional scientists. It helped me develop an effective communication style that, in part, led to me receiving an American Physical Society (APS) Division of Plasma Physics Outstanding Presentation Award at the APS conference the following fall.
Think of a time you experienced failure during your internship or academic career. How did you feel at the time? How did you deal with the failure and work past it?
During my sophomore year of college at UC Irvine, I failed to be adequately prepared, academically, to enter the fusion science field. At this point in my career, I felt very discouraged and was reconsidering whether I would ever be prepared enough to contribute to this branch of science. I choose to deal with this failure constructively. I sought to make improvements in my academic readiness through a combination of taking as many lab classes as I could and doing skills-building research with a plasma physics professor. Through this additional work and by remaining persistent in my pursuit of opportunities to enter this branch of science, I was eventually able to land a SULI internship.
What are your hopes for your career?
My career goals are to finish my PhD work on DIII-D science at UCLA and, after graduating, become a research scientist at a facility like DIII-D. I also hope to give back to the SULI program and mentor future fusion scientists who seek to enter this field.
Did you make any important personal connections during your internship?
Over the course of my internship at General Atomics and the DIII-D facility, I made lifelong friendships with the other interns and created a support network which enabled all of us to pursue our post-internship goals. For example, many of the friends that I made during my time as a SULI student I later met again at graduate admission days, which made touring new and strange universities less daunting.
What are your values? How do express your values through your academic or professional career?
I value creating a collaborative working environment and giving back to the communities and institutions which have provided me opportunities to succeed and get where I am today. I express these values by continually working towards more effective science communication of my own research and through the choice of UCLA as my graduate institution. I chose this university because it fostered an academic environment where I could easily collaborate with others and practice my communications skills on a regular basis. Additionally, by supporting my attendance at national "Fusion Day" in DC, UCLA helped me support the SULI community which has furthered my own academic career.
Notable outcomes:
Callahan, K. J., Grierson, B., Haskey, S., & Chrystal, C. (2018). Integrated Zeff Analysis on the DIII-D Tokamak Combining Multiple Diagnostics. APS, 2018, JP11-064. URL: http://meetings.aps.org/link/BAPS.2018.DPP.JP11.64. Accessed Dec 3, 2020.