Julia Indivero
SULI Intern Continued Research and Outreach at Lab Before Attending Graduate School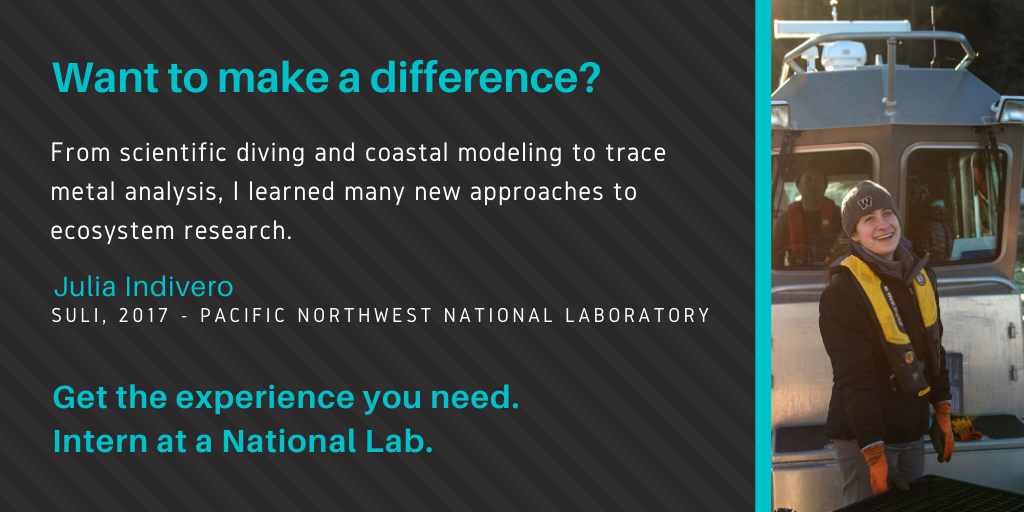 Internship program: SULI
Year: Fall 2017 and Spring 2018
Undergraduate institution: Wesleyan University
Major: Biology
Host DOE laboratory: Pacific Northwest National Laboratory, Richland, WA
Mentor name: Nicholas Ward
What was your research topic during your internship?
As a SULI intern, I measured greenhouse gas emissions from healthy and dead trees on rivers in Washington State, along a gradient from ocean-influenced sites near the mouths of rivers to fully freshwater sites upstream. We found that trees had higher methane in freshwater sites than in sites with more saltwater exposure, and that there were seasonal and species differences. This work can help us understand how future sea level rise might impact greenhouse gas emissions from these ecosystems as salt in the soil increases and trees begin dying. By further researching the role of trees in greenhouse gas processes, this research will help create better models of Earth's future climate.
What was it like coming to a National Lab for your internship?
Working at PNNL's Marine Sciences Laboratory in Sequim, Washington was my first experience with a National Lab—and with research at this scale. I started my internship only a few months after I graduated college, and my previous research experience had only been in small field ecology projects. I was really struck by the breadth of research conducted at PNNL, and the diversity of the scientists' expertise. From scientific diving and coastal modeling to trace metal analysis, I was exposed to many new approaches to ecosystem research.
What do you currently do, and where do you hope your career takes you?
I have been working as a post-bachelor's research associate at PNNL since May 2018, after my SULI internship. I have been primarily researching the biogeochemistry of terrestrial-aquatic interfaces—including fieldwork, laboratory analysis, processing data, and writing scientific papers—in addition to working on projects related to eelgrass restoration and STEM education and outreach. This September, I will be starting the PhD program at University of Washington's School of Aquatic and Fishery Sciences. I intend to pursue a career in conservation research.
Think of a time you experienced success during your academic or professional career. What did this success look like?
I am especially proud of the STEM education and community outreach work that I have done for PNNL. As an intern, I started working on a small citizen science project for my mentor, and I was able to advocate to become part of a larger STEM education program at PNNL. Through that program, I helped develop educational displays about our research to bring to science fairs and other community events. For instance, this year a colleague and I presented as part of a "Meet the Scientist" talk at the American Association for the Advancement of Science (AAAS) Family Science Days in Seattle. We have advocated for continued emphasis on STEM education and outreach at our lab to both help improve scientific literacy for K-12 students and to develop a stronger relationship between the lab and our local community.
Think of a time you experienced failure during your academic or professional career. How did you feel at the time? How did you deal with the failure and work past it?
Recently, I have been working on publishing a scientific paper that has been rejected from journals a few times. While it is a common part of research, it can still be difficult. The important thing is to take all of the constructive criticism and feedback from the reviewers' comments to continually improve the paper and research. By going through multiple rounds of revisions with this paper, I have learned new ways to present my data and explain the findings, and it has made me a better scientific writer.
Did you make any important personal connections during your internship?
During my internship, I became close with some amazing scientists that provided advice and insight into different career pathways. One post-doctoral scientist, in particular, guided me through the graduate school application process and gave me advice on what to look for in a school and an advisor. Additionally, during my internship, I became connected to the local community on the Olympic Peninsula in Washington, where the Marine Sciences Laboratory is located. We are surrounded by the Olympic National Park, and I spent many weekends backpacking through the forests, mountains, and beaches in our area. I also got involved with some local organizations; for example, getting my produce from a farm down the street and talking to high school students about STEM careers.
What are your values? How do express your values through your academic or professional career?
One way I express my values through my career is by focusing on research about how humans are impacting the environment and how we can better protect the environment in the future. For instance, in graduate school I will be studying how coastal restoration has impacted fish community dynamics in the Puget Sound, in order to better understand what restoration actions will be most effective. As a scientist, I think part of my job is to help us be a better, more sustainable society. Additionally, I have advocated for STEM education and community outreach as part of my work, because I think helping expand access to science education and careers to under-represented groups is crucial.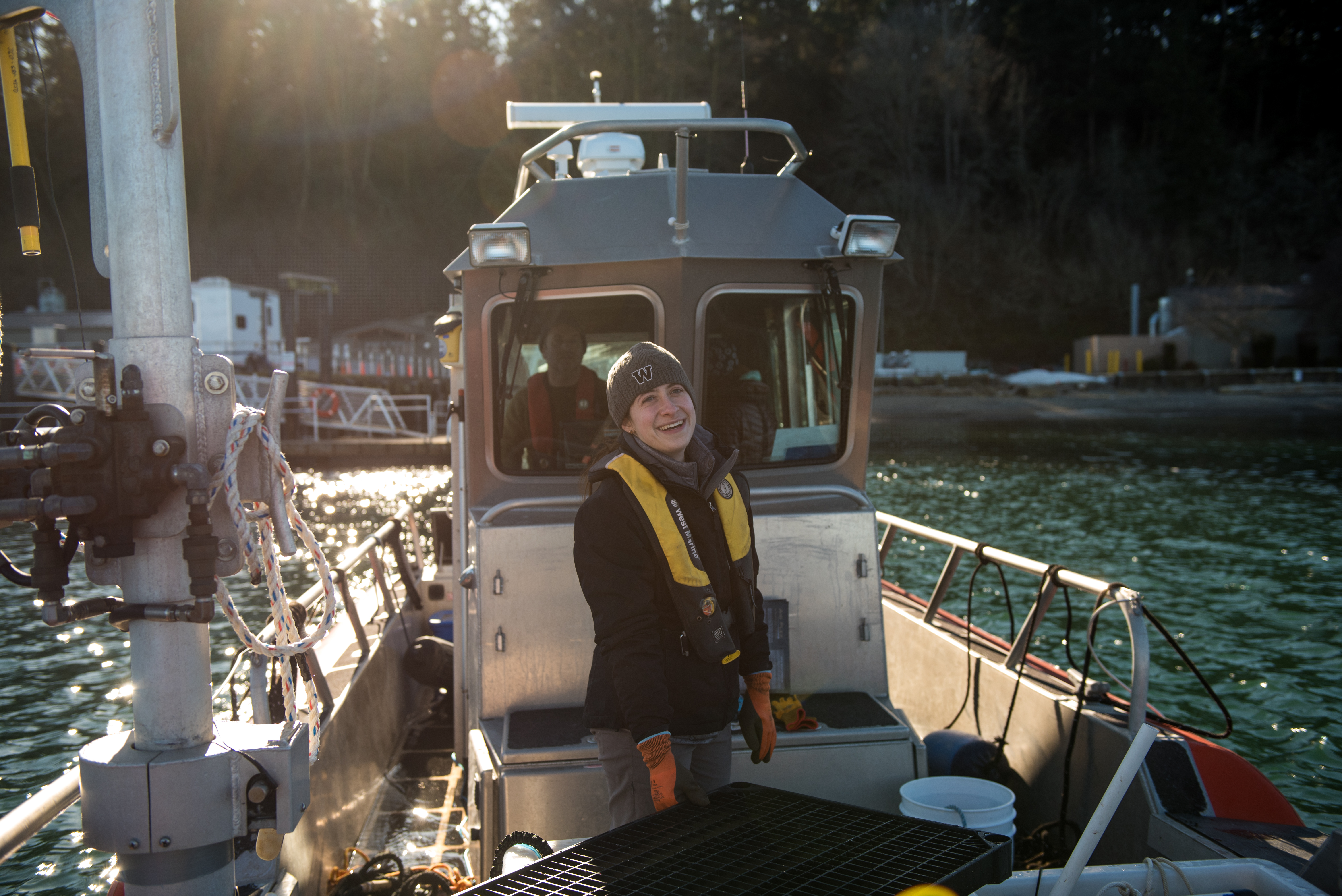 Helping to release tagged fish in Sequim Bay for a project looking at the impact of a marine renewable energy device on fish behavior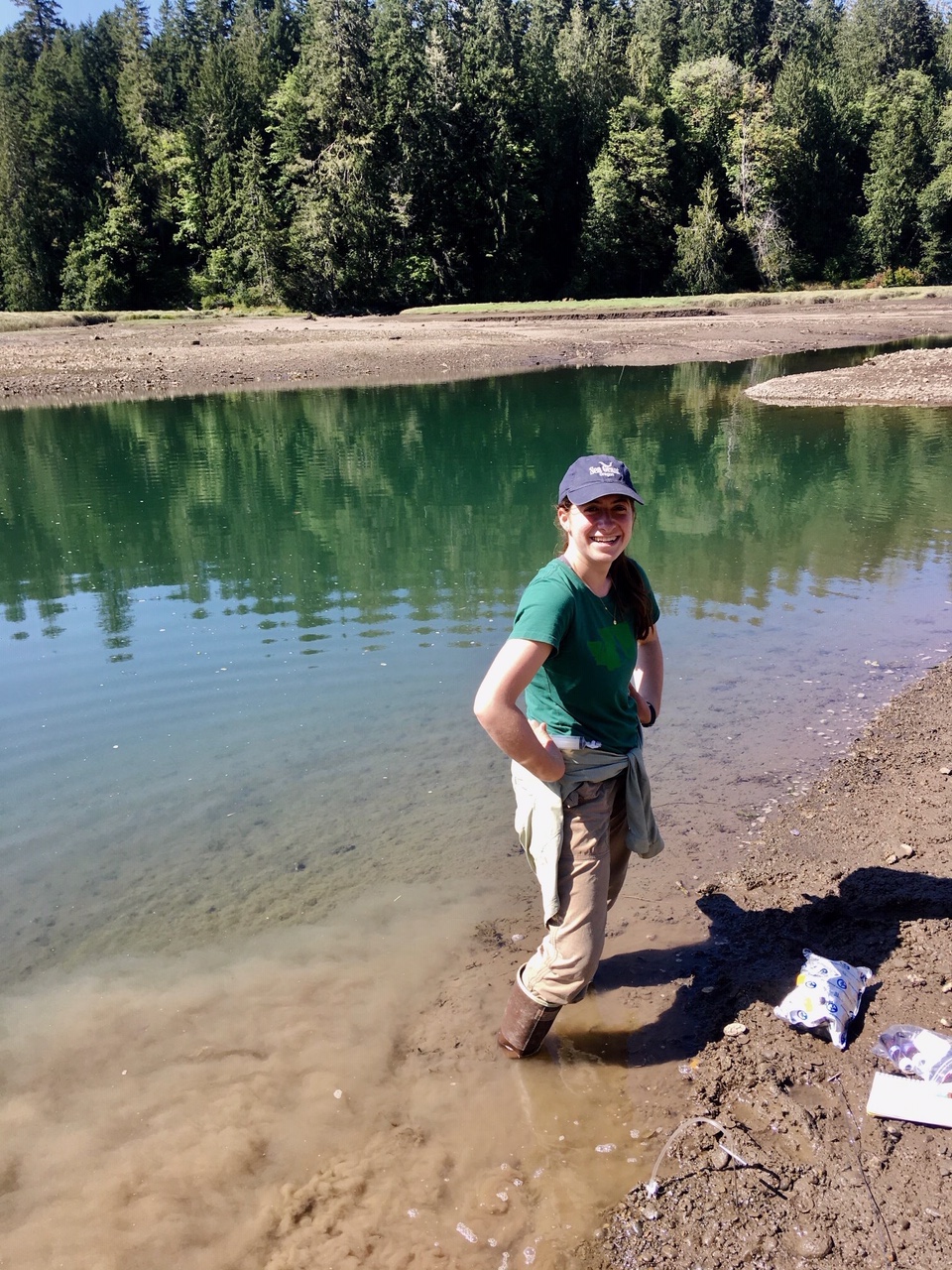 Collecting water and gas samples from a small estuary in Washington state to research the biogeochemistry of terrestrial-aquatic interfaces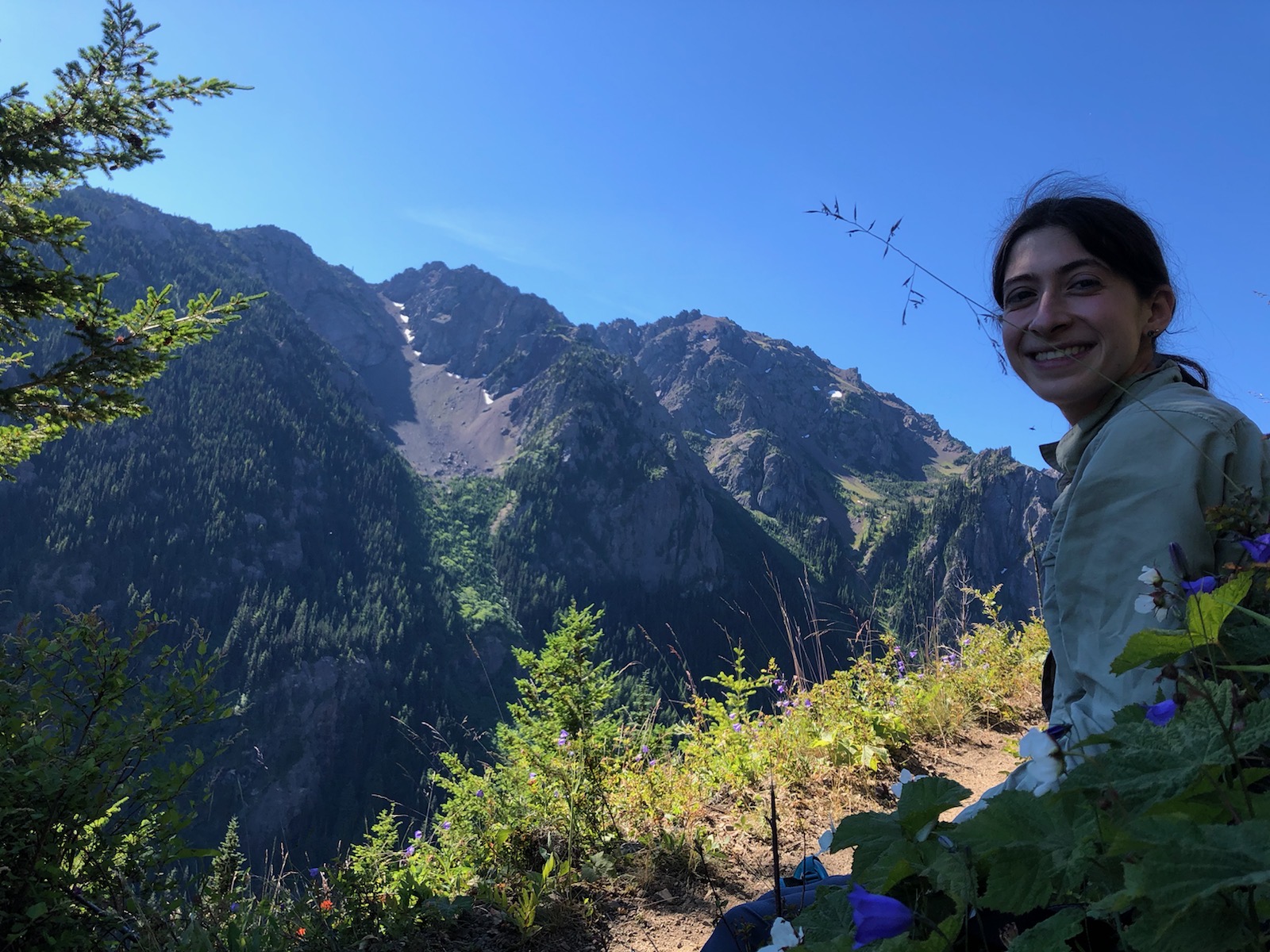 Hiking in the Olympic Mountains to Buckhorn Pass, right in the backyard of the Marine Sciences Laboratory