Fermilab Accelerator Complex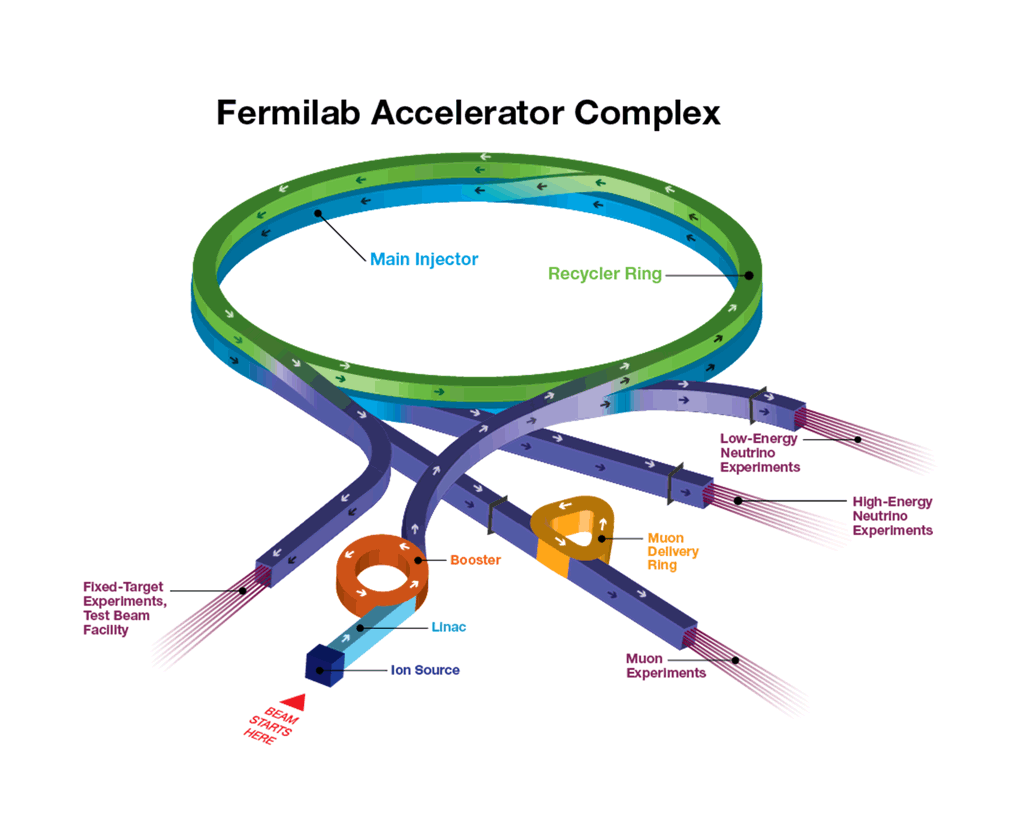 Batavia, Illinois
Location
1,725 (FY 2021)
Number of Users
Description
Booster Neutrino Beam: The Booster accelerator is a ring 1,500 feet in circumference that receives 400 MeV protons from the linac and accelerates them to 8 GeV. These protons are used to generate secondary particle beams to serve the experimental program. The Booster Neutrino Beam is produced to serve several operating and planned Short-Baseline Neutrino (SBN) oscillation experiments.
Muon Campus: A portion of the proton beams are extracted to create muon beamlines serving the Fermilab Muon Campus beginning in 2016 where the presently-running Muon g-2 experiment is situated and the Muon-to-electron Conversion (Mu2e) experiment is under development.
Neutrinos at the Main Injector (NuMI): The Main Injector takes the 8 GeV energy protons from the Booster and accelerates them to 120 GeV. These highly energetic protons strike a carbon target to generate muons that subsequently decay to muon neutrinos, resulting in the most intense neutrino beam in the world. The muon neutrino beam is used for studies of both the disappearance of muon neutrinos and the appearance of electron and tau neutrinos. Two experiments currently gather data from the NuMI beam line, a third is starting operations, and a fourth is planned.
Science