Ceremony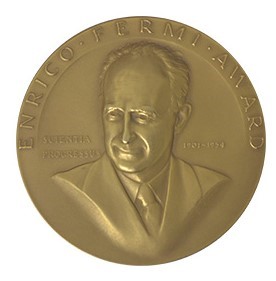 The Fermi Award is a Presidential award and is one of the oldest and most prestigious science and technology honors bestowed by the U.S. Government. In honor of Laureates' accomplishments, the White House and the Department of Energy often host an award ceremony. Information regarding any public events is provided on this page once available.
Click here to find more information about the exceptional individuals who have received the Fermi Award.
Stay updated using GovDelivery Alerts: Visit GovDelivery to sign-up for Fermi and Lawrence Award announcement alerts, including announcements of selections and solicitations for nomination. Through this service, you can also sign-up for additional Office of Science announcements (e.g., news releases, meeting announcements, science updates, and funding opportunities). This is an opt-in, opt-out service where subscribers can decide which topics they're interested in, then join or drop off as their interests change. Please create an account and choose "add subscriptions" to see additional options.