Announcements: Nominations for the 2024 Fermi Awards closed Monday, July 10, 2023, 5:00 PM ET. Award selections will be announced and published on this page once available.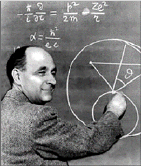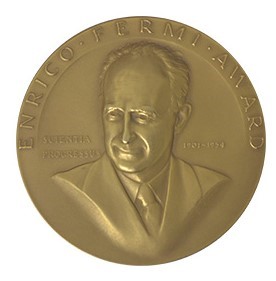 On November 16, 1954, President Eisenhower and the Atomic Energy Commission honored Enrico Fermi with a special award for his lifetime of accomplishments in physics and, in particular, for his vital role in the development of atomic energy. Shortly after receiving this honor, Enrico Fermi succumbed to cancer at the age of 53. The Enrico Fermi Presidential Award was subsequently established in 1956 as a memorial to the legacy of this Italian-born naturalized American citizen and 1938 Nobel Laureate in physics, who achieved the first nuclear chain reaction. Highly accomplished in both theory and experiment, Enrico Fermi is widely regarded as one of the leading scientists of the 20th century. He made significant contributions in many areas of science, including the development of quantum theory; fundamental discoveries in nuclear and particle physics involving beta decay, transmutation, and slow neutrons; and theoretical breakthroughs advancing statistical mechanics.
The Fermi Award is a Presidential award and is one of the oldest and most prestigious science and technology honors bestowed by the U.S. Government. The Enrico Fermi Award is given to encourage excellence in research in energy science and technology benefiting mankind; to recognize scientists, engineers, and science policymakers who have given unstintingly over their careers to advance energy science and technology; and to inspire people of all ages through the examples of Enrico Fermi, and the Fermi Award laureates who followed in his footsteps, to explore new scientific and technological horizons. Early Fermi Award recipients included John von Neumann, Ernest O. Lawrence, Eugene P. Wigner, Glenn I. Seaborg, Hans Bethe, Edward Teller, and J. Robert Oppenheimer. In this tradition, the Enrico Fermi Award continues to recognize scientists of international stature for their exceptional scientific, technical, engineering, policy, and/or management achievements related to the broad missions of the U.S. Department of Energy and its programs.
A Fermi Award winner receives a citation signed by the President of the United States and the Secretary of Energy, a gold-plated medal bearing the likeness of Enrico Fermi, and an honorarium of $100,000. In the event the Award is given to more than one individual in the same year, the recipients share the honorarium equally. The Fermi Award is administered on behalf of the White House by the U.S. Department of Energy's Office of Science.