Young Permafrost Provides New Insights on Climate Change
New approaches shed light on arctic soil microbes and their potential to release greenhouse gases when permafrost thaws.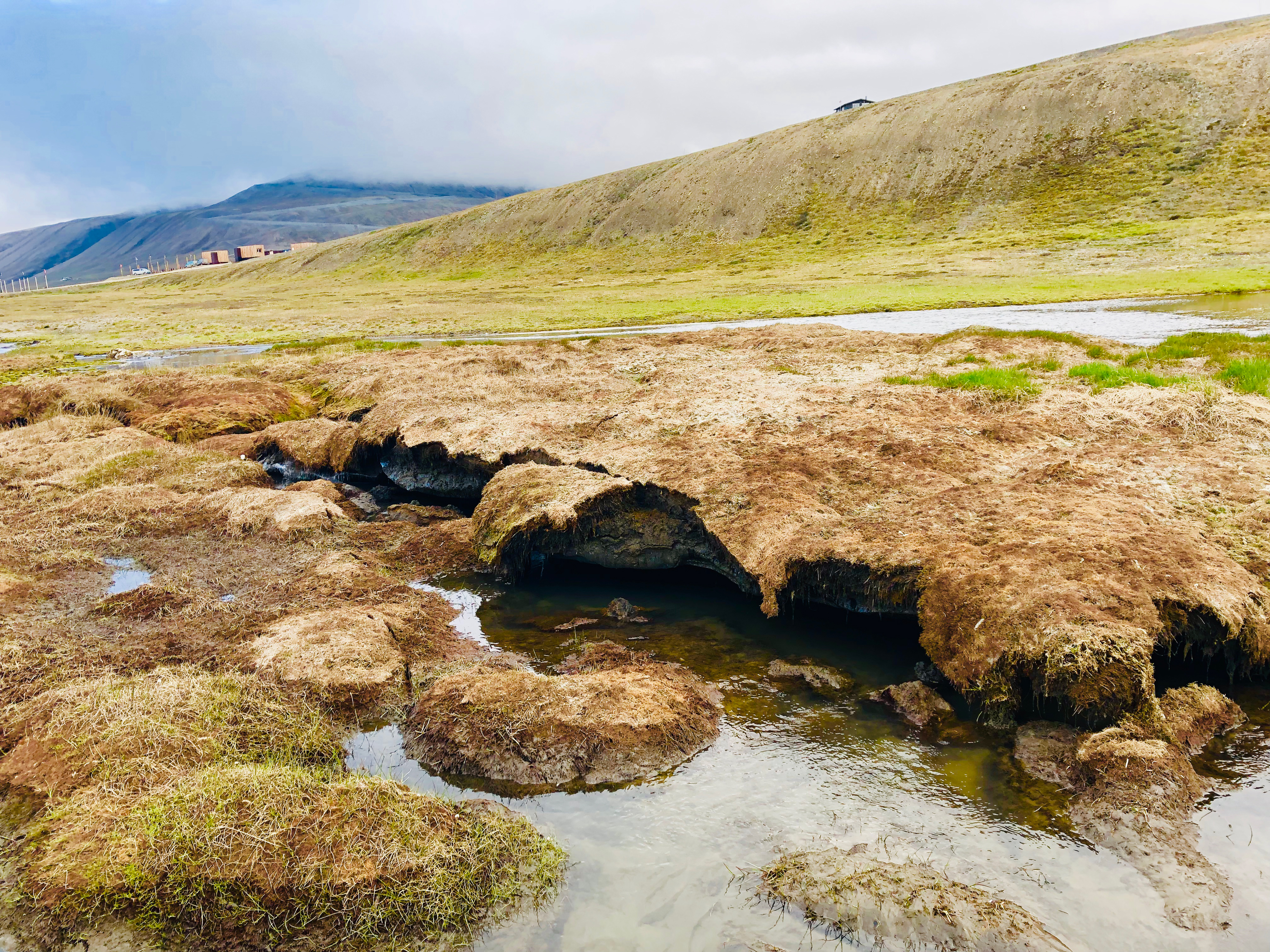 The Science
The frozen soils known as permafrost contain large numbers of microorganisms. Cold temperatures keep them in a dormant state. However, if thawed, these microorganisms could degrade organic material in the soil. This would release carbon dioxide and methane. Scientists have now studied the diversity and metabolic capacity of microbial communities in a unique permafrost environment. The investigators developed new computational tools to analyze the microbial communities and their functions.
The Impact
Better understanding of the sources of methane and carbon dioxide emissions will help us mitigate climate change. Permafrost soils are an immense reservoir of organic matter that is rich in carbon. A warming climate can reactivate dormant microbes that can break down organic matter. This would release the greenhouse gases methane and carbon dioxide into the atmosphere. Scientists are studying a permafrost region in the Svalbard archipelago in Norway that formed more recently than the permafrost in Siberia and North America. Studying the microbes in this peculiar Arctic environment provides new insights on the short-term effects of thawing permafrost.
Summary
This study used a novel combination of methods to define the functional potential of the microbiome from a geologically young permafrost region in Svalbard, Norway. These methods included bioinformatics (methods for analyzing large biological data sets), biostatistics (methods of applying statistics to biological questions), and metagenomics (methods of studying genetic material from environmental samples). Scientists are interested in Svalbard and its permafrost-containing soils due to the region's unique location at the border of the Atlantic Ocean and the Arctic sea and the soils' relatively recent origin. Researchers analyzed permafrost samples collected from various soil depths. Their analysis of the soil samples found that the dominant microbial groups changed markedly with depth. The researchers found that aerobic respiration—organisms' use of oxygen to make fuel—was prevalent in microbes found throughout the soil samples. Similarly, they repeatedly discovered organic matter decomposition as well as functions regulating ammonium, sulfur, and phosphate metabolism in the microbes living across different permafrost depths. These previously unreported trends in permafrost ecosystems show that organic matter in permafrost soil is decomposed through a combination of aerobic (oxygen-based) and anaerobic (oxygen-free) processes. This study also described how microbial communities acquire nutrients in competitive environments where resources are limited.
Contact
Neslihan Taş
Earth and Environmental Sciences Area, Lawrence Berkeley National Laboratory
ntas@lbl.gov
510-486-5538
Funding
Funding for this work was provided to Neslihan Taş by the Office of Biological and Environmental Research within the DOE Office of Science through the Office of Science Early Career Research Program. Yaxin Xue was supported by a grant from the National Research School in Bioinformatics, Biostatistics, and Systems Biology. This study is part of the project "Microorganisms in the Arctic: Major drivers of biogeochemical cycles and climate change" funded by the Norwegian Research Council. Lise Øvreås, the principal investigator for that project, was awarded the Fulbright Arctic Chair 2012 to 2013, which initiated the collaboration with Lawrence Berkeley National Laboratory.
Publications
Xue, Y., Jonassen, I., Øvreås, L. and Taş, N., 2019. "Bacterial and Archaeal Metagenome-Assembled Genome Sequences from Svalbard Permafrost." Microbiology resource announcements, 8(27), pp. e00516-19. [DOI: 10.1128/mra.00516-19]
Xue, Y., Jonassen, I., Øvreås, L. and Taş, N., 2020. Metagenome-assembled genome distribution and key functionality highlight importance of aerobic metabolism in Svalbard permafrost. FEMS Microbial Ecology, 96, fiaa057 [DOI: 10.1093/femsec/fiaa057]
Highlight Categories
Performer: University , DOE Laboratory
Additional: Collaborations , International Collaboration