Adam Roddy
Exploring the Secrets of Flowers
By Stacy Kish on August 4, 2010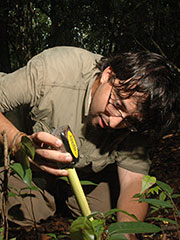 Adam Roddy in the field.
Photo credit: Adam Roddy
Fellow: Adam Roddy
Hometown: Chattanooga, TN
Undergrad: Swarthmore College
Graduate school: University of California, Berkeley
Keywords: Department of Energy, Office of Science, Graduate Fellow program, Climate, Water
As temperatures climb, plants do not have the option of hiding in a shade or seeking shelter in air conditioning. This is even more critical when the plant's survival depends on bright floral displays for reproduction. Adam Roddy, a doctoral candidate at the University of California, Berkeley and a DOE Graduate Fellow, explains "Reproduction may comprise over half of all biomass in a plant, and water is critically important for maintaining the floral structure for pollinators."
Roddy is tackling a topic that has been only modestly studied in the past. He is examining how water flows through plants and ecosystems, with a particular emphasis on the role of reproduction in water transport. "In some tropical systems, half of all rainfall is exhaled (transpired) by trees. Because tropical plants are producing more flowers every year, reproduction is an important and often overlooked component of the water cycle." Water is also important in temperate regions, like the United States, determining when a plant grows and flowers.
In his research, Roddy is also examining water transport through the oldest flowering plants on the planet to understand the evolution of early flowers. "Angiosperms, or flowering plants, first evolved more than 100 million years ago," explains Roddy. Basal angiosperms include magnolias, nutmeg, avocado, cinnamon, and black pepper, to name only a few.
"Understanding exactly how water moves through the plant, especially the flowers (reproductive organs), can allow us to better gauge the carbon budget of plants," said Roddy. By understanding how these processes occur today, scientists, like Roddy, can infer what processes were occurring in the past under vastly different climate conditions. "This information allows us to make more accurate predictions as to how plants have responded in the past and will respond in the future to changing climates," said Roddy.
Growing up in the southeastern United States, Roddy was exposed to biodiversity at a young age. But it was a summer project at Oak Ridge National Laboratory that captured his attention. "I spent a summer tying plant physiological responses to climate change predictions," said Roddy. He continued this line of study working at the Smithsonian Tropical Research Institute in Panama.
Roddy concludes, "This fellowship will allow me to pursue my education in another way. It allows me to try riskier research and to develop more collaborations, both domestically and internationally."
Stacy Kish is a Science Writer with the Office of Science