Carley Kratz
Peering into the Soil to Understand Climate Change
By Stacy Kish on August 4, 2010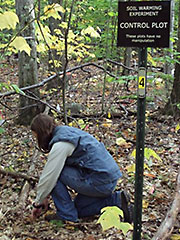 Carley Kratz in the field.
Photo Credit: Rachel McDonald
Fellow: Carley Kratz
Hometown: Manchester, MI
Undergrad: University of Michigan
Graduate school: Michigan Technological University
Keywords: Department of Energy, American Recovery and Reinvestment Act, Office of Science, Graduate Fellow program,  Climate, Greenhouse Gas
As global temperatures warm, polar bears are not the only organisms that could be adversely affected. Peering into the soil, a DOE Office of Science Graduate Fellow from Michigan is examining some of the smallest organisms on the planet.  "Microorganisms are the movers and shakers when it comes to moving nitrogen and carbon through the ecosystem," begins Carley Kratz a PhD candidate at Michigan Technological University. "But it remains unclear how microorganism community structure and function will be affected by warming soil temperatures."
These tiny organisms affect how carbon is stored in the soil or released as carbon dioxide back into the atmosphere, but they are often overlooked in global climate models. Kratz's research will examine how these organisms react to changing soil temperatures. "My research will help modelers to include soil microorganisms more accurately into computer models [that simulate future planetary conditions.] These models may help social scientists develop climate change mitigation policy."
Kratz grew up in rural Michigan and admits that she had an early introduction to the environment. Her interest continued while an undergraduate at the University of Michigan, Ann Arbor where she studied the relationship between fungi and plants. "During this time, I fell in love with soils and fungi," said Kratz.
She continues this interest today with her research in temperate forests. "Temperate forests are large regions where carbon is stored in the soil, but as global temperatures warm they could become a potential source of carbon dioxide, a powerful greenhouse gas, to the atmosphere" Adding more carbon dioxide to the atmosphere could lead to increased warming. Kratz's research is being conducted at the Ford Center Research Forest in Alberta, Mich. and the Harvard Forest in Petersham, Mass. She is in the second year of doctoral studies.
The DOE Graduate Fellowship is allowing her to expand her research to examine how the whole fungal and bacterial community is being affected by changes in soil temperature. According to Kratz, it is important to understand how warming soil temperatures will affect how microorganism will respond  in below ground systems."  She concludes, "The Graduate Fellowship is allowing me to expand my research, which will strengthen my results and make them more applicable to the wider scientific community." Kratz's graduate fellowship is funded by the American Recovery and Reinvestment Act of 2009.