Kathryn Gabet
Uncovering the Mystery of Fire
By Stacy Kish on August 4, 2010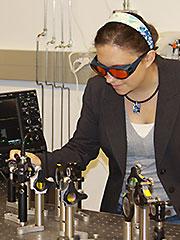 Kathryn Gabet at the Ohio State Unviersity Turbulence and Combustion Research Laboratory.
Photo Credit: Randy Patton
Fellow: Kathryn "Katie" Gabet
Hometown: Canton, Ohio
Undergrad: Case Western Reserve University
Graduate school: Ohio State University
Keywords: Department of Energy, American Recovery and Reinvestment Act, Office of Science, Graduate Fellow program, Turbulent Combustion, Fossil Fuel
Caveman may have captured the power of fire, but humans are still trying to tame it. "We currently understand how flames work on a large scale," begins Kathryn Gabet a doctoral candidate at The Ohio State University and DOE Office of Science Graduate Fellow. "This information will tell you where a fire will move, but now how it will get there."
Turbulent combustion produces 90 percent of the energy used everyday to power cars, electrical plants, and planes. Even with advances in alternative energy, turbulent combustion will remain the dominant source of energy in the coming decades. Gabet's research aims to make engines more efficient in order to conserve the finite sources of fossil fuels and decrease environmental impacts. "By making small tweaks to an engine, we can improve efficiency by a couple percent," explains Gabet. This may seem small, but Gabet contends that a one percent tweak to power plants and vehicle engines could save the United States 60 million barrels of oil a year.
In the course of her research, Gabet directs short flashes of laser light at a flame. "We take measurements 10,000 times a second to see how the flame moves," explains Gabet. This work will provide the data computer modelers need to design more efficient engines. According to Gabet, every other part of your car is designed with a computer model, even the windshield wipers.  Currently, engineers design an engine and then tweak it later. "We hope our work will make it possible to use a model to improve engine efficiency and reduce pollutants during the design process," said Gabet.
Gabet grew up in suburb of Canton, Ohio, where she joined her father in building and launching model rockets -- her first introduction to turbulent combustion -- but it was a high school chemistry assignment that truly sparked her interest. "I was given an assignment from my chemistry teacher to interview someone in the field of chemistry." She selected Nancy Piltch, a combustion scientist (retired) at NASA Glenn. "This was the first time I realized that burning things could be a job," said Gabet. She concludes, "My project is preliminary basic research that is laying the foundation for improved energy efficiency." Gabet's graduate fellowship is funded by the American Recovery and Reinvestment Act of 2009.
Stacy Kish is a Science Writer with the Office of Science