Timothy Caldwell
Switch Systems to Energy Efficiency
By Stacy Kish on August 4, 2010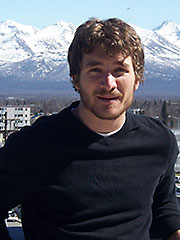 Timothy Caldwell attending the 2010 IEEE International Conference on Robotics and Automation in Alaska.
Fellow: Timothy Caldwell
Hometown: Boulder Colorado
Undergrad: University of Colorado, Boulder
Graduate school: Northwestern University
Keywords: Department of Energy, American Recovery and Reinvestment Act, Office of Science, Graduate Fellow program, Control, Switch Systems
Solving problems is inherent in all aspects of Timothy Caldwell's life. Growing up in the mountains of Boulder, Colo., Caldwell became an avid rock climber. He begins, "A lot of my success in life stems from rock climbing." He relays the lessons he learned working with fellow climbers ascending a rock face to his academic interest in controls.
Controls is a branch of engineering dealing with the unique behavior of dynamic systems. According to Caldwell, humans practice controls all the time. "It is inherent in your every day interactions, like driving a car," he explains, "you make the decision to change how you are driving based on the conditions that you see." In this case, controls is taking in sensory information and impacting your surroundings in some way.
Caldwell, a doctoral candidate at Northwestern University and a DOE Office of Science Graduate Fellow, is using his understanding of controls to optimize switch systems. "Simply put a system is anything that evolves over time, like the movement of a car," he explains. "A switch system is a system that evolves over a set of continuous modes and transitions between modes in a discrete manner, like shifting gears in a car."
Caldwell is working to improve the control and estimation of switch systems. This fundamental work could be broadly applicable to many different fields to improve energy efficiency. He provides the example of a power grid. "Switch system optimization could be applied during fault detection," he said.  In this scenario, power failure is a discrete change in the system. If one node goes down, the other nodes have to work harder increasing the likelihood that they could also fail, producing a cascading effect that could result in a huge blackout.  Switch system optimization could determine the extent of the fault that could lead to the power failure.
Caldwell concludes, "This fellowship offers me a greater degree of flexibility to my research and allows me to communicate with the leading engineers and scientists in the country." Caldwell's graduate fellowship is funded by the American Recovery and Reinvestment Act of 2009.
Stacy Kish is a Science Writer with the Office of Science.