Paulo Oemig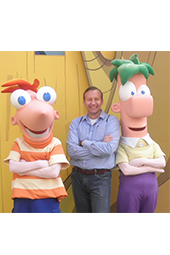 Fellowship Placement: National Aeronautics and Space Administration
Cohort: 2012-2013
Paulo Oemig has taught science in the Las Cruces Public Schools District (LCPS) in Las Cruces, New Mexico for ten years. He has also taught an integrated elective class introducing students to engineering design. Oemig has been the advisor and coach to after school programs such as Mathematics, Engineering and Science Achievement (MESA), Science Olympiad, New Mexico Best Robotics, Project GUTS (Growing Up Thinking Scientifically), and Science, Engineering, Mathematics, and Aerospace Achievement (SEMAA). All these programs share the goal exposing students to enriched curricula, field trips, speakers, academic competitions, scientific design, problem solving and systems modeling.
Oemig has participated in the GK-12 DISSECT (DIScover SciEnce through Computational Thinking) project mentoring science graduate students to collaboratively develop educational modules and increase interest in science, technology, engineering and mathematics (STEM) related fields in middle grade students. He was part of the LCPS Teacher Leader Spaceport Advisory Board working toward improving STEM initiatives, developing and revising curriculum through the LCPS Aerospace Equation and Spaceport America Gross Receipt Tax. As a Solar System Educator Ambassador (SSEA) volunteer Oemig has presented and disseminated information about science and NASA missions to a wide range audience.
Prior to moving to United States, Oemig studied chemistry in Argentina at the National School of Technical Education No. 1 where he was an organic chemistry teaching assistant. His research thesis involved optimization processes in the production of lactic cultures. At the University of Utah in Salt Lake City, Utah, he completed studies in physical anthropology. While in SLC, Oemig worked at Central Valley Water Reclamation Facility performing wet chemistry tests, digesting and preparing samples running them on the Inductively Coupled Plasma (ICP) machine. He also studied behavioral ecology at Cambridge University in England. Looking to bridge physical and cultural anthropology brought Oemig to New Mexico State University (NMSU) in Las Cruces where he completed his Master's degree in cultural anthropology. At NMSU Oemig worked as a research assistant for The Center for Minority Land and Community Security. In New Mexico, as part of the project, he focused on the critical issue of disproportionate land loss by Hispanics and their community based organizations tied to farm-based economies.
Oemig's overarching goal lies in researching the causes behind the lack of achievement and representation in the STEM fields by minority and disadvantaged students. He believes that best teaching practices must be inclusive and differentiated instruction used to validate everyone's cultural backgrounds. Oemig is interested in anthropology of science education with an emphasis in bilingual education and social justice. He hopes to elaborate a philosophy of science education in which science is not taught as something purely rational and objective with the risk of being used to justify irrational and oppressive pursuits. Students must be given the tools and opportunities to actively participate in education and achieve critical thinking. Oemig meets these situations by seeking ways to create positive learning environments. Oemig envisions his students as testers of reality, seekers of truth and fostering a sense of common good. In 2009 he was awarded a $10,000 BP A+ for Energy grant. This grant enabled his school to acquire many educational materials and made possible energy related field trips for his students. The same year he was recognized outstanding teacher in the LCPS district by the Kappa Kappa Iota Alpha Epsilon teacher association of the Las Cruces chapter. In 2012 Oemig was awarded LCPS Teacher of year and the distinguished New Mexico Golden Apple Award for Excellence in Teaching.
Oemig emphasizes that the spirit of believing in all students' possibilities and strengths is embraced when the teacher makes every effort to build a good rapport with students and ensure the equitable participation of all. For him, a sound education is an interactive and dynamic process in which students and teacher explore and create knowledge together. Oemig believes in treating the science teaching content not just as an activity but as a process and product of the activity. As constructors of their knowledge, Oemig understands students bring to the learning process their own perspectives, experiences and insights. Teachers must validate and recognize those experiences and diversity for students to feel acknowledged for who they are and what they bring to the classroom. Teaching should be student-centered, striving toward equity, and promoting individual dignity and cultural understanding. The act of teaching, Oemig adds, is an ever changing nurturing profession requiring creativity and good judgment; creativity as an essential aspect to engage all students and good judgment as paramount in evaluating the learning process.
As an Einstein Fellow at Goddard Space Flight Center and NASA Headquarts, Oemig became involved in several projects, including: the International Observe the Moon Night (InOMN) a public event at Goddard's Visitor Center working with the GeoDome, portable planetarium, and assisting students and parents with exhibits. Paulo provided feedback regarding educational projects using NASA's unique content to museum educators and school districts. Oemig acted as an advisor to the National Commission on Teaching and America's Future (NCTAF) for the implementation of the Learning Studios workshop for Howard and Prince George's school districts in developing STEM projects. In his research as an Einstein Fellow Oemig has found that teachers are crucial to educational innovations and improvements, and that the success of any professional development program relies on considering teachers' perspectives while enabling them to adopt reform-oriented practices. He focused on designing professional development that is both comprehensive in its specificity and self-sustaining.
While Paulo continue to advocate for space-based education and promoting NASA's unique content in a meaningful fashion to educators and the general public, he is working toward a systemic approach to science education to make science less elitist and more inclusive. Paulo has recently defended his doctoral dissertation at New Mexico State University; his research focused on the opportunities Latino/a students are afforded in secondary school to develop science literate identities. Congratulations Dr. Oemig!