Michael Stone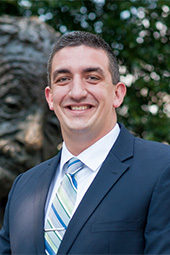 Fellowship Placement: National Science Foundation
Hometown: East Ridge, TN
Michael Stone has taught at several high schools in Chattanooga, Tennessee, most recently serving as the Fabrication Laboratory (Fab Lab) and 11th grade Project Based Learning (PBL) Director at STEM School Chattanooga during the 2014-2015 academic year. Michael is serving his fellowship in the National Science Foundation (NSF) Directorate for Computer and Information Science and Engineering (CISE) Computer and Network Systems.
While serving at the STEM School in Chattanooga, Tennessee, Michael helped open the first internationally registered Fab Lab in the state of Tennessee and was responsible for developing and managing external business and industry partners for quarter-long PBL units for eleventh grade students. Prior to his time at the STEM school, Michael taught AP Calculus AB, Honors Statistics, AP Computer Science A, and served as the head boy's basketball coach at East Hamilton High School in Chattanooga, Tennessee. He began his teaching career at Hamilton Heights Christian Academy in Chattanooga, Tennessee, where he taught Physics, Chemistry, Biology, and Spanish for three years.
Michael received a Master of Arts in Instructional Leadership from Tennessee Technological University in 2008 after earning a Bachelor of Science in Computer Science from Bryan College in 2005.
Michael was a Research Experience for Teachers participant in Software Engineering at Vanderbilt University in 2012, has served as a chairperson on the American Society for Engineering Education K-12 division executive board since 2013, and is an inaugural STEM Fellow for the Public Education Foundation in Chattanooga.